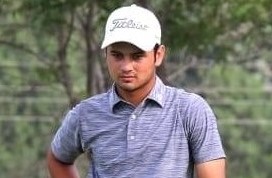 Ahmed Baig was the winner of the 1st Rumanza Open Golf Championship carrying a prize money of Rupees twelve million. His victory was achieved through brilliant play and remained in command on all four days of the Championship with final score being 280, eight under par.
Scroll Down For Reviews Of Previous Day's
Second position goes to Minhaj Maqsood of Rawalpindi Golf Club. His score for the Championship is 287, one under par.
Third position goes to two players M. Shahzad of Garrison and M. Munir of Rawalpindi. Their match score is 289, one over par.
Winner of the Amateur net category is Salman Jehangir of Lahore Gymkhana.
Other events winners are Umair Butt, seniors category and Dr Tariq Malik, veterans section.
Details To Follow
1st Rumanza Open Golf Championship: Ahmed Baig Wins Pro Title With Authority; Salman Lifts Amateur Trophy
Round 3 | Ahmed Baig Maintains Lead + Results
After the completion of third round in the 1st Rumanza Open Golf Championship carrying a prize money of twelve million rupees, the most dynamic player of the championship is Ahmed Baig of PAF.
Sunday, 5th March is the final day of the 1st Rumanza Open Golf Championship with the prize distribution to be held at 4 pm.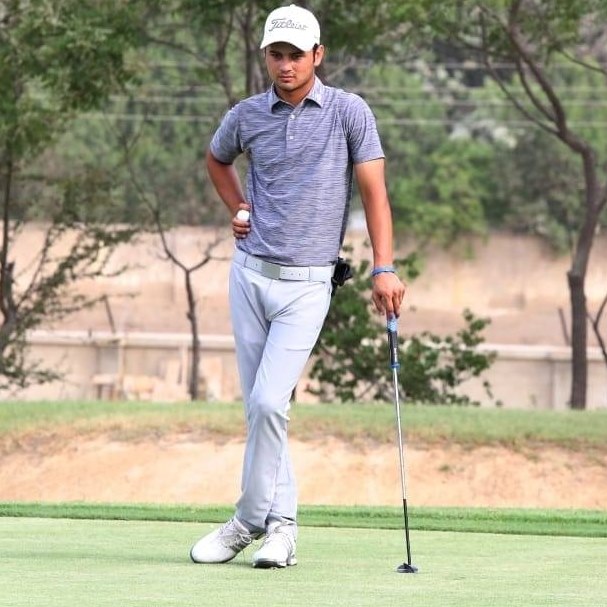 Ahmed Baig's performance continued in a stylish and high toned manner and enabled him to maintain his hold on the competitive drift of the golf event. Adversaries like Shabbir Iqbal, Matloob Ahmed, M. Saqib, M. Naeem and M. Ashfaq who have many accomplishments to their credit did put in a great effort to neutralize Ahmed Baig but somehow Ahmed Baig's excellence was unparalleled. His golfing prowess fetched him birdies on holes 2 and 3, then on 5th hole and on the back nine on holes 11, 15 and the closing 18th. The birdies added up to six in all complemented by eight regulation pars. Stroke losses hit him too on four holes but the birdies advantage prevented any set back to his leadership standing. His round of 70 added to his first round similar 70 and the second rounds merited 67 gives him an aggregate of 207, nine under par and an advantage of seven strokes over his nearest rival Muhammed Minhaj Maqsood of Rawalpindi Golf Club.
Professional Category – Round 3 Results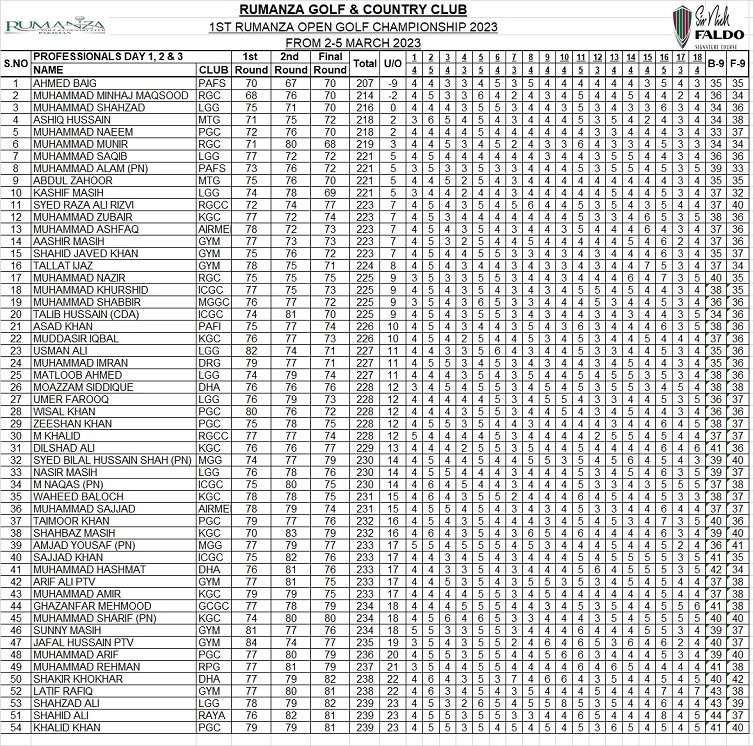 Minhaj Maqsood a South Africa trained golf professional is looking notably seasoned and his performance in the third round was upscale and smart. Five birdies on holes 3, 7, 9 and then consecutive ones on holes 16 and 17 highlights the remarkable element in his game. He did encounter three bogies too but overall he was a competitor in control of the fierce competitive situation. His scores for three rounds are 68, a modest 76 and again an applaudable 70. Total for three rounds is 214, four under par and he will play the last round on Sunday in the leaders flite with Ahmed Baig and third placed Muhammed Shahzad of Lahore Garrison. M. Shahzad is beginning to look more and more proficient and his name appears prominently in prestigious open golf championships. Here also at Rumanza Golf Course he is well placed two strokes behind Minhaj and with three rounds aggregate score of 216, gets noticed for an impressive show of golfing skills.
Other notable ones looking fairly good are Ashiq Hussain (Multan) at 218 along with M. Naeem of Peshawar who is also at 218. M. Munir who played the best round of the third day with a score of gross 68 helped by eight birdies, six pars and four bogies is at an aggregate score of 219.
M.Saqib is at 221 along with three others, Muhammed Alam, Abdul Zahoor and Kashif Masih. Five players are bunched together at a score of 223. They are Syed Raza Ali, Muhammed Zubair, Muhammed Ashfaq, Aashir Masih and the experienced Shahid Javed Khan.
Senior Professionals completed their round yesterday with Pervaiz Khan of Airmen Golf Club emerging as the winner. Other positions went to M. Tariq (Islamabad ) and Muhammed Akram (Gymkhana).
Senior amateurs first position was secured by Muhammed Sarfraz of Rumanza Golf Club. Runner up was Umair Butt of Defence Raya.
In the amateurs event Salman Jehangir of Lahore Gymkhana leads the gross section with a score of 222 for three days. Following him are Qasim Ali Khan of the same club at 227, Saad Habib of Rumanza at 230 and Damil Ataullah of Garrison at 233 along with Umair Saleem at the same score.
Amateurs Category – Round 3 Results

Round 2 | Ahmed Baig Shows His Class + Results
Ahmed Baig now developing as the golf star of Pakistan has gradually begun to intimidate his fellow competitors not through some consistently excellent performances but through his class and words of praise from the experts.
For the second round running, Ahmed Baig was once again, all charged up at the Rumanza Golf and Country Club Golf Course in this 1st Rumanza Open Golf Championship. Through superb hitting and with his putter in full control, he fashioned a bogie free round of gross 67, five under and thereby aggregates for himself a two rounds score of 137, seven under par and apparent is his conquering look. With this kind of achievement, he has eased the situation for himself, moving into the third round of this four rounds contest of golf champions. As a result of his great showing, even heralded players like M. Munir, Matloob Ahmed and Shabbir Iqbal are looking ordinary.
Minhaj Maqsood of Rawalpindi Golf Club who was the first round leader is placed second with two rounds scores of 68 and 76 and an aggregate score of 144. He is languishing seven strokes behind the leader. At an aggregate score of 146 are three prominent aspirants. They are Muhammed Shahzad (Lahore Garrison), Syed Raza Ali (Rumanza Golf Club) and Ashiq Hussain (Multan).
Other notable ones looking fairly good are Muhammed Naeem at 148, Muhammed Saqib, Muhammed Zubair and Muhammed Alam at 149, and three players at 150. They are Muhammed Ashfaq, Muhammed Nazir and Aashir Masih.
There was a cut after the second round and as a result 54 competitors made the cut in the Professional Category. Only the best 54 will play the remaining two rounds.
In the amateurs event Saad Habib of Rumanza Golf Club leads the gross section with a score of 150 for two days. Also bracketed with him at 150 is Salman Jehangir of Lahore Gymkhana. Qasim Ali Khan is at 151,Damil Ataullah at 155 and Hussain Hamid at 157.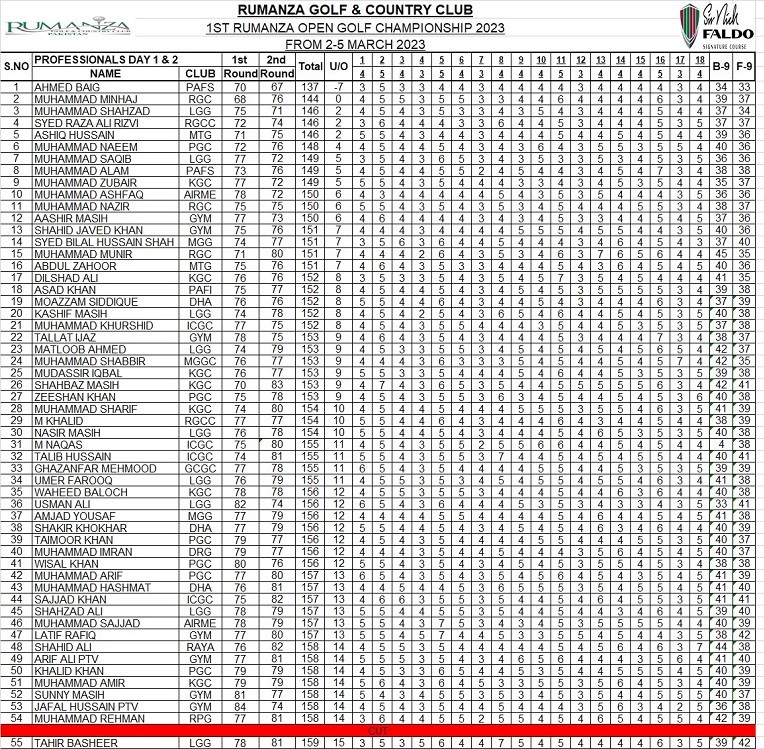 Round 1 | Minhaj Tops Leaderboard
In the First Rumanza Open Golf Championship in progress at the par-72 Rumanza Golf and Country Club Golf Course, Multan, 96 top professional golf players of the country completed their first round yesterday. Out of these 96 eligible national golf professionals, some competitors produced scores of excellence and sought acclamation while a large number of hopefuls ended up in agony, their scores ballooning to a level that lacks the winning touch.
Round 1 Overview
Looking superb during the first round was Muhammed Minhaj Maqsood of Rawalpindi Golf Club with a score of gross 68, four under par. As for Shahbaz Masih of Karachi Golf Club and Ahmed Baig of PAF they too were equally luminous, their golf playing capabilities oozing rounds of class. While Minhaj stands out all by himself with an exceptional round of gross 68, four under par, Shahbaz Masih and the phenomenal one of the national professional golf scene, Ahmed Baig are bracketed at gross 70, two under par.
From the word go Minhaj, Ahmed Baig and Shahbaz have taken command of the match and appear determined to make winning intentions clear.
Starting from the first tee, the sound one Minhaj Maqsood birdied the 2nd and 3rd holes, followed those up with another birdies on the 5th hole and then on the back nine, birdies on holes 13 and 17. Along the way he had 12 regulation pars and just one bogie on the 12th hole. In the first round, Minhaj's shot making has been heartening indeed and the rhythm in his swing brought delight to the onlookers.
Two shots behind Minhaj are placed Shahbaz and the formidable Ahmed Baig their score for the first 18 holes being gross 70, two under par. No doubt both these aspirants performed with precision, matching the calibre of Minhaj but a few missed putts left them a little behind.
Placed at a score of gross 71, one under par are Muhammed Munir of Rawalpindi and Ashiq Hussain of Multan. One stroke behind them are Syed Raza Ali Rizvi of Rumanza Golf Club and Muhammed Naeem of Peshawar. These four have looked fairly spectacular in the first round and with their performance have added a dazzling touch to this championship.
Others who have managed to perform reasonably well are Muhammed Alam at 73, Muhammed Sharif, Talib Hussain Bilal Hussain Shah, Matloob Ahmed and Kashif Masih, all at gross 74.
The great Shabbir Iqbal was not too illustrious and is placed at a score of gross 76.
In the amateur category Saad Habib Malik of Rumanza Golf Club overwhelmed his playing partners, his adversaries and his club mates at Rumanza with a show of golfing perfection. His hitting off the tees was accuracy loaded and crisp indeed were his fairway shots. All this skillful handling of the Rumanza Golf Course challenges enabled him to come up with an outstanding score of gross 70. And the striking feature of his excellent play was that he played in the company of the superb one, Shabbir Iqbal and did not get overawed. With this kind of golf play, he stands out as a national hope in coming months.
Other amateurs who played well are Qasim Ali Khan placed at a score of gross 73, Salman Jehangir at gross 75, Rao Hassan at 78 and Malik Haseeb at 78.