According to the ITF announcement today, the new ITF transition tour will be launched in 2019 as part of a major restructuring of professional tennis. The tour will provide a more effective pathway linking the ITF Junior Circuit and the senior professional game, and ensure that prize money at professional level tournaments is better targeted to enable more players to make a living.
The creation of the transition tour is based on ITF research that shows that while over 14,000 players compete each year in professional tournaments, only around 350 men and 250 women break even financially without consideration of coaching costs.  A large number of junior players are competing on the professional circuit but the transition to the Top 100 is taking longer.
The transition tour will be staged within a more localised circuit structure that reduces costs for players and tournament organisers. This will also increase opportunities for players from more countries to join the pathway and be supported in their transition to professional tennis.
The transition tour forms part of a new worldwide tournament structure that has been agreed between the ITF, ATP and WTA in order to address the current challenges at entry level. This structure is expected to reduce the number of professional players with ATP and WTA rankings from 3,000 players to approximately 750 men and 750 women.
The new transition tour tournaments, which will offer $15,000 in prize money, will replace the existing $15,000 men's and women's tournaments on the ITF Pro Circuit in 2019, and will award ITF Entry Points instead of ATP and WTA ranking points.
For more information on the ITF transition tour, watch this online video.
Ranking point systems
In women's tennis in 2019, tournaments offering a minimum of $25,000 in prize money will continue to offer WTA ranking points. In men's tennis in 2019, $25,000 ITF Pro Circuit events will offer both ATP ranking points (later rounds) and ITF Entry Points (all rounds); while the qualifying rounds of ATP Challenger tournaments will also offer both ATP ranking points (all events) and ITF Entry Points (events up to $125,000 in prize money). From 2020, it is anticipated that $25,000 men's tournaments will also form part of the transition tour and offer ITF Entry Points only.
Many players will end up competing on both the transition tour and in ATP/WTA-ranking point tournaments, and will therefore have both a professional ranking and an ITF Entry Point standing.
Under the new structure, the two systems are linked with players able to use their ITF Entry Point standing to gain acceptance into professional events.
Reserved tournament places
In order that successful junior and transition tour players are able to progress more quickly to the next level, the different ranking systems will be linked to guarantee reserved places in tournaments as follows:
Men: reserved places for top ITF Entry Point-ranked players in the qualifying draws of ATP Challenger tournaments (up to $125,000 prize money level). The number of reserved places will be determined later this year following further research and monitoring.
Women: 5 reserved places for top ITF Entry Point-ranked players in the main draw of $25,000 ITF Pro Circuit tournaments.
Juniors: 5 reserved places in the main draw of transition tour tournaments for players in the Top 100 of the ITF Junior Ranking.
Play-down rules
The ITF, ATP and WTA will implement new 'play-down' rules to prevent higher-ranked players from competing in transition tour tournaments to maximise opportunities for other players. Currently anyone outside the Top 10 women or Top 150 men can play in $15,000 events. Under the new structure it is expected that most players with ATP and WTA rankings would choose to enter professional tournaments.
Introduction of new rankings in 2019
The implementation of the new ATP, WTA and ITF ranking systems will take place at the end of 2018.
Any ATP or WTA ranking points earned at $15,000 ITF Pro Circuit tournaments (as well ATP points earned in early rounds of $25,000 Pro Circuit events and Challenger qualifying draws) in 2018 will be converted into ITF Entry Points.
The ITF, ATP and WTA will run shadow rankings throughout 2018, so that all players can see what their professional ranking and ITF Entry Point standing would be under the new system.
Cheaper hosting requirements
More National Associations will have the opportunity to stage events due to the cheaper hosting requirements of transition tour tournaments. The tournaments will be shorter in length than Pro Circuit events and take place over seven days (including qualifying). There is no requirement to host three consecutive tournaments as per the current rule for Men's Futures tournaments; and there is a reduction in officiating requirements. It is anticipated that this will increase the number of nations hosting tournaments in 2019, providing opportunities for more players.
ITF President David Haggerty said: "The new worldwide tournament structure in which we have collaborated with the ATP and WTA will help address the issues of transition between the junior and senior game, and enable more professional players to make a living. However it is vital that we do not reduce the chance for players of any nation or background to enter the professional pathway. The introduction of the transition tour will allow players to take the first steps towards becoming a future champion within a more targeted and affordable circuit structure."
Chris Kermode, ATP Executive Chairman & President, said: "The new points structure from 2019 will lead to significant enhancements to the player pathway through men's professional tennis, providing a seamless link for players to progress upwards into ATP Challengers and beyond. We look forward to the successful implementation of the new structure through our continued extensive collaboration with the ITF."
Steve Simon, WTA Chairman & CEO, said: "It is the goal of many talented young tennis players to compete on the WTA Tour. We support the restructuring of the pathway to professional tennis that is being announced by the ITF which is designed to simplify the forward progress of talented young players through different tournament levels.  These efforts will provide more targeted job opportunities for players, and ultimately establish a clear pathway structure for players to move up to the WTA professional level."
Women's tour structure 2019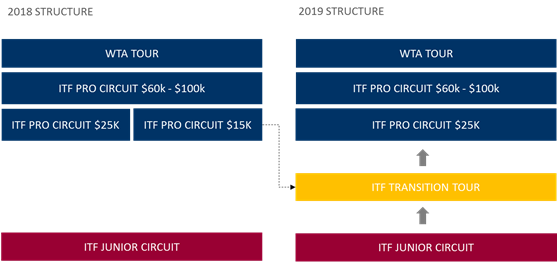 Men's tour structure 2019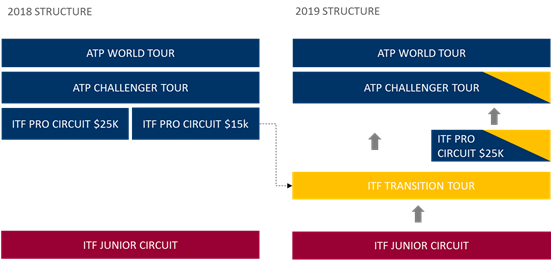 ITF Entry Point table 2019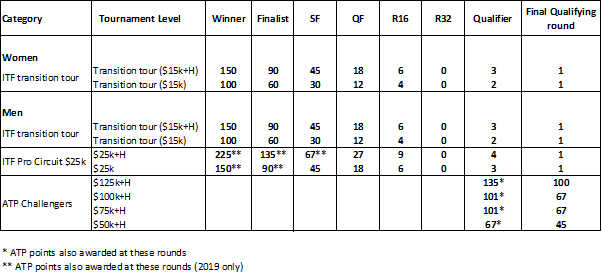 For updates regularly visit: Allsportspk