From 23rd – 27th July, the annual 2022 Scrabble Players Championship was held in Maryland, USA. The tournament comprised of 31 rounds and multiple players managed to attain dominating ranks each day. After 28th rounds, the top leading players – Austin Shin and Waseem Khatri, qualified for the final best of 5 series.
Final Match In Brief
With stellar performances by both the finalists, Austin Shin became the hard fought tournament's winner by triumphing the 4th match of the championship decider against Waseem Khatri. The initial two rounds were won by Shin but Khatri put up a valiant competition in the third match. However, he narrowly lost the next round as well as the championship title to Austin with a difference of only 79 points.
2022 North American Scrabble Championship-Day 5 Final: Austin Shin Wins
Final Game Board – Austin Shin Vs Waseem Khatri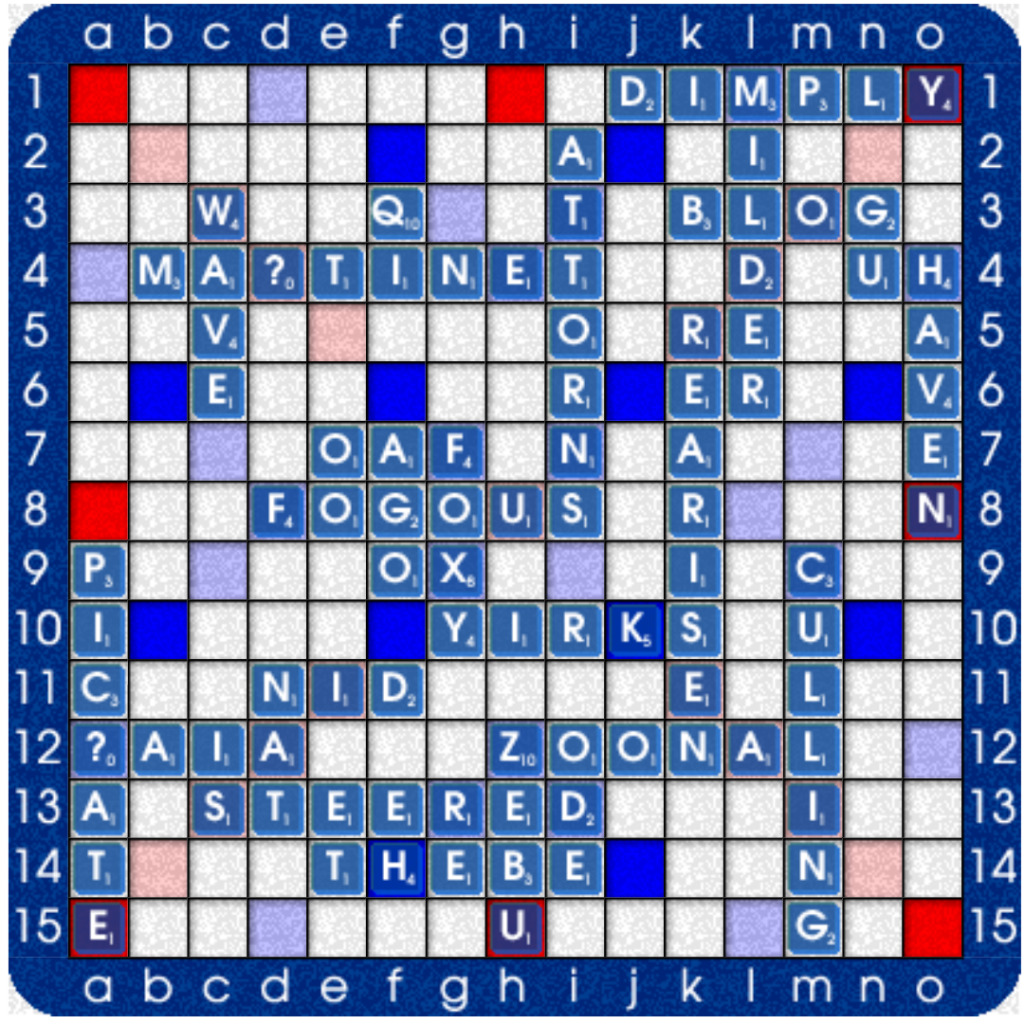 Brief Review Of The Final 4th Round
The last match which had cost Khatri the championship was well competed by both the players. In the beginning, Khatri and Shin started off at the same scoring pace until a phoney bingo, "Kyrolite" was played by Waseem Khatri instead of the actual valid word – "Kryolite". The word got challenged off the board by the opponent. Rather than gaining a commanding position, Khatri got further set back after Austin played a bingo which granted him a hundred plus point lead. Nonetheless, the margin was eventually covered but another bingo was played by Austin escalating his lead to 150 points. During the last moves, Austin sealed the game by hitting another last master bingo – "Martinent" despite of Khatri playing one himself – "Picrate". The final scores after the game were: 501 – 422.
Final Game Key Words + Meanings
CULLING: to segregate organisms
REARISE: arise again
STEERED: to guide or control a movement
ATTORNS: formally make or acknowledge a transfer of something
MARTINENT: a strict disciplinarian
Austin Shin upon clinching the title was awarded the champion's trophy along with a winner's prize of 3,000 USD. Waseem Khatri and Alec Sjoholm also received prizes as well as the class prize winners.
Images Of Awarding Ceremony