Two matches were played on the opening day of the Maj Gen Saeed-uz-Zaman Janjua Memorial Polo Cup, sponsored by JS Bank got underway at the Pakistan Park.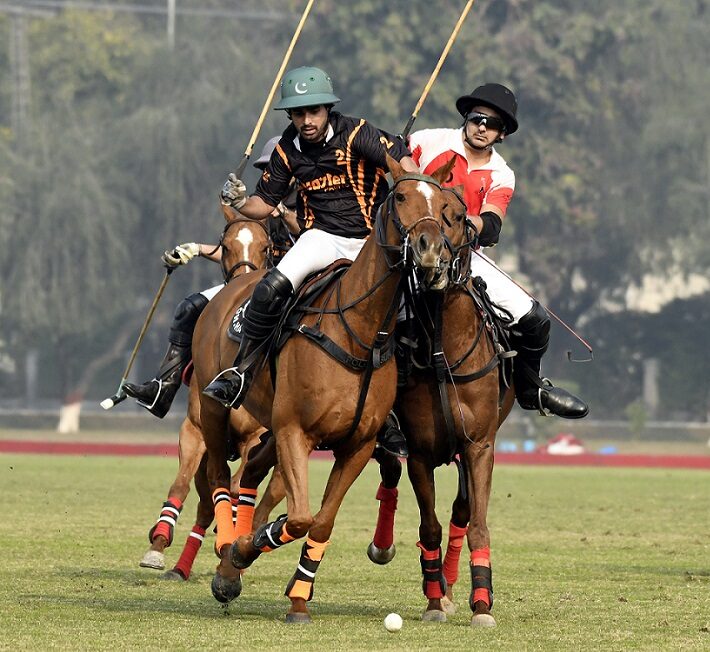 The first match of the day between Asean Polo Team and Master Paints/Diamond Paints proved to be a thrilling encounter and after a tough fight, Asean Polo Team won it by a narrow margin of 7-6½.
Veteran polo player Raja Sami Ullah emerged as hero of the match with a classic contribution of fabulous four goals while his teammates Raja Jalal Arslan and Mohib Faisal converted two and one goal respectively. From Master Paints/Diamond Paints, Mir Huzaifa Ahmed hammered a hat-trick of goals while Sufi Muhammad Haroon banged in a brace and Ch. Hayat struck one goal.  
Saeed-uz-Zaman Janjua Memorial Polo Cup 2019: Day 1
Sheikhoo Steel/Diamond Paints dominated the eight chukker match against Jubilee Insurance as they took 7½-3 lead in the second match of the day. Saqib Khan Khakwani was star of the day from Sheikhoo Steel/Diamond Paints with five fantastic goals while Mir Shoaib Ahmed struck one. From Jubilee Insurance, Hissam Ali Hyder converted all the three goals.   
The match began with Sheikhoo Steel/Diamond Paints having one and a half goal handicap advantage and they continued their dominance in the first two chukkers to gain 5½-1 lead. The third and fourth chukkers were evenly poised as both the sides scored two goals each in each chukker with Sheikhoo Steel/Diamond Paints enjoying 7½-3 lead.
On Thursday, only one match today will be played between FG Polo and Master Paints/Diamond Paints at Fortress Stadium.  
Saeed-uz-Zaman Janjua Memorial Polo Cup 2018: Hissam Scores 6 Goals
جناح پولو فیلڈز کے زیراہتمام میجر جنرل سعید الزمان جنجوعہ میموریل پولو کپ سپانسرڈ بائی جے ایس بینک شروع ہوگیا۔ بارش کے باعث پہلے روز کے میچ کھیلے گئے۔ پہلے میچ میں آسیان پولو ٹیم نے ماسٹر پینٹس /ڈائمنڈ پینٹس کی ٹیم کو 7-6.5 سے ہرایا جبکہ دوسرے میچ میں شیخو سٹیل /ڈائمنڈ پینٹس کی ٹیم کو جوبلی انشورنس پولو ٹیم پر پہلے چار چکرز میں 7.5-3 کی برتری حاصل ہے جبکہ اگلے چارچکرز جمعتہ المبارک کو کھیلے جائیں گے۔ تفصیلات کے مطابق جے ایس بینک کے تعاون سے منعقدہ آٹھ گول ٹورنامنٹ کے پہلے روز میچز دیکھنے کیلئے فیملیز کی اچھی تعداد پاکستان پارک کیولری گراؤنڈ میں موجود تھی۔ اس موقع پر کلب کے صدر لیفٹیننٹ کرنل (ر) شعیب آفتاب، سیکرٹری میجر(ر) بابر محبوب اعوان اور پولو کے کھلاڑی بھی موجود تھے۔ آٹھ گول کے اس ٹورنامنٹ میں پانچ ٹیمیں شامل ہیں۔ پول اے میں آسیان پولو ٹیم، ایف جی پولو ٹیم اور ماسٹر پینٹس /ڈائمنڈ پینٹس پولو ٹیمیں شامل ہیں جبکہ پول بی میں شیخو سٹیل /ڈائمنڈ پینٹس  اور جوبلی انشورنس کی ٹیمیں شامل ہیں۔ گزشتہ روز پہلے میچ میں آسیان پولو ٹیم نے دلچسپ مقابلے کے بعد ماسٹر پینٹس /ڈائمنڈ پینٹس کی ٹیم کو 7-6.5 سے ہرا دیا۔ آسیان پولو ٹیم کی طرف سے راجہ سمیع اللہ نے چار، راجہ جلال ارسلان نے دو جبکہ محب شہزاد نے ایک گول سکور کیا۔ ماسٹر پینٹس /ڈائمنڈ پینٹس کی طرف سے میر حذیفہ احمد نے تین، صوفی محمد ہارون نے دو، چودھری حیات نے ایک گول سکور کیا جبکہ آدھا گول ہینڈی کیپ ایڈوانٹیج تھا۔ دوسرا میچ دو ٹیموں کے درمیان آٹھ چکزرز کا ہوگا۔ پہلے چار چکرز میں شیخو سٹیل /ڈائمنڈ پینٹس کی ٹیم کو جوبلی انورنس پر 7.5-3 کی برتری حاصل ہے۔ شیخو سٹیل /ڈائمنڈ پینٹس کی طرف سے ثاقب خان خاکوانی نے پانچ جبکہ میر شعیب احمد نے ایک گول سکور کیا جبکہ ڈیڑھ گول انہیں ہینڈی کیپ ایڈوانٹیج حاصل تھا جبکہ جوبلی انشورنس کی طرف سے حسام علی حیدر نے تینوں گول سکور کیے۔ آج بروز جمعرات واحد میچ فوٹریس سٹیڈیم میں ایف جی پولو اور ماسٹر پینٹس /ڈائمنڈ پینٹس کی ٹیموں کے درمیان کھیلا جائے گا۔