Adnan Tairanwala Pehlwan defeated Shahid Pochar Pehlwan to win the Jashan-e-Baharan Rustam-e-Punjab Dangal at Punjab Stadium.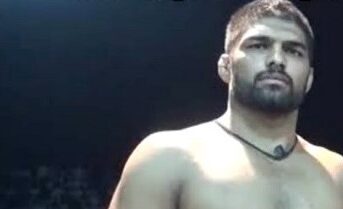 The two Pehlwans competed for the title after 30 bouts were fought and witnessed by a huge crowd including thousands of wrestling fans.
World Champion Inam Butt, famous wrestlers including former Rustam-e-Pakistan Olympian-e-Bashir Bhola Bhala Pehlwan, Sher-e-Punjab Shahid Khoey Wala Pehlwan, international referee Farid Ali and Pakistan Wrestling Federation Secretary Arshad Sattar, Chairman Pakistan Desi Kushti Federation Shabbir Mughal, witnessed the main kushti. Sikh guests Coach Gurcharan Singh, Kalwant Singh and Santok Singh Mandhair were also present.
Rustam-e-Pakistan Dangal 2021: Inam Butt Pehlwan Wins A Thrilling Fight
In other major fights, Malu Pehlwan defeated Razzaq Pehlwan, Muhammad Yar Pehlwan defeated Aftab Pehlwan while the fights of Ali and Sultan Pehlwan, Sajawal Goonga and Gullu Pehlwan, Heera and Ahmed Pehlwan finished without an outright winner. In other top national wrestlers bouts, Maroof defeated Razaq, Junior Malu defeated Qamar Abbas, Ramzan defeated Asghar, Qurban defeated Akaash, Hassan Ali by Shahbaz, Zeeshan defeated Raheel Ilyas, Wajid Dasti defeated Jalal, Bilal defeated Ghafoor, Raza defeated Current, Umair defeated Chota Khurram, Hasan defeated Shahzad, Mujahid defeated Beera, Haroon defeated Irfan, Waqas defeated Munna, Hafiz defeated Arslan, Mudassar defeated Zaheer, Billu Pehlwan defeated Hafiz Mamay wala, Khurram defeated Ramzan Kaka.