Taunsa Sharif Cricket Stadium hosted an historic thrilling Rustam-e-Pakistan Dangal fights which was won by World Champion, Inam Butt Pehlwan defeated international wrestler Masa'ab Khan Niazi.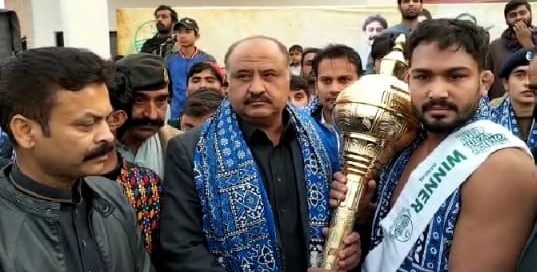 Around 35000 wrestling enthusiasts thronged the Taunsa Sharif Stadium to watch thrilling fights between top wrestlers of the country.
The biggest fight of Rustam-e-Pakistan Dangal was fought between World Champion and Presidential Award-winner Inam Butt Pehlwan and international wrestler Masa'ab Khan Niazi in which Inam Butt was declared winner after thrilling contest.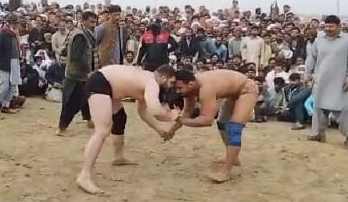 Sher-e-Punjab Adnan Pehlwan Tairanwala defeated Rustam DG Khan Division Sher-e-Punjab Omair Pehlwan after a close fight. Similarly Malu Pehlwan Lahorewala also entertained the massive wrestling lover crowd with his agility and interesting wrestling locks against Majid Dad Potra Pehlwan.
The fights between National Champion Nomi Pehlwan Gujranwalia and Imran Makku Pehlwan and Mama Pehlwan vs Wajid Dasti Pehlwan remained undecided.
Sardar Umer Khan Buzdar as chief guest awarded maces (gurz) to victorious wrestlers of the grand event. The participating wrestlers and officials also had group photographs with him.