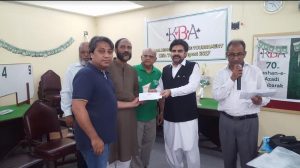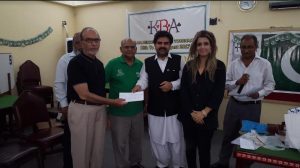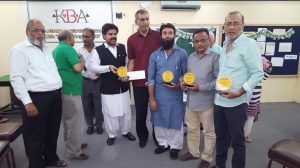 The Aslam Memorial Bridge Tournament comprised of one day pairs – 2 sessions and 6 round swiss team spread over 2 days. It was held by KBA at the Aslam Bridge Hall Karachi from 12th Aug to 14th Aug in commemoration of the 70th Pakistan Independence Day celebrations.
The pairs of Fatima Raza and Pervez Mirza from North South, Anisur Rehman and Ghufran Ashraf from East West topped in the overall performance.
In the team event while Tehsin won the Championship with a score of 87.34 having the services of Tehsin Gheewala ,Hassan Askari, Mubashar Puri, Hamid Mohiuddin and Zia Hai.
The first runners up position went to Bilal at a score of 75.53 comprising of Gulzar Bilal, Farrukh Liaquat, Abdul Muqeet, Wajahat Suri and Mohsin Chandna.
The second position went to Karachi Aces at 71.38 comprising of A.K Bhurgri, Sarfaraz Ahmed, M. Zubair, Asgher Abbas, and Yawar Abbas.
For updates regularly visit: Allsportspk