24th National 7s Rugby Championship: Army Lifts 2019 Trophy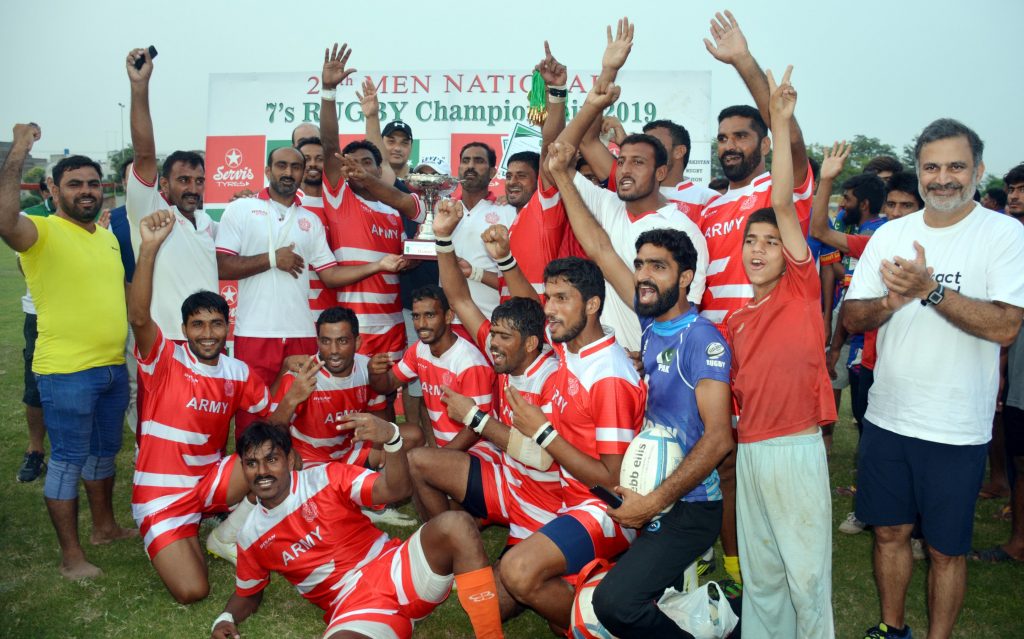 LAHORE: Pakistan Army won the 24th National 7s Rugby Championship 2019, by beating PAF 5-0.
Sponsored By Servis Tyres the Championship was held at Pakistan Rugby Academy, Lahore, with 12 teams participated from all over Pakistan.
Prior to the final, the Semi-finals were held. In the first semifinal Pakistan Army beat Railways by 52-0. In the 2nd semifinal Pakistan Air force beat Wapda by 21-5.
In the main Final, Army dominated due to the tempo they maintained in the first half game. During the first half Pakistan Army player Anjum availed an opportunity and scored a try. With this Army took a 5-0 lead which continued till the end. In the 2nd half PAF tried to level the game with some good moves but despite good attempts, success did not favour them. The final result being Army lifitng the 2019 trophy.
Tokyo 2020 Olympic Games: Ticket Website Launched; All Set For Rugby Sevens
In 3rd and 4th position match, Pakistan Wapda beat Railways by 50-0 and won the 3rd position.
In the concluding ceremony Director Servis Tyres and President Pakistan Rugby Union Chaudry Arif Saeed and Fawzi Khwaja, Chairmen PRU distributed trophies and prizes.
for more update keep visiting allsportspk