The 2nd Defence Raya Open Golf Championship came to a booming conclusion with Shabbir Ahmed winning one of Pakistan Golf circuits biggest prized title.
Scroll Down For Overviews Of Previous Day's
Final Scoresheet Scroll To The End
Played at Defence Raya Golf and Country Club Golf Course, this four day event had participation of the top 100 eligible golf professionals, besides 30 selected senior professionals and 15 junior professionals. 
Final (4th Round) Overview
And at the start of the final round on Sunday, the fourth day of the encounter, Shabbir Iqbal (Margalla Greens) had a one stroke advantage over his talented adversary M. Alam of Lahore Garrison Greens Golf Club and a two stroke edge over the dynamic Ahmed Baig (Royal Palm). As the flow of championship progressed in the course of the  round on Sunday, the battle between Shabbir Iqbal, M. Alam and Ahmed Baig assumed gritty dimensions. Every shot was played with precision and the exactness of golfing skills application was commendable indeed.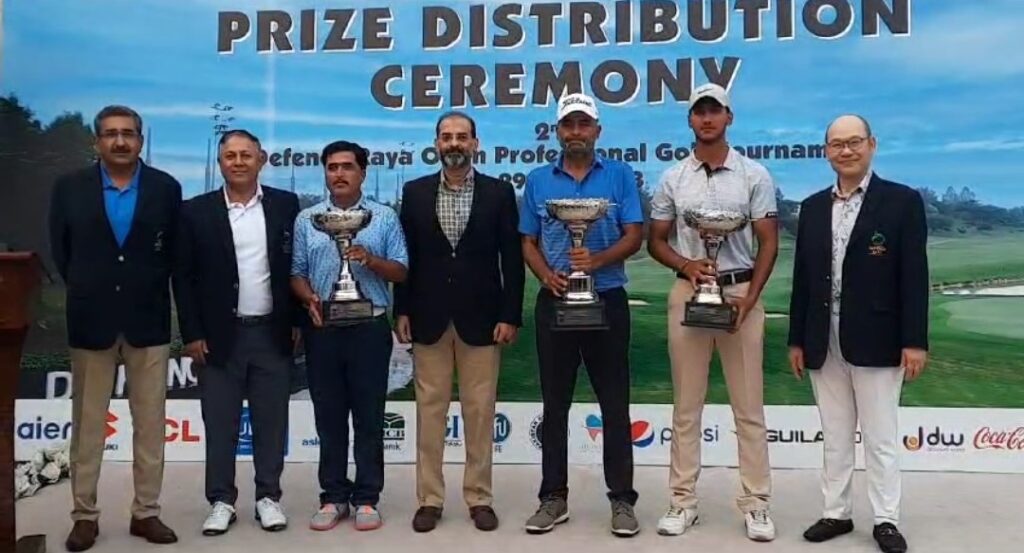 All through the eighteen holes and when the final 18 holes ended, M. Alam and Shabbir Iqbal were level. And as per rules Alam and Shabbir went into a sudden death play off on the 18th hole. That is when Shabbir showed his might and his approach shot to the green landed four feet from the hole while Alam's approach shot skidded off the green, about seven feet away. His return chip was perfect but while Alam ended with a par Shabbir scored a birdie to keep his invincibility live and kicking.
Defence Raya Golf Championship 2022: Umair Butt- The Club Champion! Abdullah Lifts CEO Cup
Over the decades Shabbir has won many championships in this manner by showing calibre and greatness in the closing holes. And here again, that greatness showed itself.
Results Of Other Events
Senior Professionals: M. Tariq (Islamabad) first; M. Akram (Gymkhana) second; Nisar Hussain(PAF) third.
Junior Professionals: Rehan Babar (first); Muhammed Sahil (second); Shahbaz Ali (third).
Invitational Nine Holes: Amir Akram Chaudry (first gross); Chaudry Hamidullah (2nd gross); Tahir Zulfiqar (third gross). Ghulam Dastgir (first net ); Brig Sumair (2nd net); Brig Sikandar Hayat (3rd net).
2021 Defence Raya Open Golf C'ship: Muhammad Shabbir Proves His No.1 Rank
In accordance with the significance of this championship, the golf arena had been prepared exceedingly well and met the required standards of international worthiness. All credit of which is due to the inspirational support of Heiden, the Course Superintendent and his team of green keepers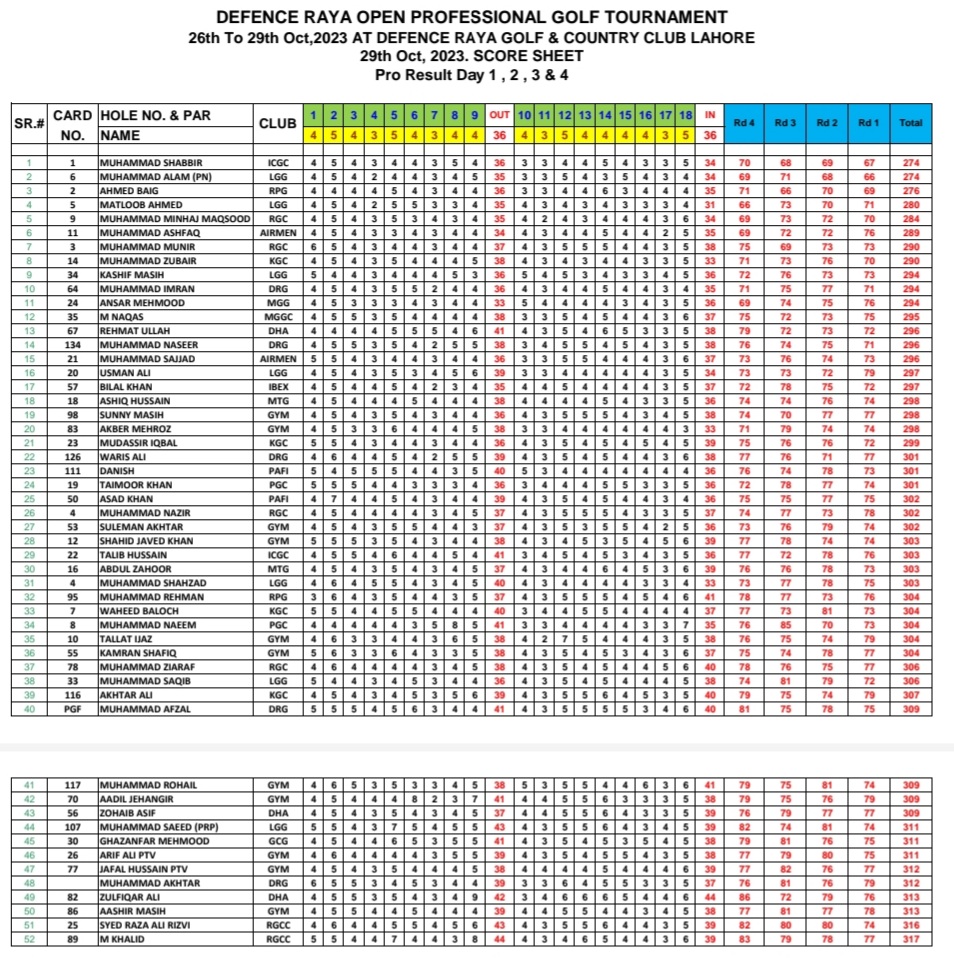 2nd Defence Raya Pro Golf 2023: 3rd Round | Shabbir Ahmed Takes Over Top Slot
The 2nd Defence Raya Open Golf Championship completed its 3rd round with the Herculean golf professional, Shabbir Iqbal taking over the top position on the leader board.
For the first two rounds, Muhammed Alam of Lahore Garrison had managed to stay on the top. On the third day, Shabbir played a round of gross 68, built up his aggregate to 204, twelve under par for three rounds, and fortified his position as the leader. Some might grade this as a twist of fate, but then all credit to Shabbir for managing this twist and taking over. That is how he competes and leaves his adversaries aghast.
2021 Defence Raya Open Golf C'ship: Round 3-Shabbir's Maintains Dominance
Sunday, 29th October, is the final day with the prize ceremony taking place at 3:30 pm.
For the overnight leader, M. Alam the only consolation is that he trails the leader by one stroke only and some zestful play in the final round on Sunday can help him to achieve a glorious finish. However as the leader board stands, another ferocious one seeking the Defence Raya title is Ahmed Baig. Visible is his high toned golfing play and he is very much in the run for exaltation. During the three rounds he has managed scores of 69, 70 and a luminous 66 in the third round. His aggregate score for three rounds stands at 205 which is similar to the score of M. Alam and can bring about a big thunderbolt for his opponents, in the final round on Sunday. Certainly it will be a match of intensity in application of golfing skills.
Pakistan-62nd National Amateur Golf C'ship: M. Shoaib & Parkha Lift 2023 Champions Trophies
Other notable ones with considerable capabilities but lagging behind are Matloob Ahmed at 214, Minhaj Maqsood at 215 and M. Munir at 215. Rehmatullah of DHA is at 217 followed by M. Zubair at 219 and M. Naseer, M. Naqas and M. Ashfaq at 220.
2nd Defence Raya Pro Golf 2023: 2nd Round | Muhammad Alam Remains Dominant
After second round of the 2nd Defence Raya Open Golf Championship, the most dynamic player of the championship till now is Muhammed Alam of Lahore Garrison Golf Course.
The cut was placed after the second round and only 51 participants out of 100, earned the honor of competing over the next two days.
2021 Defence Raya Open Golf C'ship: Round 2-Shabbir Iqbal Magically Reigns
Currently M. Alam enjoys a golf professional ranking of number 7 in the national golf circuit and is pursuing his golf career with animated vitality and the hard work seems to be paying dividends. Based on his effective array of shot making, he certainly appears as a contender of merit and reckoning. Even though playing against mighty golf professionals, M. Alam has managed to stay as the front runner for two consecutive golf rounds with a score of gross 66 in the first round and backing it up with a gross 68 in the second round. His aggregate scores for two rounds is 134 and in golfing terms that means ten under par which reflects distinction oriented calibre and golfing expertise.
50th Pakistan Open Golf 2023: Ahmed Baig Is National Champion For Second Successive Year;…
Competition wise the battle for illustriousness is still on as adversaries like Shabbir Iqbal and Ahmed Baig are still in the hunt for top honors and lucrative cash prizes and have put up performances in the two rounds that can be graded as exceptional in terms of golfing action. Shabbir Iqbal produced two rounds scores of 67 and 69 while Ahmed Baig has two rounds scores of 69 and 70. Undoubtedly Shabbir Iqbal and Ahmed Baig represent the best of the country and with noteworthy experience of competitive golf, they will unravel their skills to unnerve M. Alam and edge past him during the remaining two rounds of this prestigious six million rupees prize money open golf championship.
Out of the other contenders, Matloob Ahmed (Lahore Garrison), another top national golf professional elevated his position to number four with two rounds scores of 71 and 70 and an aggregate of 141, three under par. A golfer of rich experience and golfing mastery, Matloob can always surprise his opponents with superb golfing play.
2nd Defence Raya Pro Golf 2023: 1st Round | M. Alam & M. Shabbir Shine
At the conclusion of first round in this four rounds Defence Raya Professional Golf Championship the champions who performed superbly are M. Alam of Lahore, M. Shabbir of Islamabad and Ahmed Baig of Royal Palm.
Defence Raya C'ship & CEO Cup 2022: Day & Round 1; Mustafa Top Performer
M. Alam who is ranked number 7 showed ample all round brilliance to conclude the first round with a score of 66, six under par. His hitting was classy and accuracy loaded and fetched him six birdies and twelve pars. As for his nearest adversary Shabbir Iqbal, the display during the first round 18 holes was cast in a champions mould and he is placed at a score of 67 five under par, just one stroke behind the leader. Another very capable golfer, Ahmed Baig managed a gross round of 69, three under par.
2021 Defence Raya Open Golf C'ship: Round 1-Shabbir & Shahzad Set The Pace
Other champions with competitive performances are Minhaj Maqsood 70 and M. Zubair 70.At 71 are bracketed Matloob Ahmed, M. Naseer and M. Imran of Defence Raya.
Round 1-Top 20 Players ScoreSheet Of 2nd Defence Raya Pro Golf 2023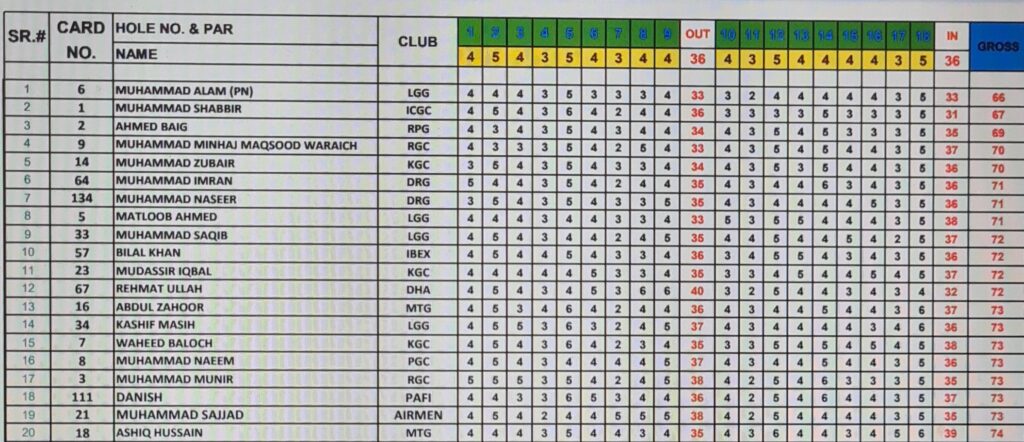 2nd Defence Raya Open Golf: Rupees 6 Million Prize Money Up For Golf Professionals
The top 100 professional golfers belonging to almost all golf courses of the country have reached Defence Raya Golf and Country Club a, premier golf course of Pakistan. And over the next four days they will apply their golf playing skills artfully to earn some illuminating honours and also try and successfully dip into the cash laden purse of Rupees six million. Some of the contenders are heralded and rated highly and predictions, assessments and statistics seems to favour them, as they tee off at the par-72 Defence Raya Golf Course with first tee off.
Mohammed Shabbir the top ranked professional of Pakistan national golf circuit is a champion whose consistency is almost automatic. He wins tournaments in unruffled fashion and having him as a participating competitor in this Defence Raya Open Golf Championship 2023 is distressing news even for players like M. Munir, Matloob Rana,M.Ashfaq and Waheed Baloch who possess immense golf playing capabilities and stand out as golf professionals of enormous merit.
Young Ahmed Baig, a product of Lahore Garrison Greens Golf Club remains a popular choice of many golf lovers, as his past record is enough to intimidate many hopefuls. In fact over the past twelve months he has demonstrated tremendous flair and devastating powers of recovery to highlight his capabilities and prove to experts that he is now the champion of the future and not unnerved by the incomparable winning record of Muhammed Shabbir Iqbal.
For the past two days, this young Ahmed Baig, ranked number two in Pakistan, has been practicing at the Defence Raya Golf Course, improving familiarity with the fairways and getting adjusted to the feel of the greens. Ahmed Baig says, "It is not preparation that is so important, it is the right preparation". Whispers about Ahmed Baig suggest that he is not going to be easy to beat.
As for the playing arena, it is all ready to test the skills of the competing golfers with course length now extended to 6800 yards. From the championship markers the course is likely to present an exacting examination that requires meticulous shot placing accuracy due to the demanding fairways and fast greens.