The 50th Pakistan Open Golf Championship winner is Ahmed Baig for second successive year. He through out the four days of Pakistan Open Golf Championship 2023, maintained his dominance and with authority lifted the National Champion 2023 title.
49th Pakistan Open Golf Championship: Ahmed Baig 2022-23 Champion In Sparkling Style | Akram;…
Scroll Down For Previous Day's Overviews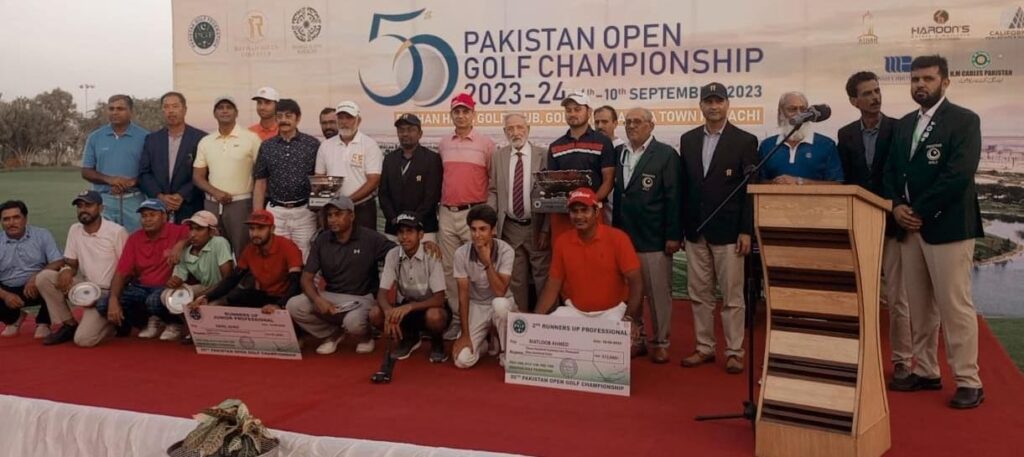 Played at the fascinating par-72, Rayhan Hills Golf Course, Bahria, Karachi from 7th September to 10th September 2023, a game of high quality was witnessed during the four rounds.
The vibrant Ahmed Baig of Lahore sparkled and eclipsed over some very strong adversaries to emerge as the national title winner. The noteworthy included top ranked professionals like M. Shabbir, Matloob Ahmed, M. Ashfaq Hamza Amin and Minhaj Maqsood.
Final Round Overview
Ahmed Baig, the leader at the start of the final round on Sunday was not threatened by the final round excellence of invulnerables like M. Shabbir and Matloob Ahmed and after four rounds scores of 67, 65, 68 and 73 his championship aggregate score was 273, fifteen under par. As against him M. Shabbir had four round scores of 68, 74, 68 and a final days 68 and his aggregate score was 278, ten under par and he lost to Ahmed Baig by a margin of five strokes having reduced the deficit he faced at the start of the final round by five stroke. Another pre tournament favou rite, Matloob Ahmed had admirable scores of 70, 68, 73 and 69. Overall aggregate was 280, eight under par and position wise he ended up third.
48th Pakistan Open Golf C'ship 2022: Muhammad Shabbir-Pakistan Champion For 6th Time
The Seniors Professional Event was won by Nisar Hussain with three rounds scores of 77, 71 and 75 and a total of 223. Raja Iftikhar Hussain was runners up and M. Akram came third.
Top performer amongst Junior Professionals was Ashass Amjad followed by Sahil Shah and Shahbaz Ali.
At the conclusion of the Championship the prizes were awarded to the performers by Sohail Shams, CEO, United Marine Agencies and Malik Kamran, Tournament Director. Sohail Shams announced that the champion Ahmed Baig will be a Brand Ambassador for United Marine Agencies and his tour expenses nationally and internationally will be covered by United Marine Agencies.
50th Pakistan Open Golf-Round 3: Ahmed Baig Maintains Dominance
The 50th Pakistan Open Golf Championship moves into the final concluding round on Sunday, 10th September at the Rayhan Hills Golf Course in Karachi.
105 top All Pakistan professionals in the participated Championship and after two rounds, 52 stood eliminated and based on their performance only 53 were selected to play the third round on Saturday (today) and thereafter the final round (tomorrow) on Sunday.
Round 3 Overview
Even at the end of third round, the dynamic, spirited and energetic Ahmed Baig looks all set to dominate the proceedings and flow of play in 2023 National Open Championship. With scores reflecting excellence over all three rounds, Ahmed Baig looks remarkably exceptional and has aggregated a score of 200, sixteen under par. His three rounds scores were 67, 65 and 68 and he enjoys a lead of 10 strokes over his spectacular adversary, Muhammed Shabbir (Islamabad) who has ruled the national golf circuit for over two decades, winning 200 titles.
As the standings appear after three round Ahmed Baig is placed at a score of 200, 16 under par. Muhammad Shabbir is at 210, six under par, Matloob Ahmed is at 211, five under par and M. Alam is also at 211, five under par.
The other notable contenders are M. Ashfaq placed at a score of 213, Hamza Amin 215, Minhaj Maqsood 216, Ashiq Hussain 216, M. Shahzad 219, M. Naqas 220, Dilshad Ali 220 and M. Nazir 220.
50th Pakistan Open Golf-Round 2: Ahmed Baig Remains In Spotlight

Young Ahmed Baig continued his excellent performance in the ongoing four rounds 50th Pakistan Open Golf Championship in progress at the Rayhan Hills Golf Club Golf Course in Karachi. He has moreover confirmed the 2023 national champion title, which being the most honourable title of Pakistan Golf circuit, is the ultimate wish of a Pakistan golfer.
Round 2 Overview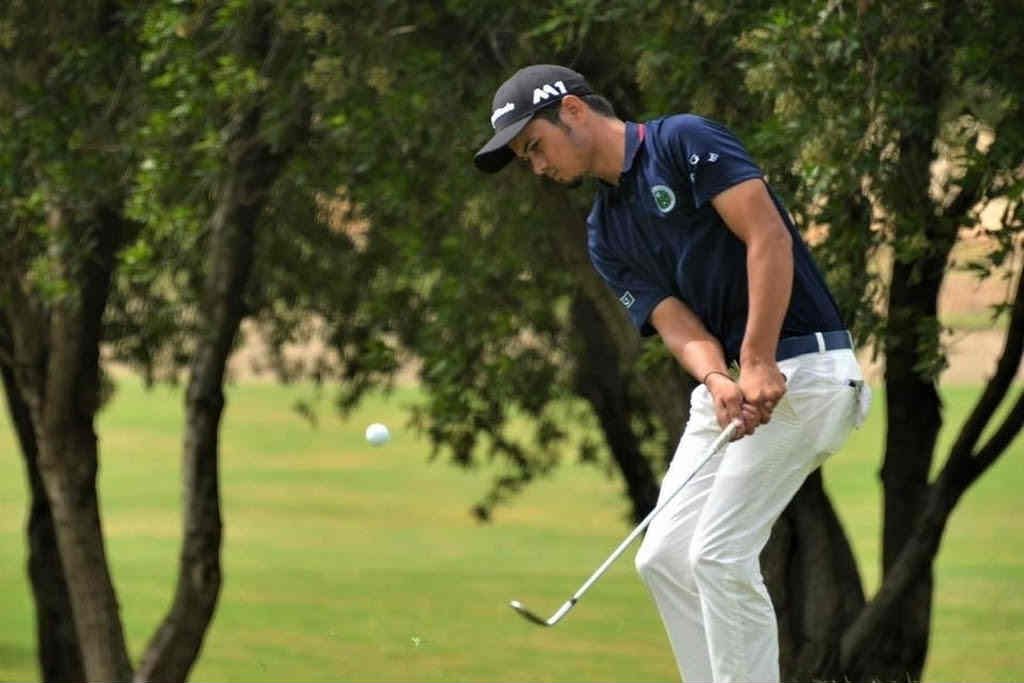 For the second round running, Ahmed Baig was once again, all charged up. With his putter in full control and all round game reflecting excellence, he fashioned another round of 65, seven under par giving him a two days aggregate of 132, a commanding look. With this kind of achievement, he has eased the situation for himself, moving into the final phases of the contest. As a result of his great showing, even heralded players like the unbeatable Muhammed Shabbir, M. Munir, M. Ashfaq, Minhaj Maqsood and Matloob Ahmed lag behind with barely any chance of taking over the reigns from Ahmed Baig over the remaining two rounds.
There was a cut after the second round and as a result 52 players stood eliminated. Only the best 53 professionals will play the remaining two rounds.
Matloob Ahmed and M.Shabbir however have one consolation. They are placed in the second and third slots and while outright victory is likely to evade them, they can achieve second and third positions. As for Matloob Ahmed, he is placed at a two rounds aggregate of 138 with reasonably good rounds of 70 and 68 while Shabbir is at a score of 142 bunched with M. Alam.