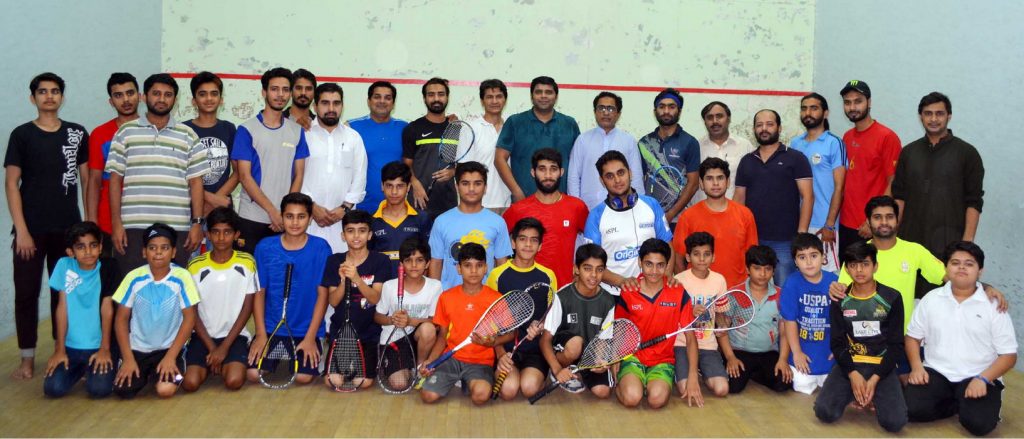 Semi-Finals of Junior and Senior categories in 2nd SNGPL Ramadan Squash Championship2018 were played and completed at Punjab Squash Complex, Lahore.
The Semi-Final Round Category wise Results were:
Senior Category:
1st Semi-final: Kashif Asif beat Arslan Ramzan score 11/3,11/4,11/6 (21 minutes).
2nd Semi-final: Moin Rauf beat Abdul Qadir score 9/11,11/7,11/9,11/3 (33 minutes)
Junior Category:
1st Semi-final: Junaid Khan beat Huzaifa Shahid score 11/8, 12/10 (20 minutes).
2

nd Semi-final: Muhammad Ashab Irfan beat Anas Bukhari score 11/7,11/8 (16 minutes)
The winners qualified for the final and will play the Senior category final on 10 June – Sunday.
Prior to Semi-finals, the Quarter-Finals of Junior Category were played. The results were:
1st

 Quarter-final Anas Bukhari beat M.Ahmad score 11/6,6/11,11/9 (15 minutes).
2nd Quarter-final Muhammad Ashab Irfan beat Ahad Shaukat Score 11/4,11/8 (17 minutes).
3rd Quarter-final Junaid Khan beat Azlan Khawar score 11/7,11/3 (12 minutes).
4th Quarter-final Huzaifa Shahid beat Usman Nadeem score 11/7,9/11,11/7 (28 minutes).
For updates regularly visit allsportspk