French Open 2018 Women's Final: World No. 1 Simona Wins
Match: Simona Halep Vs Sloane Stephens
Result: Simona Halep won 3-6, 6-4, 6-1.
Highlights: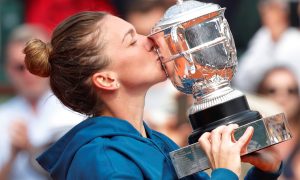 After the warm-up, in the first set Sloane took the lead and

was leading 4-0 but the World No.1 Simona recovered after a while.

However, it didn't matter as Sloane managed to seal the victory in the first set by 6-3, on a good forehand shot.
French Open 2018 Men Semi-Finals: Day 13 – Highlights
Simona Halep has done it! The Romanian just won her first Grand Slam title after a remarkable 3-6, 6-4, 6-1 win over Sloane Stephens in the #FrenchOpen final. The world No. 1 showed incredible resilience, as things could have gotten out of hand after she dropped the first. #RG18 pic.twitter.com/aRgOClz7fU

— TENNIS.com (@Tennis) June 9, 2018
In the second set, Stephens again took the lead but Simona not only recovered the points in a very short time, but she also took the lead by 4-2.

Sloane Stephens struggled hard and equalized the score 4-4 but she made unforced errors which costed her the last two points. At last, Simona won the second set by 6-4.

Now it was all down to the third set for both the players. Nobody knew who would win as both the stars looked confident while playing.

Simona scored the opening points of the third set after some good backhand and forehand shots and took a major lead of 5-0.

Stephens managed to recover only a point in the whole set as Simona Halep sealed her win by 6-1. 

Simona won the final and eventually her first Grand Slam title. 
.@Simona_Halep celebrates her first Grand Slam win with her coach Darren Cahill, the man most credited for changing her attitude exponentially—WATCH: https://t.co/Udb6Af326G pic.twitter.com/p6x0PIBC8U

— TENNIS.com (@Tennis) June 9, 2018
Join allsportspkfor the final match highlights of Men's Tennis tomorrow.
For updates regularly visit: Allsportspk