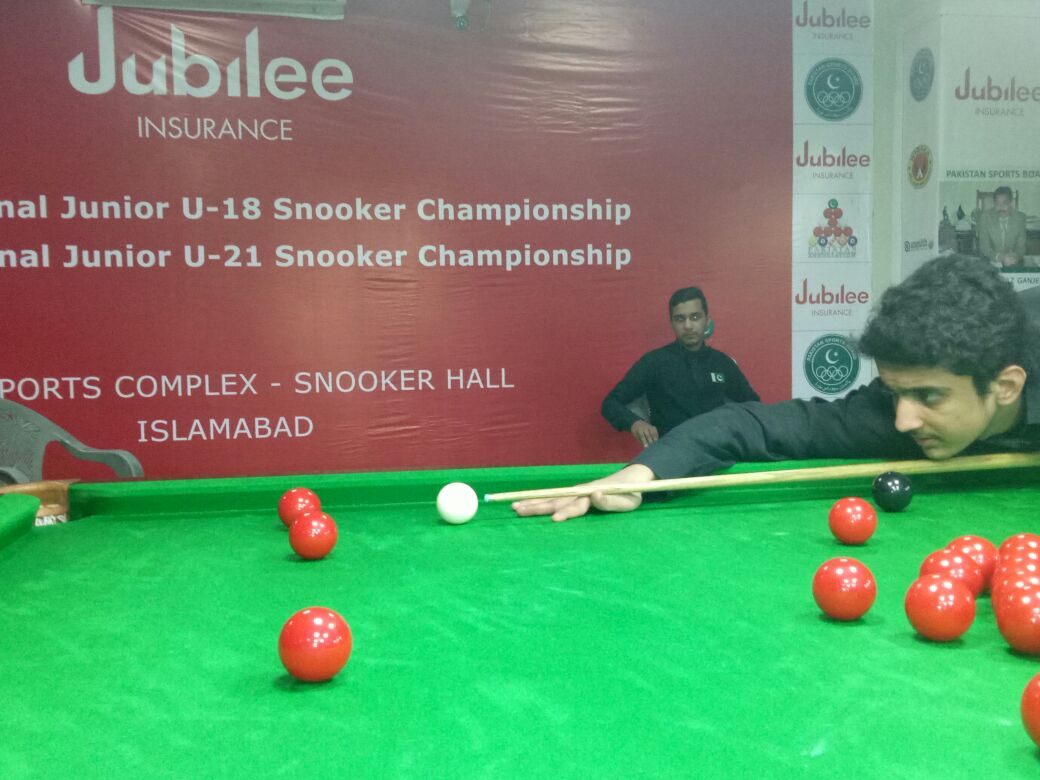 ISLAMABAD: By defeating their respective opponents, last year runners-up Mudassir Sheikh and last year semi finalist  Muhammad Umer Khan, qualified for the final of Jubilee Insurance 3rd National Junior U-18 Snooker Championship at PSB Billiards & Snooker Hall, Pakistan Sports Complex, Islamabad on Wednesday.
Final will be played on Thursday (today) at 10.00 am
In the first semi-final, Muhammad Mudassir Sheikh by displaying superb snooker managed to overcome his opponent Shahzaib Malik by 4-1. Mudassir Sheikh made two big breaks in two consecutive frames 4th & 5th of 59 and 65. 65 is the highest break of the Championship so far. Previous was of 60 made by Ahsan Ramzan of Punjab in the pre- quarter final.
Muhammad Umer Khan defeated Muhammad Hamza Ilyas by 4-2 in the second semi final.
Earlier in the quarter-finals:
Shahzaib Malik (Pjb) defeated Muhammad Rafey of Sindh 4-0,
Sheikh Muhammad Mudassir (Pjb) beat Kamran Albert Masih (KPK) 4-0,
Muhammad Umer Khan (Pjb) beat Ahsan Raza (Pjb) 4-3. It was very well contested match as match was decided on the Pink ball. Ahsan Ramzan made two breaks of 51 and 55 in the 4th & 5th frame.
In the 4th  & last quarter final, Muhammad Hamza Ilyas (Pjb) defeated Muhammad Sheheryar Abbas (Pjb) 4-3. Again it was a good match to watch as both youngsters 13 years Hamza Ilyas of Lahore and Sheheryar Abbas of Jhelum displayed excellent game. Both are tipped as future National stars.
Following are the complete results:
Quarter-Final Results
Shahzaib Malik (Pjb) bt Muhammad Rafay (Sindh) 4-0
(70-32, 88-40, 60-09, 99-15)
Shaikh M. Muddasir (Pjb) bt Kamran Albert (Kpk) 4-0
(61-23, 59-17, 59-09, 73-21)
Umer Khan (Pjb) bt Ahsan Ramzan (Pjb) 4-3
(44-58, 70-39(51), 56-54, 69-08(51), 05-73(55), 54-63(51), 58-48)
M. Hamza Ilyas (Kpk) bt M. Shehryar Abbas (Pjb) 4-3
(08-63, 27-57, 70-77, 66-26, 57-22, 85-15, 51-43)

Semi-Final Results 
Shaikh M. Muddasir (Pjb) bt Shahzaib Malik (Pjb) 4-1
(65-41, 61-12, 50-38, 88-21(59), 65-08(65),)
Umer Khan (Pjb) bt M. Hamza Ilyas (Kpk) 4-2
(70-28, 58-23, 15-63, 48-58, 73-01, 78-14)