3rd Youth Olympic Games: Tennis Entry Lists Announced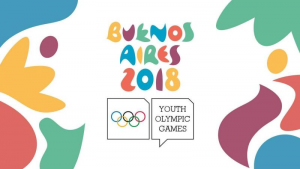 The ITF – International Tennis Federation has released the entry lists for the singles competitions of boys' and girls' at the 3rd summer Youth Olympic Games, which are to be hosted in Buenos Aires on 6-18 October 2018.
China presently leads the medal table and hopes to increase its tally. The two strong medal contenders in girls' are Wang Xinyu and Wang Xiyu, who claimed the Wimbledon Junior girls' doubles title.
World Tennis Rankings – 13th August '18: Nadal Retains His Top Spot
The girls' entry list also includes two Grand Slam winners. Liang En Shuo, who hoisted the Australian Open trophy in January, and Wimbledon champion Iga Swiatek of Poland.
15-year-old, Clara Tauson of Denmark ranked among the top 10 on the ITF Junior Circuit is one of the youngest players in the draw and has very serious medal credentials.
A total of 40 countries are represented across the two singles events. The entry list includes:
ITF Ranking Player – Boys' Singles – Youth Olympic Games
1 – Tseng Chun-Hsin (TPE)
2 – Sebastian Baez (ARG)
4 – Nicolas Mejia (COL)
5  – Hugo Gaston (FRA)
7 – Adrian Andreev (BUL)
9 – Naoki Tajima (JPN)
10 – Facundo Diaz Acosta (ARG)
11 – Tristan Boyer (USA)
12 – Carlos Lopez Montagud (ESP)
14 – Mu Tao (CHN)
15 – Filip Cristian Jianu (ROU)
16 – Yanki Erel (TUR)
17 – Lorenzo Musetti (ITA)
19 – Dalibor Svrcina (CZE)
20 – Drew Baird (USA)
22 – Clement Tabur (FRA)
23 – Marko Miladinovic (SRB)
24 – Ray Ho (TPE)
27 – Ondrej Styler (CZE)
28 – Arnaud Bovy (BEL)
30 – Gilbert Soares Klier Junior (BRA)
31 – Nicolas Alvarez Varona (ESP – Reallocation Place
32 – Nick Hardt (DOM) – Central America Regional Place
34 – Damien Wenger (SUI)
36 – Rinky Hijikata (AUS) – Oceania Regional Place
39 – Daniel Michalski (POL) – Reallocation Place
45 – Jesper De Jong (NED) – Reallocation Place
50 – Philip Henning (RSA) – Africa Regional Place
229 – Rudolf Moelleker (GER) – ATP Ranking: 275
440 – Patrick Sydow (ARU) – Universality Place
451 – Delmas N'tcha (BEN) – Universality Place
538 – Ali Dawani (BRN) – Universality Place
ITF Ranking Players – Girls' Singles
3 – Wang Xinyu (CHN)
4 – Liang En Shuo (TPE)
5 – Wang Xiyu (CHN)
6 – Alexa Noel (USA)
7 – Maria Camila Osorio Serrano (COL)
9 – Iga Swiatek (POL)
10 – Eleonora Molinaro (LUX)
12 – Yuki Naito (JPN)
13 – Clara Tauson (DEN)
15 – Naho Sato (JPN)
16 – Maria Lourdes Carle (ARG)
17 – Elisabetta Cocciaretto (ITA)
18 – Clara Burel (FRA)
19 – Joanna Garland (TPE)
21 – Lea Ma (USA)
23 – Viktorija Dema (UKR)
24 – Margaryta Bilokin (UKR)
25 – Lulu Sun (SUI)
26 – Kamilla Rakhimova (RUS)
27 – Diane Parry (FRA)
28 – Viktoriya Kanapatskaya (BLR)
33 – Ana Makatsaria (GEO)
34 – Daniela Vismane (LAT) -Reallocation Place
35 -Kaja Juvan (SLO) -Reallocation Place
36 – Oksana Selekhmeteva (RUS) -Reallocation Place
37 – Sada Nahimana (BDI) -Africa Regional Place
38- Selma Stefania Cadar (ROU) -Reallocation Place
39 – Georgia Drummy (IRL) -Reallocation Place
54 – Maria Gabriela Rivera Corado (GUA) -Central America Regional Place
64- Francesca Curmi (MLT) -Universality Place
104 – Valentina Ivanov -Oceania Regional Place
403 – Sylvie Zund (LIE) – Universality Place
Fore more updates keep visiting allsportspk