Racing – Formula 1: Fernando Alonso Announces Retirement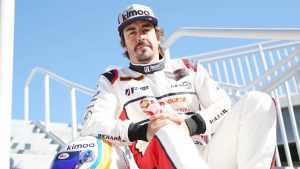 The two time World champ, Fernando Alonso has reported, that he is all set to resign from Formula 1 after the ongoing season ends.
Fernando Alonso Díaz is a Spanish national and professional Formula One racer. As indicated above, he is a two-time world champion and at present represents the McLaren F1 team. His achievements are what has allowed many racing experts, to regard him as one of the greatest Formula One drivers in the history of this sport.
On his retirement, Fernando Alonso said:
After 17 wonderful years in this amazing sport it's time for me to make a change and move on .

I made this decision some months ago and it was a firm one. There are still several grands prix to go this season, and I will take part in them with more commitment and passion than ever

Let's see what the future brings; new exciting challenges are around the corner. I'm having one of the happiest times ever in my life but I need to go on exploring new adventures.
At present, the 37 year old is contending in his 17th F1 season, which he won in 2005 and 2006 respectively.
One of the greatest achievements of Micheal Alonso, is that he ended Michael Schumacher's 5 year dominant run in the driver's championship, when he first won the title in 2005. At that time, he was also the youngest driver ever to win this title.
Additionally, Fernando Alonso has accomplished 32 wins, 22 pole positions and a total of 97 podium finishes in his shining career so far.
Social Media Reactions On Fernando Alonso's Retirement:
Racing fans hailed the achievements of their favorite racer, by expressing their love on social media. Have a look:
Congratulations @alo_oficial !! Be happy and enjoy your next challenge. ?? for me you were one of the best driver in the planet!! Take care and God bless you.??? https://t.co/VscpRoN6y6

— Felipe Massa (@MassaFelipe19) August 14, 2018
It's not going to be the same without you in 2019, but what a great excuse to go through the archives! Thanks for the memories @alo_oficial ?#RSspirit pic.twitter.com/UgsSjWOsr5

— Renault Sport F1 (@RenaultSportF1) August 14, 2018
We are gonna we miss you a lot @alo_oficial ! My passion for this sport started thanks to you and I consider myself a very lucky guy to have shared 4 years of f1 racing with one of the best ever. Time to keep profiting from the 2nd half of the season! pic.twitter.com/I1PEmn19Qq

— Carlos Sainz (@Carlossainz55) August 14, 2018
Fernando Alonso retires from Formula today…what a man…what a driver…great champion who for many years was driving what at best can be described not as a formula 1 car but a "tractor".

— Ahmednasir Abdullahi SC (@ahmednasirlaw) August 14, 2018
Dear @alo_oficial , much respect for this courageous decision. After two @F1 world championship titles, I'm sure more titles will come in other motor sport categories. And thank you for your commitment to #RoadSafety with the @FIA https://t.co/8iZ7yOUFG7

— Jean Todt (@JeanTodt) August 14, 2018
The fact that Fernando Alonso's two World Championships don't do him justice is testament to what an incredible driver he is. He came so close to winning the title again in 2007, 2010 and 2012. No matter what car he was given he would always outperform its potential. Legend! #F1

— Adam Todd (@AdamToddF1) August 14, 2018
Sad day for f1, the best driver on the grid will not racing next year. I will miss him and his style a LOT. Glad and honored to had the chance to knowing you in the past! Best of luck for your future! Exemplo para todos! @alo_oficial #crack

— matteo bobbi (@matteobobbi) August 14, 2018
For more updates keep visiting allsportspk