The 41st Punjab  Open Golf Championship 2022, title was clinched by M. Ashfaq, a golf professional of Karachi Airmen Golf Club.
Played at the wondrous and sublime PAF Skyview Golf Course in Lahore, M. Ashfaq outclassed colossally talented golf professionals like Shabbir Iqbal, Matloob Ahmed, Ahmed Baig and a few others to achieve overwhelming victory in the Punjab Open Golf Championship.
For Day 1, 2 and 3 Reviews Scroll Down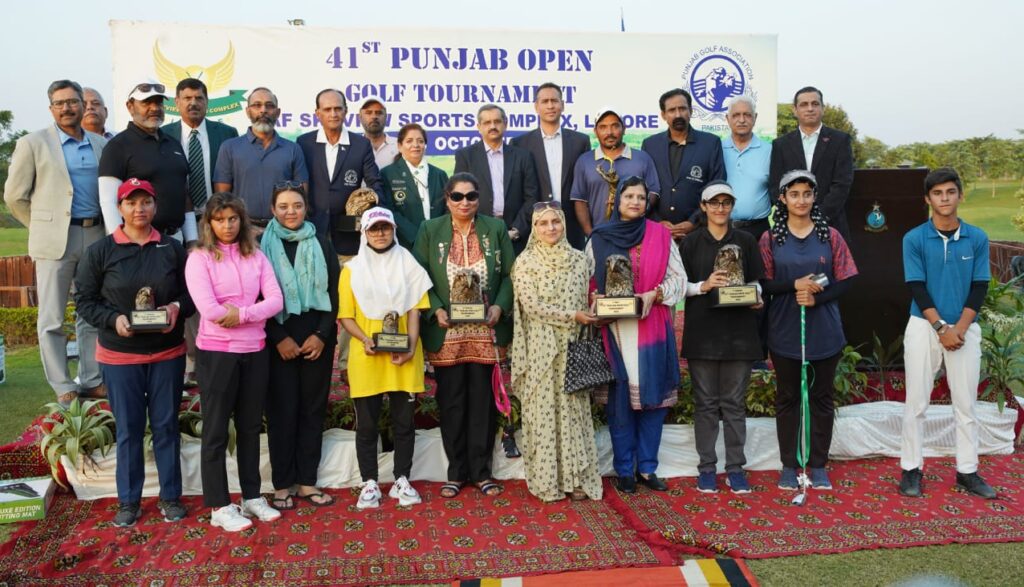 Professionals Play
At the start of the final round on Sunday, M. Ashfaq who has yet to attain the leading light status in the national golf arenas of Pakistan, was placed one stroke behind three leaders, Shabbir Iqbal, Matloob Ahmed and Shahid Javed and not many predicted that the ultimate winner will be someone other than Shabbir or Matloob or even Shahid. But the purposeful and resolute Ashfaq had other plans. As the competitive activity in the final 18 holes progressed, noticeable was Ashfaq's brilliance and his score was adorned with birdies and regulation pars. And when the final 18 holes came to an end his score of gross 67 represented an illuminated effort, giving him a commendable aggregate score of 206, ten under par plus elevating him to the star status of the title bearing event. While M. Ashaq emerged as the Punjab Open Champion, established ones like Shahid Javed ,Matloob Ahmed, Tallat Ijaz and A. Zahoor were bracketed at a championship aggregate score of 208, two shots behind M. Ashfaq.
The top ten positions in Professional Category were: M. Ashfaq (Airmen Golf Club) 68+71+67=206; Shahid Javed (Gymkhana) 68+70+70=208; Matloob Ahmed (Garrison) 69+69+70=208; Tallat Ijaz (Gymkhana) 69+70+69=208; A. Zahoor (Multan) 68+72+68=208; M. Naeem (Peshawar) 72+69=69=210; M. Shabbir (Islamabad) 68+70+73=211; Ashiq Hussain (Multan ) 72+72+68=212; M.Alam (Garrison) 73+71+68=212; M. Sajjad (AGC)71+71+71=213.
Amateur Category Champion was Salman Jehangir with three rounds scores of 70, 73 and 73 and an aggregate of 216. Qasim Ali Khan ended up as runners up. His scores were 76, 71 and 73 and the aggregate was 220. Damil Ataullah came third, scores being 73, 76 and 72 and a match total of 221. Net section winners were Nosherwan, first net, M.Shoaib, second net and Ahmed Jibran, third net.
Ladies Contest
A big development for ladies golf in Pakistan is that they are a part of World Amateur Golf Rankings and their performances are under review perpetually. The requirement they have to meet is to compete over 54 holes instead of the usual 36 holes. In this championship the top lady competitors contested over 54 holes and the results were; Hamna Amjad (AGC) 75+82+77=234; first, Parkha Ijaz (Defence Raya) 77+79+80=236; second; Aania Farooq (AGC) 76+82+79=237; third; Suneya Osama (Garrison) 91+87+81=259; fourth.
Results of other Ladies events: Hadia Osama, first gross; Shahzadi Gulfam, second gross; Dr Fouzia, third gross; Dr Shaheen Irfan, first net; Minna Zainab, second net; Aliha Amjad, third net.
Other Winner's
Winner of Senior Professionals Event was Muhammed Akram.
Junior Professional Event winner was M. Sahil.
The winner in Senior Professional Category was Tariq Usman Abbas;
Invitational Category Winners was GP Capt Asim Hafeez, first gross; Tariq Usman, 2nd gross; Sheraz Wahab, 3rd Gross; Ali Ejaz, first net; Chaudhry Amir Akram, 2nd net; Irfan Iftikhar, 3rd net.
The 41st Punjab Open Golf Championship prizes were awarded by Air Vice Marshal Tariq Mehmood Ghazi.
Day 3 Review
In the second round of this high stake Rs 3.2 million prize money event – 41st Punjab Open Golf Championship, the limelight was stolen by Shabbir Iqbal (Islamabad), Shahid Javed (Lahore Gymkhana) and Matloob Ahmed (Lahore Garrison).
Hole In One
A highlight of the day was a hole in one by Jafal Hussain of Lahore Gymkhana on 6th hole which will fetch him Rs. 100,000.
37th Punjab Open Golf Championship 2018: Shabbir Iqbal Ahead
Professionals Play Review
As far as playing scores go, Shabbir Iqbal played a round of gross 70 through birdies on holes 1, 9, 11 and 18, an eagle on the 13th hole, nine pars and four disagreeable bogies on holes 2, 12, 14 and 15 which counterbalanced his birdie excellence and he ended up 36 holes with an aggregate score of 138, six under par. His playing rival, Shahid Javed also had a score of gross 70 in Saturdays round made possible by most beneficial five birdies on holes 1, 7, 11, 13 and 14, ten regulation pars and excellence negating bogies on holes 1, 15 and 17. Overall he achieved an aggregate score of 138, six under par and he stands bracketed with Shabbir at this worthy score. Matloob managed a sterling score of gross 69 in Saturdays round and that added to his first round gross 69, gives him an aggregate of 138, six under par.
As the Champions get ready for Sundays final the odds look even and it will be a cut throat race for supremacy on Sunday .
Out of the 39 other professionals who made the cut and will compete in the final round, Talat Ijaz (Lahore Gymkhana ) and M. Ashfaq (Airmen Golf Club ) are best placed at a two rounds aggregate score of 139, just one stroke behind the three leaders, Shabbir, Shahid and Matloob. Both Talat and Ashfaq seek an escalation over their powerful adversaries and hope to bring some surprises based on their single mindedness and firmness of purpose.
Pakistan-40th Punjab Open Golf 2021: M. Tariq In Command For Pro Title
Other competitors well placed are A. Zahoor (Multan) at 140, M. Shahzad (Lahore Garrison) and M. Naeem (Peshawar) at 141, M. Sajjad (AGC) at 142, Ahmed Baig (PAF) at 143 and Arif Ali, Raza Ali, Ashiq Hussain and M. Alam at 144.
Final round will definitely see a battle of capable golfing.
Amateur Play Review
In the Amateur Category, the premier one after two rounds is Salman Jehangir (Lahore Gymkhana). He played exceedingly well to be placed ahead of talent enriched golf amateurs. His scores for two rounds are 70 and 73 and an aggregate of 143. In second slot is placed Qasim Ali Khan (Gymkhana ) at a score of 147, M. Shoaib at 148, Ahmed Jibran and Damil Ataullah at 149.
Day 2 Review
Friday was a day of transcendence when the first round proceedings for top professional category competitors began at the marvelously challenging par 72, PAF Skyview Golf Course.
In the hefty Rupees 3.2 million prize money championship, the professionals thrived in terms of golfing excellence with twelve of them producing sparkling under par rounds while two seasoned ones came up with par rounds.
Professionals first tee off will be at 6:30 am on Saturday and Ladies Amateur Contest will be held on Saturday and Sunday.
39th Punjab Open Golf C'ship 2020: Day 2 – Defending Champion Matloob Excels
Professionals Play
Merit and calibre and classy golf play was discernible all through the 18 holes and the one who stood out as the golf player of impeccability was Latif Rafiq a golf professional of Lahore Gymkhana. His 18 holes round on Friday fetched him an illuminating score of gross 67, five under par and he finds himself looking adorable on top of the leaderboard while super stars like Shabbir Iqbal, Matloob Ahmed, M. Munir and Ahmed Baig are placed way down.
"Indeed it was a fulfilling day for me" said Latif Rafiq, after the round. "I do realize that I am up against the mighty ones in this race for rewards and honors and I hope I can play with resoluteness over the remaining days to stay ahead of my rivals."
As for other professionals, looking fierce and admirable are Shahid Javed Khan, M. Ashfaq (Airmen Golf Club, Karachi), A. Zahoor (Multan) and Shabbir Iqbal (Islamabad ) and they are all bracketed at a score of gross 68, four under par and just one stroke behind the leader, Latif Rafiq. These four are proficient golfers of the national golf arena and evaluated as technically unrivalled.
Four more competing professionals with praiseworthy command over their game are bunched together at a resplendent score of gross 69, under par. These four are Arif Ali (PTV), M. Afzal Mohsin (Raya), Khalid Khan (Peshawar), Tallat Ijaz (Gymkhana) and Matlloob Ahmed (Lahore Garrison). Others placed well are Raza Ali (Multan ) at gross 70, M. Imran and M. Rehman (Raya), M. Sajjad (AG) at gross 71 and Ashiq Hussain (Multan) and M. Shahzad (Garrison ) at par 72.
37th Punjab Open Golf Championship 2018: Day 2
Senior & Junior Events
For events like Senior Amateurs, Senior Professionals and Junior Professionals, the competition was over 36 holes and these events concluded yesterday. The gross winner in Senior Amateur Race was Tariq Usman Abbas (PAF Skyview) who eclipsed over his rivals through steady play and reliable hitting. With two rounds scores of gross 78 and gross 78, he aggregated a score of 156 and won the first gross prize. His nearest rival was Waqar of Garrison who ended at a score of 156 but Tariq won as he had a better score over last 18 holes. Third position was secured by Umair Butt of Defence Raya. His score was 160. In Senior Amateur net, Shahid Arshed came first, Asif Mehdi, second net and Azhar Janjua, third net.
Results of Senior Professionals and Junior Professionals were M. Akram (Gymkhana), first; M. Akhter (Islamabad), second; M. Tariq (Islamabad), third; Junior Professionals; M. Sahil (Peshawar ) first; Shahbaz Ali (Lahore Garrison) second; Rehan Babar (Lahore Garrison), third.
Day 1 Review
On the first day of the four days, 41st Punjab Open Golf Championship 2022 commenced at the 18 holes, par 72 PAF Skyview Golf Course in Lahore.
First Day For Senior Professionals Event & Junior Professionals Competitions
At the end of the first days 18 holes round, the Senior professional who outshone his rival golfing mates was M. Akhter of Islamabad Golf Club. M. Akhter may be categorized as a senior professional, yet he exhibited good command which resulted in compiling a score of gross 70, two under par.
37th Punjab Open Golf 2018 – Day 1: Parkha Ijaz Dazzles
"I am very pleased with the way I met the golf course challenges and hope to finish off as the best one in the second round on Friday, as this competition for seniors is over two rounds and 36 holes."
Having said that, his nearest rivals, smartly placed at number two slot are M. Akram of Lahore Gymkhana and Asghar Ali, also of the same club. M. Akram ended the first round with a score of gross 73 and Asghar Ali also put together the same score. These two seniors may be categorized as elders of golf, yet maintain commendatory physiques and practice frantically to keep intact a touch of mastery as and when they compete. Standing at three strokes in arrears, M. Akram and Asgher appear determined to outshine M. Akhter in the final go.
Other senior professionals who played impressively are M. Irfan (Rawalpindi) who finished the first round at gross 74 and there are five others at a score of gross 75. They are Maqbool Ahmed (Garrison), Mehmood Kayani (Islamabad), M. Javed and Chaudry Iftikhar (Gymkhana), and M.Tariq (Islamabad ). Placed at a score of gross 76 are A. Hameed (Islamabad) and Rustam Ali Chattah (Lahore Garrison).
39th Punjab Open Golf 2020: Matloob; Munir & Talib Sparkle
In the Junior Professionals Championship race, the best one of the first day was M. Sohail of Peshawar. With a score of gross 72, he imprinted his mark of superiority on the flow of the game. His rivals are far behind at a score of gross 78. These counterparts are Musa Khan, Jawad Khan, Kohinoor Shahid, Hassan Ali and Shahbaz Ali.
Events Schedule
As for the champion golf professionals, they will show their potency, robustness and playing flair from Friday, 21st October. The contest will extend over three days, Friday (18 holes), Saturday (18 holes) and final 18 holes on Sunday. And exceptional will be the exhibition of golfing techniques at the PAF Skyview Golf Course. First tee off of professionals is scheduled for 6:30 am.