The 49th Pakistan Open Golf Championship organized by PGF-Pakistan Golf Federation came to a fantasy fulfilled and prestige loaded conclusion at the Lahore Garrison Greens Golf Course.
The 2022-23 Champion is the twenty four years old Ahmed Baig of PAF Skyview Golf Club, who maintained his command after four rounds (72 holes) of skillful golfing encounter.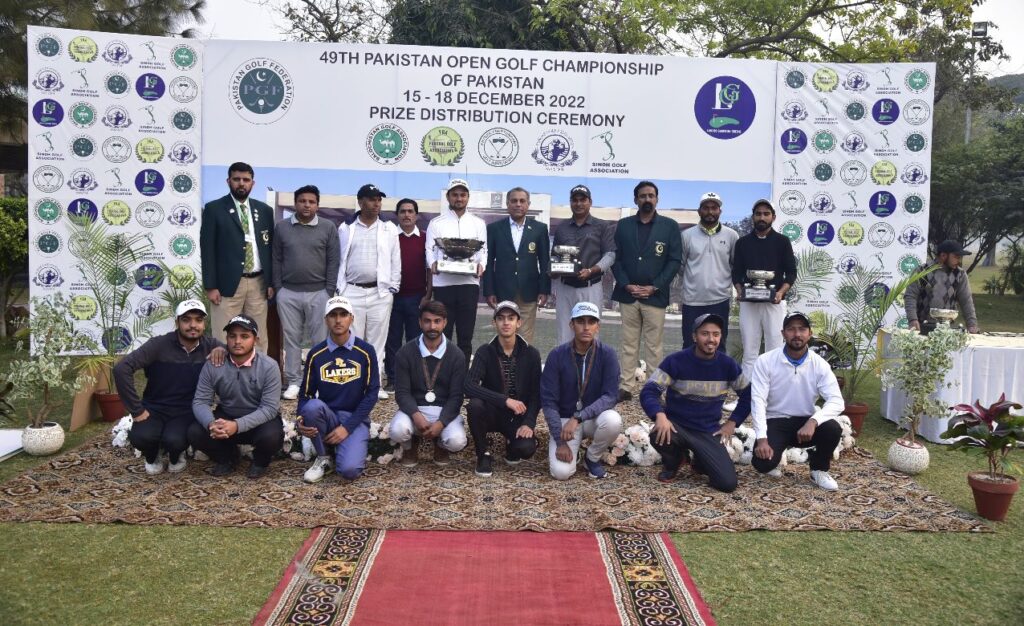 During the course of these four rounds, aspirants seeking the Pakistan Open Golf Title for 2022-23 were several giants of the game, yet it was the young Ahmed Baig who showed ample intensity and sparkle in this title bearing premier event.
During the final round on Sunday the run of play was controlled by the proficient Ahmed Baig. His tee shots were forceful and precision oriented backed by flawless approach shots that resulted in the ball landing on greens, mostly within five to six feet of the flag stick. And that made putting uncomplicated and fetched him five birdies on holes 3, 5, 8, 16 and 18. He encountered one bogie on the 11th hole too but otherwise the touch of the champion was admirably visible and imposing. Ahmed certainly remained incessant about his pursuit of victory. His championship scores were 72, 68, 66 and 68 and a total aggregate of 274, fourteen under par.
Certainly an exceptional score that fetched him the champions trophy and the winners prize money of Rs 919,000 out of the total prize money of 8 million rupees. Balance was distributed among top 50 professionals as per rule.
Competiting Players
The second position holder Matloob Ahmed, the number two ranked golf professional of the country managed to win the runners up position with four rounds scores of 72, 75, 65 and 71 and a total aggregate of 283, five under par. A commendable effort from him.
Other contenders who ended up well are Muhammed Alam of Lahore Garrison with a score of 284, four under par. He secured the third position. Fourth position went to M. Munir (Rawalpindi Golf Club) with a score of 287, one under par followed by Khalid Khan (Peshawar) and M. Shahzad (Garrison) bunched together at a score of 288.
Following them are three professionals at a score of 289. They are Ansar Mehmood (Margalla Greens), Waheed Baloch (Karachi) and M. Nazir (Rawalpindi). Three more professionals ended up at score of 290. These competing professionals are M. Saqib, Abdul Zahoor, Talat Ijaz.
Senior Professional Category Results: Muhammed Akram (Gymkhana) first; M. Tariq (Islamabad) second; Muhammed Akhter (Islamabad), third; Scores of M. Akram and M. Tariq were level and they went into a sudden death playoff. Akram won on the third hole.
Best Junior Professional of this championship is Jawad Ahmed of Peshawar. M. Sahil also of Peshawar is second and Rehan Babar of Lahore Garrison is third.
The Best Amateur of the Championship was Saad Habib Malik of Rumanza Golf Club. Other two amateurs who survived the cut and made their mark were Ali Amin and M. Irtaza.
The event was technically monitored by Omer Zia as Chief Referee and managed by by Malik Kamran, Tournament Director.
At the conclusion of the 49th Pakistan Open Golf Championship, Lt Gen (R) Qazi Muhammed Ikram, President Pakistan Golf Federation awarded prizes to the winners in the presence of Brig Sajid Akram, Honorary Secretary, PGF.
BREAKING: Ahmed Baig Pakistan Golf 2022-23 Champion
24 year old Ahmed Baig of PAF Skyview is the Pakistan Golf Champion for the year 2022-23. He emerged triumphant and is now the wonder boy of Pakistan's Golf after four rounds of golfing excellence.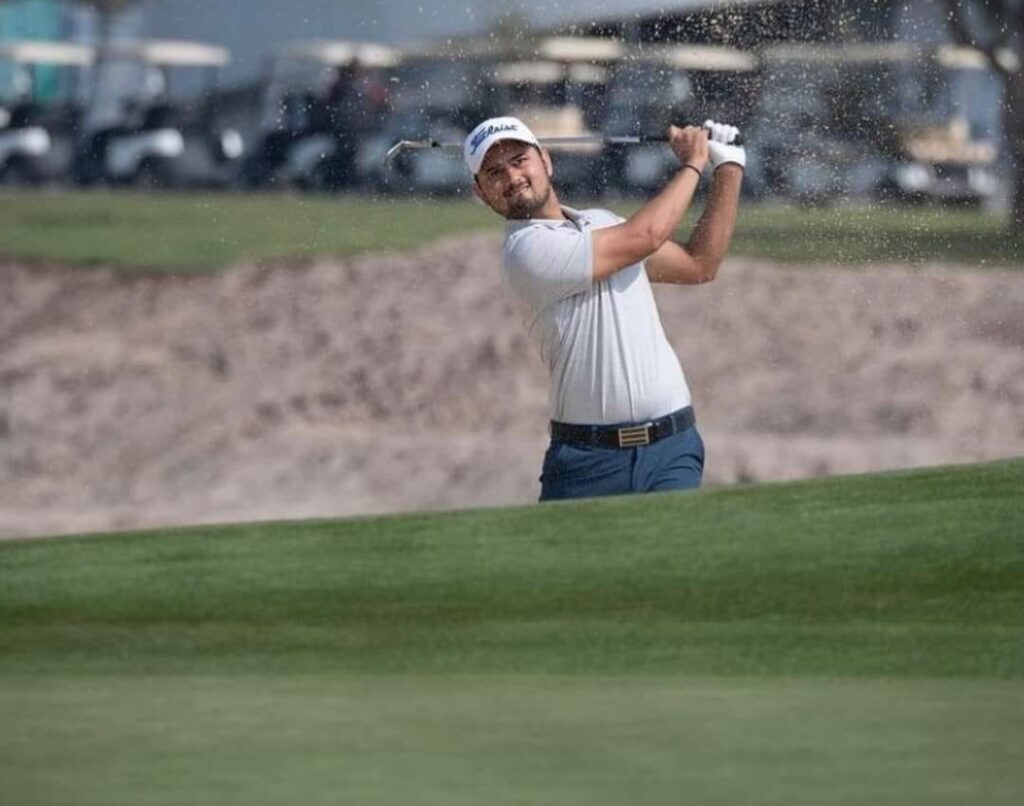 His aggregate score for four rounds was 274, fourteen under par. This is dream fulfilled for this 24 years old who took up golf 12 years back.
The runner up was Matloob Ahmed of Lahore Garrison. His score for the 49 th Pakistan Open Golf Championship was 283.
Third position was secured by M. Alam of Lahore Garrison. His score was 284.
Day & Round 3 | Ahmed Baig Maintains Top Leaderboard Position
The 49th Pakistan Open Golf Championship having offered a challenging time over the past three rounds to the merited golfers, moves into the final phase at the Lahore Garrison Greens Golf Course. For Day & Round 4 draw scroll to the end.
The final session will be contested on Sunday, 18th December a fierce battle is expected between the top seven professionals. After the conclusion of the championship the prize distribution will be held at 3.30pm.
Round 3 Overview
At the conclusion of the third round, the spirited 24 years old, Ahmed Baig (PAF Skyview) occupies the top of the leaderboard upstanding position which makes him a probable aspirant for the Pakistan Champions Golf Title. He is challenged intently by another young one, Muhammed Alam (Lahore Garrison) and an exceptionally seasoned and battle hardened one, Matloob Ahmed (Lahore Garrison).
As far as scores are concerned, Ahmed Baig has a three rounds aggregate of 206, ten under par achieved through three rounds scores of 72, 68 and a luminous 66 on the third day. For the animated Ahmed Baig this represents a remarkable moment in his career and though the final round on Sunday could be a frightful affair, the experts of the game including his mentor Brig. Bajwa hope that Ahmed Baig will apply his capabilities in a potent and fruitful manner.
During the course of third round Ahmed Baig managed to upgrade his position by playing superbly. Eight birdies during the course of 18 holes golfing is morale boosting and enlivening for the confidence level .
While Ahmed Baig enjoys the spotlight in the ongoing combat for honours and lucrative prize money, there are other contenders who look relentless in making a mark. The dominant ones in this category are Muhammed Alam and Matloob Ahmed. Through a gross 69 on Saturday, M. Alam is placed at a three rounds aggregate score of 211, five under par and intensely poised for a majestic show in the final round on Sunday. Another battle hardened one Matloob Ahmed, though placed six strokes behind Ahmed Baig, is all determined to put up a resplendent effort in the final round. His round of gross 65 on Saturday has elevated his standing from 12th position to 3rd position.
Other performers are Ansar Mehmood at 215, Waheed Baloch at 217, M. Saqib at 217, Arif Ali at 218, M. Waqas at 218, Khalid Khan at 218 and M. Shahzad at 218.
Following them are M. Munir 219, M. Zubair 219, and M.Shabbir at 219.
In the race for honours amongst amateurs, the outstanding one is Saad Habib of Rumanza. Two others in line are Ali Amin and Irtaza.
As for the senior professionals, M. Akram is the leader while M. Tariq is second and Tariq Mehmood, third.
49th Pakistan Open Golf Championship: Final Day & Round 4 Draw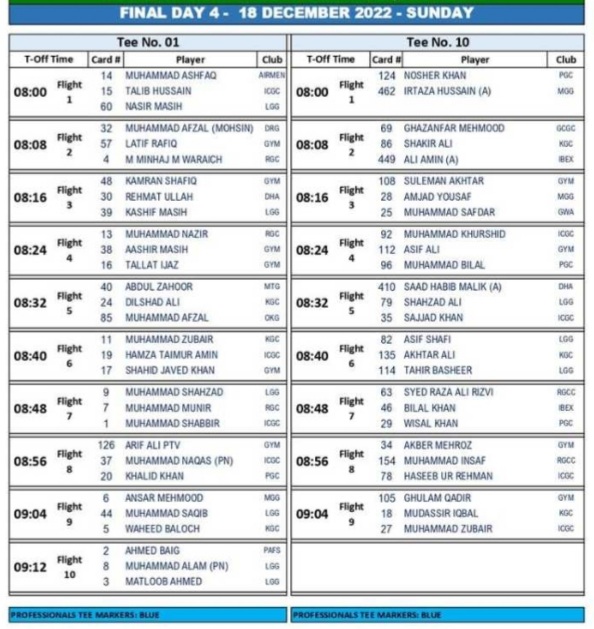 Day & Round 2 | Ahmed Baig & Ansar Mehmood Lead
Out of four rounds, two rounds stand completed in the 49th Pakistan Open Golf Championship at the Lahore Garrison Greens Golf Course. Tee off in the third round on Saturday, 17th December will be at 8 am. For Day 2 draw scroll to the end.
The holding of this grand event gets a respectful salute from the golf professionals of the national golf circuit as it lays out a gainful occasion for them whereby commendable performances reap befitting rewards. And visible are the efforts of the golfing duelists who toil and exert themselves to exhibit perfection in the golf arena.
Round 2 Review
At the conclusion of the second round on Friday, the youthful Ahmed Baig of PAF Skyview Golf Club showed his enormous golf playing capabilities through shot control and mastery on the greens and thereby emerges as the leader with an assertive performance. With a second round score of gross 68, Ahmed Baig finds his two rounds aggregate of 140, four under par, fittingly suitable to place him at the top ladder on the leaderboard. Leader he certainly is but not alone. His playing adversary Ansar Mehmood of Margalla Greens is also there with him by matching the aggregate score of gross 140 with two rounds scores of 68 in the first round and 72 in the second round yesterday.
No doubt this might be upsetting for the herculean ones like Shabbir Iqbal, M. Munir and Matloob Ahmed who have reigned the golf arena of Pakistan for the past fifteen years but it appears in this 49th Pakistan Open, they are not the ones in command.
Player Performances
At the start of the 18 holes on Friday, Ahmed Baig was placed way down the leaderboard but as the flow of second round progressed, Baig began to look zestful and spirited and totally unmoved by the stress of the competition and yearning to cast a spell of ascendancy. His drives off the tee were forceful backed by errorless approach shots. These attributes fetched him seven birdies, eight pars and though he encountered three bogies also his score for the second round was gross 68 and that added to the first days score of 72 gives him an aggregate of 140, four under par for two rounds.
At the same score is placed Ansar Mehmood and from hereon the battle of nerves is on. Two strokes behind the two leaders is Muhammed Alam (Lahore Garrison). With two rounds scores of 68 and 74 and an aggregate of 142, Alam is two strokes behind the leaders, all committed to show his strengths over the remaining two rounds.
Out of the other contenders Arif Ali (Gymkhana ) is placed fourth with two rounds aggregate of 143, one under par and he is three strokes behind the leaders, Ahmed Baig and Anser.
More contenders in line for good positions are Hamza Taimur Amin (Islamabad) at a score of 145 and also at 145 are Shahid Javed Khan (Gymkhana), M. Saqib (Garrison) and Muhammed Naqas (Islamabad). Following them are Aashir Masih (Gymkhana) and Waheed Baloch (Karachi) at 146. At a score of 147 are placed Minhaj M.Waraich (Rawalpindi), Matloob Ahmed (Garrison), M.Munir (Rawalpindi ) and Abdul Zahoor (Multan). The number one ranked player of the country had lost his bearing in the first round and his score was an unbelievable 79 .
In the second round however his excellence stood restored and his round of 69 gives him a two rounds score of gross 148 and he is placed 16th on the leaderboard.
In the amateur category the teenager Saad Habib Malik of Rumanza showed his talent and merit and is the leader in amateur section with two rounds scores of 76 and 75 and a two rounds aggregate of 151. Placed one stroke behind him is 15 years old Irtiza Hussain. His two rounds scores are 73 and 79 and total for two rounds is 152. Ali Amin of Sargodha is at a score of 153. Out of 35 amateurs, only three amateurs made the cut, which represents a huge compliment for these young ones.
The overall cut was placed at the end of two rounds and based on scores only 56 made the cut .That included 53 professionals and only three amateurs .
The senior professionals played their first round on Friday. Leaders at the end of the first round are Muhammed Tariq (Islamabad) and Zulfiqar Ali (Multan) with a score of gross 71, one under par. Irfan Mehmood, Tariq Mehmood and Tahir Naseem are placed together at a score of 73.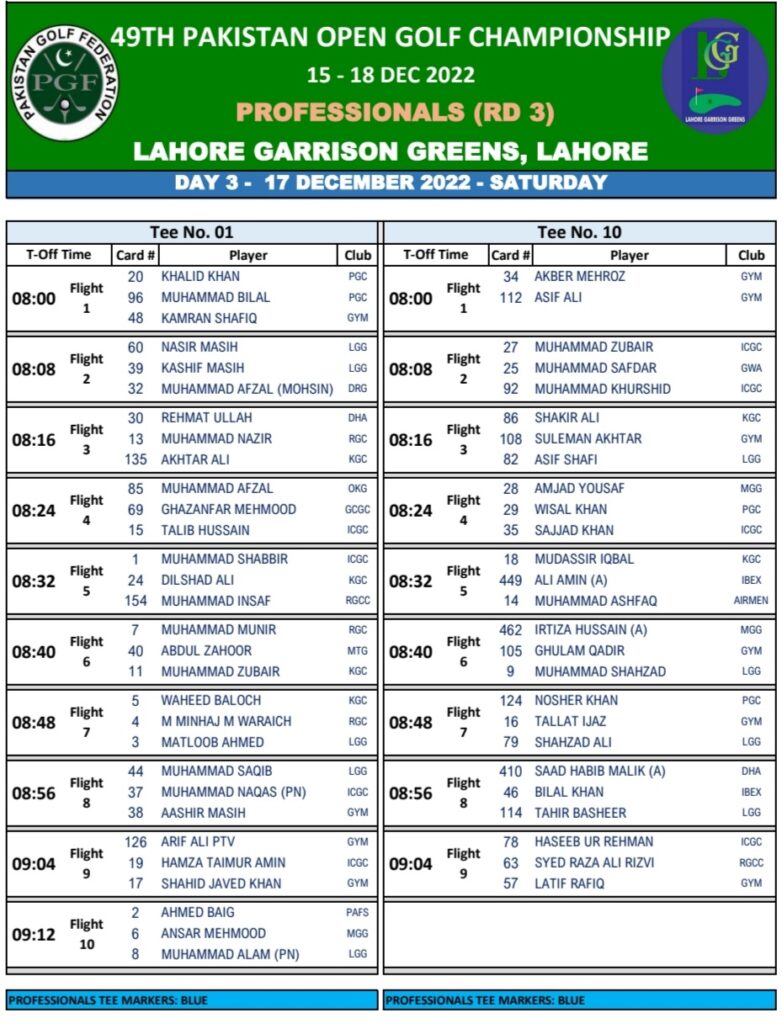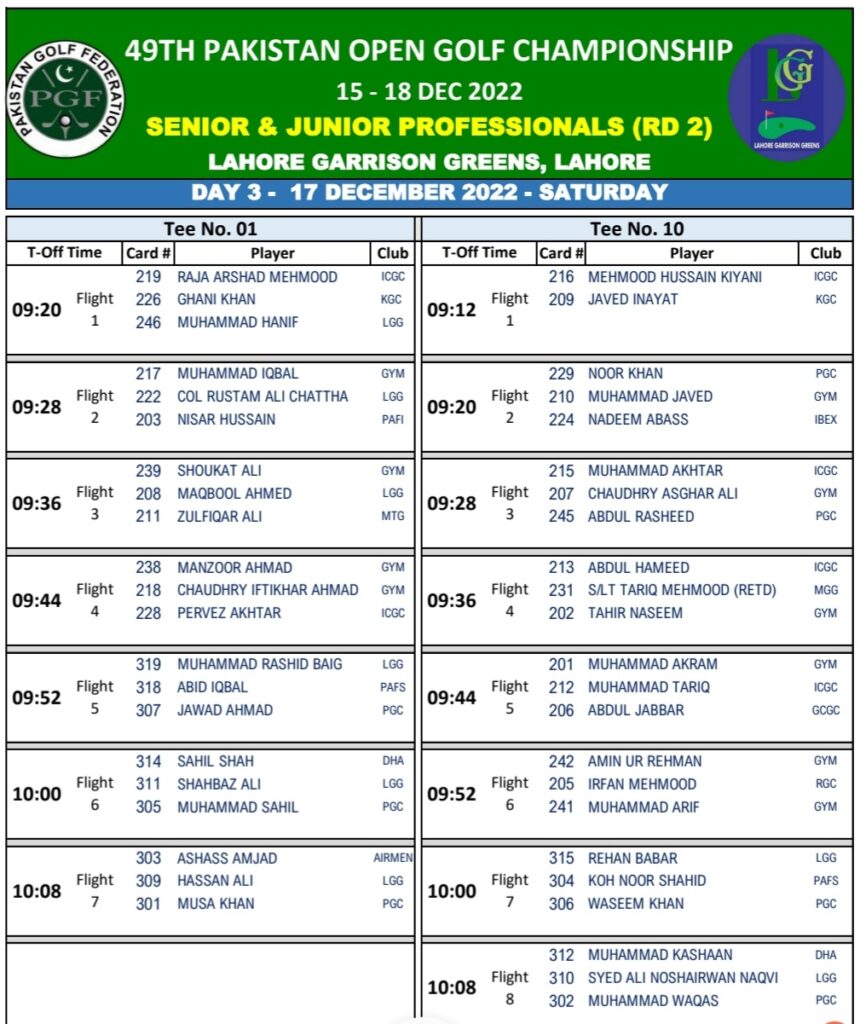 Day 1| Hamza; Alam & Ansar Tied On No. 1 Slot
The 49th Pakistan Open Golf Championship 2022 carrying prize money of 8 Million Rupees, endorsed and entirely backed by the national golf body, Pakistan Golf Federation, commenced at the Lahore Garrison Greens Golf Course.
The tee off for second round will take place at 6.45 am on Saturday. For Day 2 draw scroll to the end.
47th Pakistan Open Golf Championship: First Round-Youngsters Ahmed & Arif Lead
As the first 18 holes concluded on Thursday evening, the front runners were three golf professionals of the country's golf circuit. Young Muhammed Alam of PAF Skyview was one and the fine and fit looking Hamza Taimur Amin of Islamabad was another. The third one was the seasoned and skilled Anser Mehmood of Margalla Greens Golf Club. For this standing of honour Alam and Hamza and Ansar owe it to exceedingly praiseworthy and enthusiastic golf play on a golf course that played long from the back tees and added to that were some tactical pin placements which tested the ability of the participating champions to the full.
49th Pakistan Open Golf – Day 1 | Professionals (Amateurs) Scoresheet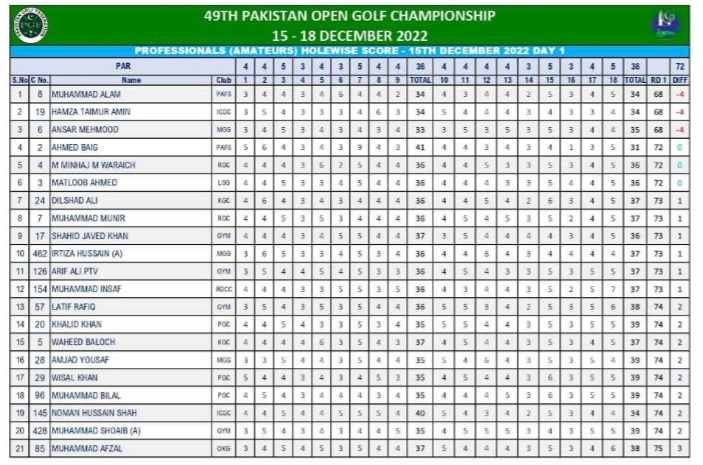 M. Alam played gross 68, four under par, as did Hamza Amin and similar was the score achieved by Anser Mehmood. Alam's hole by hole performance was an eagle on the 9th hole, birdies on holes 1, 3, 7, 11 and 14, regulation pars on eleven holes and in between encountered a tragic ending on the par -3, 6th hole which was vexing for him.
Analysis of Hamza's round was birdies on holes 1, 3, 5, 7, 9, 15, 17 and 18 (eight in all), regulation pars on six holes and bogies were encountered on holes 2, and 10 and a double bogie on the 8th hole.
Flow of Ansars game was six birdies, ten pars and two bogies on holes 11 and 13. These star performers of the first round seek more honours in the rounds to come.
Pakistan Open Golf Championship 2019: Korea's Kim & Japan's Nari Set the Pace
A few others in line for top performances are Ahmed Baig (PAF Skyview), Minhaj M. Warraich (Rawalpindi) and Matloob Ahmed (Lahore Garrison). All three are bunched together at a score of gross 72 and determined to become more motivated and formidable over the rounds on Friday, Saturday and Sunday.
At a score of gross 73 are placed Dilshad Ali (Karachi Golf Club), Muhammed Munir(Rawalpindi), Shahid Javed Khan (Gymkhana) Arif Ali (PTV) Muhammed Insaf (Rawalpindi), all five are professional players. Also placed at gross 73 is Irtiza Hussain, a fifteen years old amateur of Margalla Greens. He also stands out as the top performing amateur.
More professionals bracketed together at a score of gross 74 are Latif Rafiq, Khalid Khan, Waheed Baloch, Amjad Yousaf Wisal Khan, Muhammed Bilal and Noman Hussain Shah.
An Amateur, Muhammed Shoaib is also placed at gross 74. Out of thirty five amateurs only six made the cut. They are Irtiza Hussain, M. Shoaib, Salman Jehangir, Saad Habib, M. Arsalan and Capt. Zain ur Rehman.
Draw
Championship OverviewPrestigious Rs. 8 Million Prized Contest A Day Away
The 49th Pakistan Open Golf Championship 2022-23 organised by PGF-Pakistan Golf Federation will be contested at the par 72 Lahore Garrison Greens Golf Course from Thursday, 15th December.
During the four days, 18 holes each day, the leading champion professional golf players of the country will be fully absorbed in application of thoroughly grasped golfing skills that will fetch them under par scores of excellence.
48th Pakistan Open Golf Championship 2022: Stars All Set To Compete For Doubled Prize…
At stake is the Pakistan National Golf Title for the year 2022-23 plus a share in the 8 Million Rupees prize money offered by Pakistan Golf Federation. In accordance with standard distribution table, a paramount sum will be pocketed by the national champion while 49 other position holders will get segments as per laid down slab.
Besides the contest for the Pakistan Champion Title, also in competition will be the Senior professionals (over 50 years of age) and Junior professionals (under 21 years of age).
The participants in Senior Category are mainly former merited players who dominated the flow of national golf events in their younger days but have aged now and still continue to remain associated with the game mainly for their livelihood.
As for Junior professionals, this Championship comes up with an occasion where they can reveal their capability, expertise and poise and pull off noteworthiness as youngsters of enormous calibre.
Amateur Golfers are a part of the event too and will be pursuing their search for the top positions in gross category. In this regard the mere fact that they have earned the right to compete is a big honour as eligibility has been restricted to amateurs who play to a handicap of four and below. The commendatory news from this angle is that there is enough talent available in this segment and the eligible amateurs are all charged up to stand out as caliber loaded golfers.
47th Pakistan Open Golf Championship 2020: Commences 19th November In Rawalpindi
In decades gone by we have had some iconic golf professionals like, Mehmood Hussain, Ghulam Nabi, M. Ijaz and A. Hamid way back in the seventies and eighties.
The roll call of winners in the past decade, however, has revolved around Shabbir Iqbal, Muhammed Munir and Muhammed Matloob. Somehow these masterly ones seem to have become invincible and completely dominated the golf arena of Pakistan. For Pakistan Golf they have represented a bright spot and have shown appetite for winning as well as prowess and competence.
Golf professionals like Hamza Taimur Amin represent a huge prospect from whom more chivalry and high calibre performance is expected. Another one is Ahmed Baig. He has to establish his mastery and sweep aside the established ones. A few more proficient ones whose name stands out are M. Ashfaq, M. Minhaj Warriach, Waheed Baloch, M. Alam and M. Shahzad.