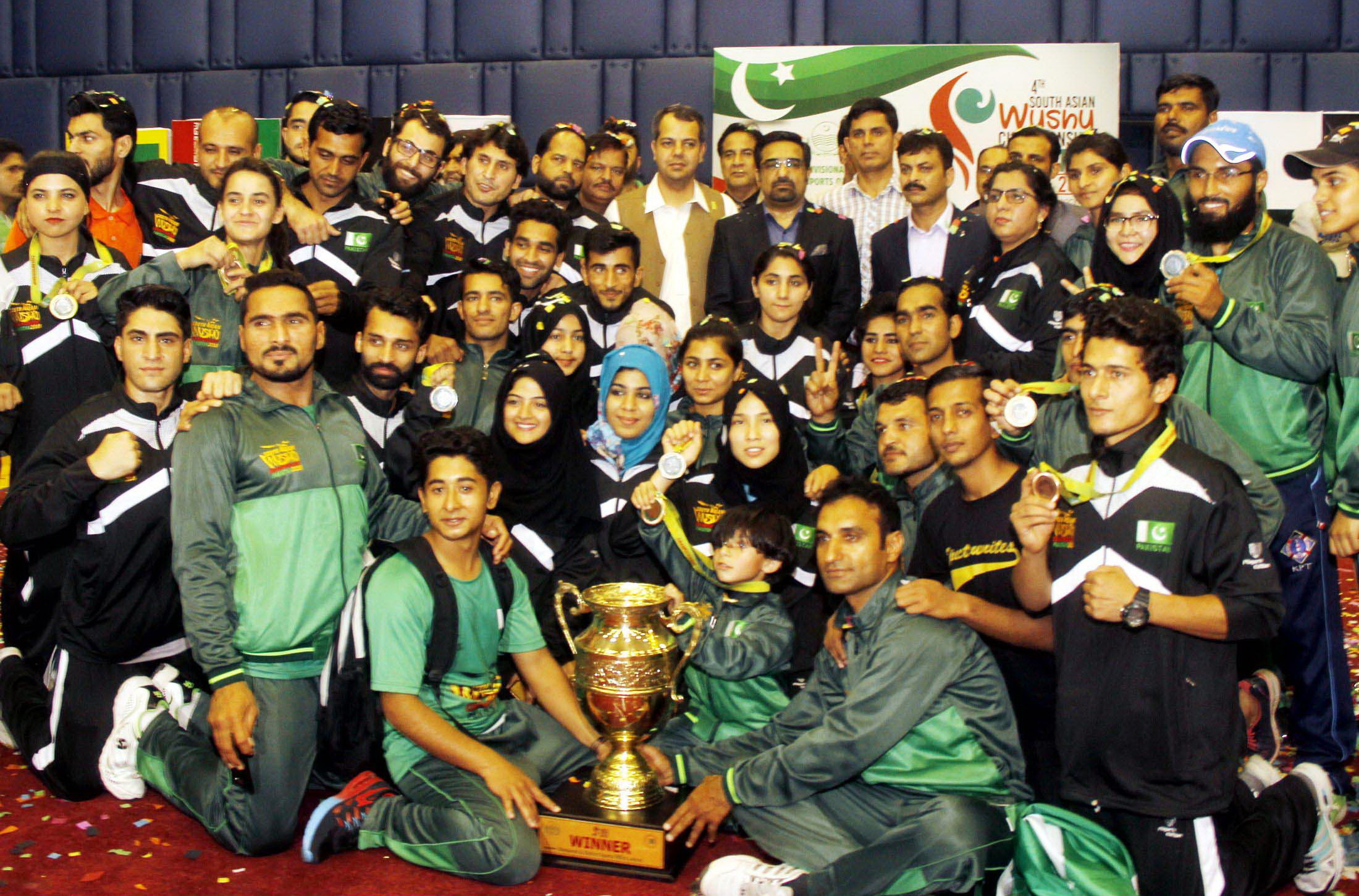 Pakistan Greens won the 4th South Asian International Wushu Championship 2018,  with Afghanistan occupying  the 2nd position and Pakistan Whites winning the 3rd position.
Pakistan Greens grabbed overall eight gold medals, Six Silver medals and four Bronze medals.
Afghanistan got 2nd position with five gold medals, Seven Silver and Nine Bronze medals.
Pakistan whites on third position, won three gold medals, four silver medals and five bronze medals.
The category wise results were:
In -65 Kg
Pakistan Whites – Abdul Latif won gold medal, Abdul Habib of Afghanistan won Silver, Sri Lankan K.W Alen and Syed of Iran won Bronze medals.
In -70 Kg
Nusrat Habibi of Afghanistan won gold, Ramesh of Sri Lanka won Silver; Saddam of Iran and Noorullah of Pakistan whites won bronze medals.
In -75 Kg
Pakistan Greens – Maaz Khan won Gold Medal.
Pakistan Whites – Temor Javed won Silver Medal, Muhammad Asif of Iran and Murtaza of Afghanistan won Bronze Medals.
In -80 Kg
Irshad Ahmed of Afghanistan won gold, Pakistan Greens Alamgir Khan silver medals.
In -85 Kg
Pakistan Greens – Muhammad Azam Khan won Gold medals, Murtaza of Afghanistan won Silver medals.
In -90 kg
Pakistan Whites – Rashid won gold, Khalid of Afghanistan won Silver Medals.
In open weight
Pakistan Whites – Mohsin Chattha won gold and Salahuddin won Silver Medal.
For updates regularly visit: Allsportspk