Allsportspk Recaps: 5 Longest Matches In Tennis Grand Slams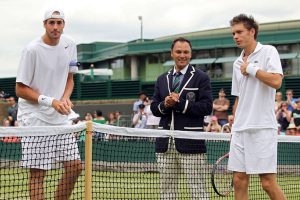 Tennis has always been a game of intense grit and composure. This is what makes this sport so exciting to watch and extremely difficult to play at the highest level. However, it is the endurance factor that plays the most vital role in this sport.
This factor is mostly witnessed in this sport's most prestigious tournaments i.e the Grand Slam. Historically, most of the records of the longest and mouth watering matches have been broken in these tournaments.
This is because when world class players like Federer, Nadal and Djokovic etc. battle against each other, then the only win factor that remains is the ability to outlast one's opponent.
Many matches have been played where the average time has easily conceded above 4 hours. But, in this article we have included the top 5 matches in the Grand Slam history that were the longest to finish.
#5 Australian Open 2012, Final – Rafael Nadal Vs Novak Djokovic
Total Match Time – 5 hours and 53 minutes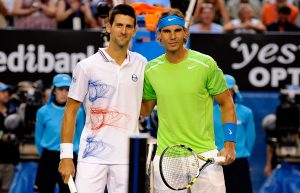 Not only was this one of the longest matches in history but also the best rated matches according to the quality of tennis displayed by the two professionals.
Surprisingly, this match had only one tie-break and the main reason as to why the match took so long was the playing style of the two players.
Nadal was going to win this match but Djokovic made a comeback to make it 4-4 and eventually won the last set and the match by 5–7, 6–4, 6–2, 6–7(5–7), and 7–5.
The energy levels of both players dropped so low that during the post match presentation, they were given chairs to sit on.
This win also marked Djokovic's 3rd Australian Open title. Nadal lost, however all including Novak praised the composure of the Spaniard, who showed extreme endurance levels.
#4 takes it to the next level. Move on to the next page to find out!