At the end of the second round of 5th, Punjab Golf Association Jinnah Development Tour Golf Tournament a previously unnoticed golf professional of Lahore Gymkhana, Muhammed Rizwan (son of a caddie) performed exceptionally well to make an appearance as a golf player of knack and flair.
In the second round of this ongoing 5th PGA Jinnah Development Tour Golf Event, Rizwan unveiled his playing strengths by performing to perfection. While his drives on all par fives and par fours were precise, on target, and error-free, each time covering a distance of 290 yards plus, his short game on and around the greens was high-toned, fancy, and upscale. With the help of five birdies on holes 1,7,12,13 and 14, and thirteen pars and no bogies he carded a gleaming score of gross 67, five under par and this resolute effort fetches him the top position on the leader board, a position that he rightfully occupies with a two rounds aggregate of 137, seven under par for two rounds. He has an advantage of six strokes over his nearest adversaries Mishal Khan of DHA, Karachi and Shahzad Ali of Lahore Garrison. "I feel reassured" said Rizwan, after the second round. "Hours and hours of golf playing drills on the driving range have yielded results and I go into the final round on Sunday with a fond feeling for my golfing career."
Tournament Director, Jameel Khalid announced that the cut was placed after the second round and only 41 competitors will play the final round and be entitled to cash prizes. 55 participating players were weeded out.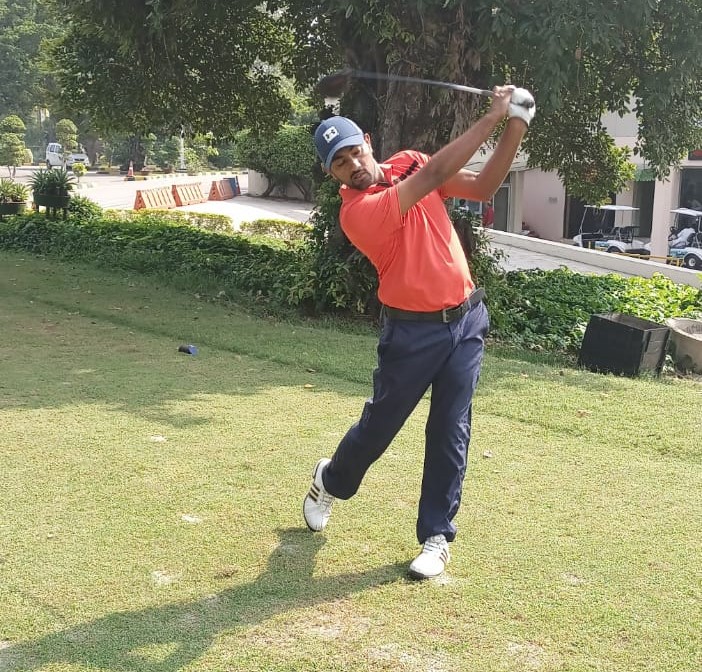 Adversaries hoping to show nerve and valor in the final round on Sunday are Misal Khan of DHA, Karachi, and Shahzad Ali of Garrison. Misal Khan used his experience and maturity to manage a round of gross 69 on the second day and that added to his first-round score of 74 gives him a two-round aggregate of 143, one under par and he gets elevated to the runners-up slot on the leader board. This slot he shares with Shahzad Ali of Garrison who is also placed at a two rounds aggregate score of 143. (70 in the first round and 73 in the second round).
Other aspirants in line for good prize money are Muhammed Abid (Karachi Golf Club) placed at a two rounds aggregate of 144 and following him are Arif Ali (PTV) at 145 and Asad Khan (Islamabad ) also at 145 along with M. Rehman of Royal Palm at the same aggregate score. A few more with apt scores are Nasir Masih (Garrison ) and Ghazanfar (Margalla Greens ) at 146 and bracketed at 147 are Asif Ali Junior(Gymkhana), Zeeshan Khan (Peshawar), and Muhammed Khursheed (Islamabad).