The Champion Team of the 3rd Pakistan Golf Federation Inter-Club Golf Tournament 2022, is the Lahore Garrison Greens and Winner of the High prized Rupees 2 Million Trophy.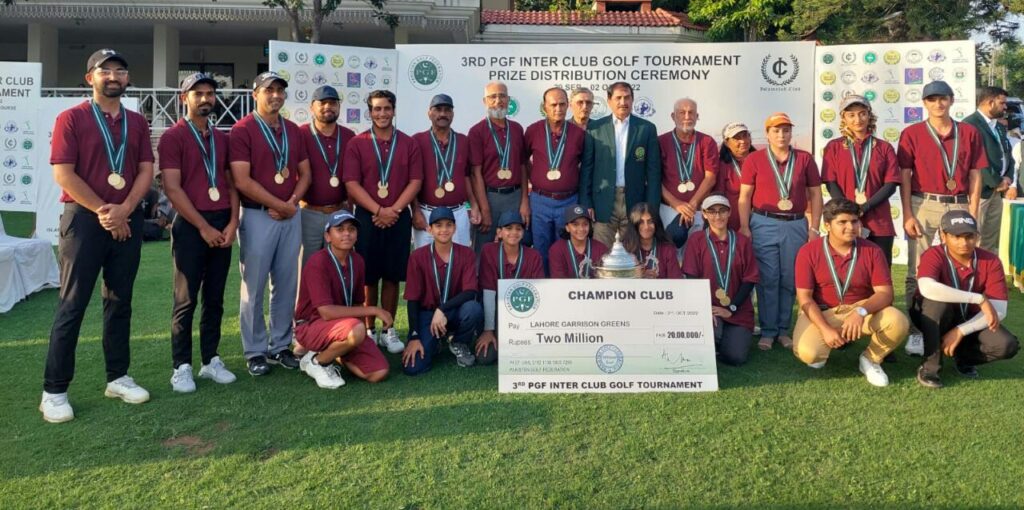 Contested at the sublime Islamabad Golf Club Golf Course at the conclusion of the three days event, the authoritative and technically commanding team turned out to be the Lahore Garrison Team captained by their spirited and forceful Captain, Raja Asif Mehdi. And ultimate sensational ascendancy made possible by an admirable golfing display by its Amateurs – Damil Ataullah, Nouman Ilyas, Capt Zain ur Rehman, Ahmad Sultan Kayani, Senior Amateurs – Raja Asif Mehdi, Ikramulhaq, Tariq Mehmood, Muhammed Shafi, the Ladies – Ghazala Yasmin, Suneya Osama, Zahida Durrani, Boys – Rayyan Ilyas, Muhammed Mikail, Abdur Rahim Osman, Girls – Bushra Fatima, Hadiyah Osama, Adina Ataullah, Tayyab Tahir, Jamshed Matloob and Yahya Ahsan.
2021 Inter Club Golf Teams Contest: Royal Palm Team Triumphs
Overall the Lahore Garrison Team aggregated a team score of 2758 and the most gratifying element was that they prevailed over the runners-up Karachi Golf Club Team by a margin of 140 strokes. Incredible attainment indeed.
Karachi Golf Club Team ended up as runners-up with a team score of 2898 followed by Islamabad Golf Club at 3012 and Peshawar Golf Club at 3060. For Karachi, noteworthy ones were Omar Khalid Hussain and Syed Yashal Shah. 
Arshad Saeed Kundi was the Tournament Director supported by Chief Referee, Lt/ Colonel Zahid Iqbal, and the enterprising Malik Kamran of PGF.
At the conclusion of the PGF Inter-Club Golf Competition, Lt. General Muhammed Hilal Hussain, President Pakistan Golf Federation handed over the champion team trophy to Lahore Garrison Golf Team Captain. Taimur Hassan Amin, President Asia Pacific Golf was also present.