The 5th PGA Punjab Golf Association Jinnah Development Tour Golf Tournament brought elation and high spirited triumph for Muhammed Rizwan, a multiskilled golf professional of Lahore Gymkhana Golf Course who raised his golf playing skills to consummate heights. As a result he saw his golfing careering flourishing and thriving and he now finds a huge opportunity as a golf professional of Pakistan.
For Tournament and Round 1 Reviews Scroll Down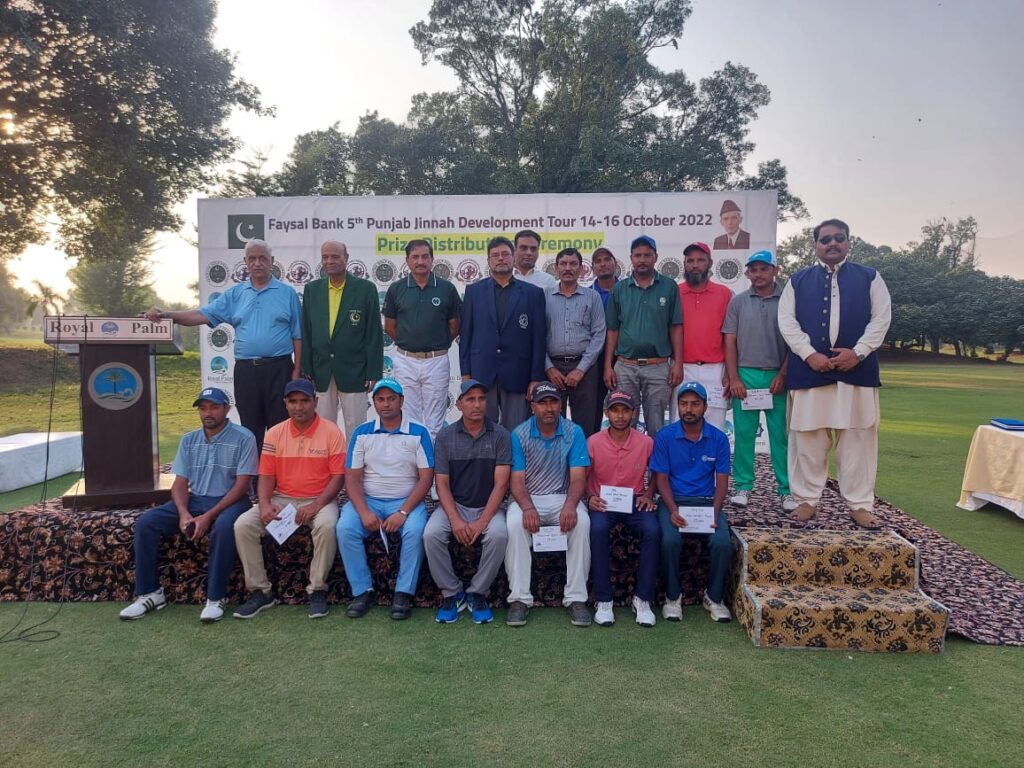 At the conclusion of the three rounds and 54 holes Rizwan ascended heights of attainment by assuredly keeping at bay his main challengers Shahzad Ali of Lahore Garrison and Misal Khan of DHA, Karachi. With three rounds daily scores of 70, 67 and final rounds 74, M. Rizwan had an aggregate score of 211, five under par while his purposeful adversaries had to concede defeat and the top slot to a golf professional who was not overwhelmed by his rivals resoluteness. Shahzad Ali and Misal Khan ended the three rounds bracketed together at a score of 214, three strokes in arrears.
While M. Rizwan enjoyed the limelight because of his striking performance, Shahzad Ali and Misal Khan made a mark by staying in contention and in patches were masterly.
Others who did well are Asad Khan (PAF ) fourth position, Arif Ali (PTV), fifth, Ghazanfar Mehmood (Garden City) sixth, Asif Shafi (Garrison) sixth, Muhammed Azam (Quetta ) seventh and Omer Farooq (Garrison) eighth.
At the conclusion of the Championship the prizes were awarded to the winners by Lt Gen (r) Muhammed Hilal Hussain, President, Pakistan Golf Federation.
Round 1 Brief
At the end of Round 1, out of 96 ambitious contenders at least 30 participating second tier golf professionals have come up with scores that can be appraised as lustrous and spirited. The best score of the first day is a two under par gross 70 from four professionals who are banded together at the top slot on the leaderboard.
M. Rizwan compiled 70 with the help of five birdies, ten exceptionally outstanding pars and as for the minor blemish he lost strokes on holes 2,4 and 17. He is intent on excelling in the remaining two rounds. As for Arif Ali, he carded four birdies , the first one on the third hole and thereafter three consecutive birdies on holes 5, 6 and 7. Total pars were twelve and stroke losses were encountered on 2nd and 14th hole. Asif Ali Junior and Shahzad Ali have also sparkled based on a good command over tee shots and equally commendable grip over their short game.
4th PGF Development Tour Golf 2021: 1st Day/Round – 102 Aspirants Compete; Azmat Stands out
Three others who played one under par gross 71 are Asif Shafi (Garrison), Haseeb ur Rehman (Islamabad) and Asad Khan (PAF). All three consider this championship a significant opportunity to exhibit their golf playing skills .
At a score of gross 72 are placed Zeeshan Khan (Peshawar) and Sher Muhammed (Peshawar) and at gross 73 lie Nasir Masih (Garrison), M. Bilal (Peshawar) and Asif Ali Senior (Gymkhana).
Thirteen competitors are bracketed together at a score of gross 74. They are Ghazanfar Mehmood, Nosher Khan, Muhammed Hashmet, Salman Akhter, Ghulam Qadir, Malik Ghaffar, Rizwan Gul, M. Afzal, M. Imran, Misal Khan, M. Akhter, Jawad Ahmed, Arif Khan.
Tournament Overview
The 5th PGF-Punjab Golf Association Jinnah Development Tour Golf Tournament 2022, sponsored by the Faysal Bank will be held at from Friday, October 14, to Sunday, October 16, at Royal Palm Golf and Country Club Golf Course, Lahore.
The PGA Jinnah Development Tour Match is an encouraging initiative on the part of the Provincial Golfing body as it stimulates a fairly high toned golfing action, vitalizes golf development, and provides the second tier golf professionals with a much-needed opportunity to engage in fiercely competitive golf. They extend their golfing careers and increase their income by displaying skillful play. More than 80 golf professionals have emerged in the last four years and discovered a profitable path to the progression.
The Punjab Golf Association has set aside two million rupees in prize money, and the top 40 finishers out of 110 competitors will receive cash awards, which has already invigorated these golf professionals.
1st Punjab Jinnah Development Golf Tour 2018: Haseeb ur Rehman First Winner
Emerged Players From Jinnah Development
Azam Khan, Shahid Pervez, and Adil Khan from Quetta, Akhtar Ali, M. Amir Mehran Pervaiz from Karachi Golf Club, Zulfiqar Ali, Shakir Khokhar, and Nabeel Khan from DHA, Karachi, as well as the most seasoned player from Rawalpindi, Ghazanfar Mehmood, have all emerged from the Jinnah Development Tour Golf.
Azmat Khan and Arif Khan were born in Peshawar, whereas M. Khurshid, Shakeel Fayyaz, and Haseeb are capable individuals from Islamabad. Few competent individuals, such Kamran Shafiq, Salman Akhter, M. Asif, Asif Shafi, and Jafal Hussain, effectively represent the city of Lahore.
Rules & Format
The Championship will use the Royal and St. Andrews approved golf rules, and the format will be stroke play over 54 holes, with 18 holes on October 14th, 18 holes on October 15th, and the final 18 holes on October 2022.
The top 40 players and ties will play in the final round, when the cut is made after the second round. At the Royal Palm Golf Course, the first shot will be taken at 7:30 am on Friday. The nation's second-tier golf pros will deliver exhilarating and sublime golfing action over the course of three days. In exchange, the Championship will bring in much-needed cash prizes for the top finishers, which will help them meet their professional progression.