The 6th PGF-Pakistan Golf Federation Jinnah Development Tour Golf Match title was won by Jafal Hussain.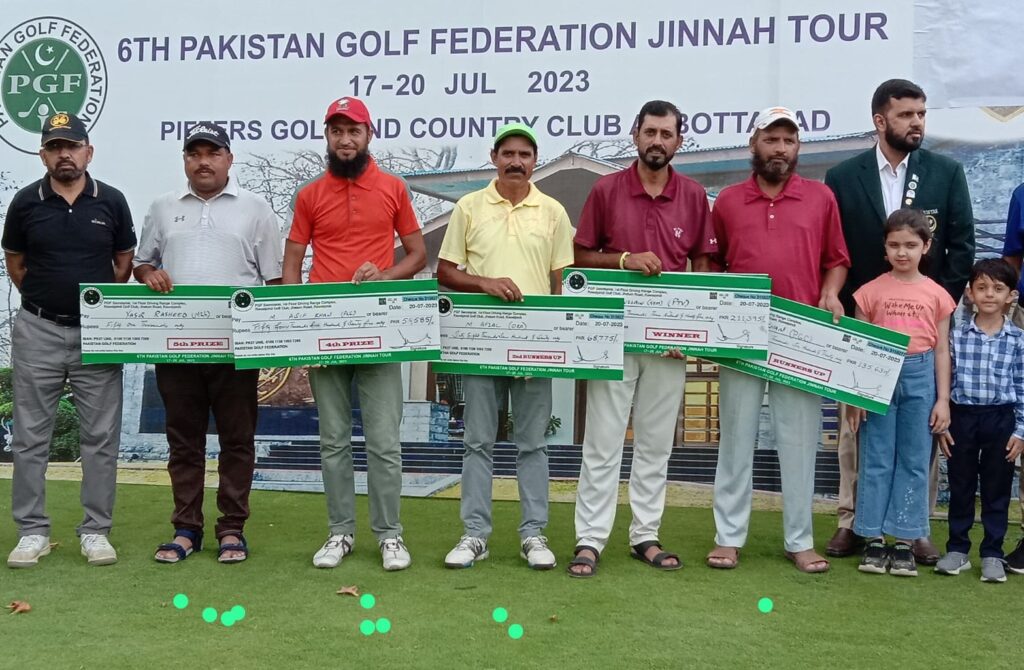 Played at the picturesque Piffers Golf Course, Abbottabad after three days of fervent golfing, the phenomenal golfers managed to achieve refined positions. In the spotlight was Jafal Hussain of PTV who contested the final days 18 holes as if his life support depended on it. His shot making was perfection oriented and his nerves stayed calm and cool whenever he handled the putter. Excellence on and around the greens fetched him an 18 holes score of gross 63, eight under par, helped by nine birdies. Supporting pars added upto eight and a single bogie also crept in to prove that he was human. All this distinction loaded golfing enabled Jafal Hussain to lift his standing from 14th at the start of the final round to the title winner.
5th Edition Jinnah Development Golf Tour 2022: Muhammed Rizwan's Spirited Triumph
In the process he completely startled his adversaries who had eyes on the title. While ascendancy of Jafal Hussain remained noteworthy, there were others who came up with agreeable performances. Azmat Khan of Peshawar ended up the match with scores of 74, 71 and 67 and an aggregate of 212. He won the second position and lost to Jafal by three strokes. Jafal had an aggregate of 209. M. Afzal of Okara came third and his scores were 72, 70 and 72 and match aggregate score was 214.
Other performers included: M. Asif Khan (Peshawar) 75+70+70=215;Yasir Rasheed (Margalla) 75+71+69=215; Kamran Shafiq(Gymkhana)72+72+72=216; M. Arif (Peshawar) 73+71+72=216; Waqar ul Hassan (Rawalpindi) 73+71+72=216; M. Asif (Raya) 72+75+69=216; M. Azam (Quetta) 72+70+75=217; Akber Mehroz (Gymkhana) 74+76+67=217.
6th PGF Jinnah Tour Golf: Day & Round 1 | Karachi's Manzoor Shines
The 6th edition of Pakistan Golf Federation Jinnah Tour Golf Match commenced at the Piffer's Golf and Country Club Golf Course, Abbottabad. The three days contest exclusively for the second tier golf professionals of the country turned out to be a classy affair as some of the competing second professionals played like real champions and produced golfing scores that can be categorized as admirable and high toned.
The championship organised by Pakistan Golf Federation with Malik Kamran as the Tournament Director and Omer Zia as Chief Referee. The second round will be played on Wednesday, 19th July at the Piffers Golf Course and tee off is scheduled for 6.30am.
At the conclusion of the first 18 holes on Tuesday, Manzoor Ahmed Abbasi of Karachi came up with a round of gross 69 and on this par 71 golf course, his score was two under par. Really pleasing was the effort of Manzoor Abbasi as he applied his golfing technique and skills in a commendable manner and the endeavor fetched him the most honorable position on the leaderboard.
4th Jinnah Dev. Golf Tour '21: Muhammed Saqib's Masterly Victory
Manzoor was not the only one to flourish on the opening day of this PGF Jinnah Tour Golf Match. There were several others who fulfilled competitive requirements and unfolded their talents in a flawless manner . In this regard Nasir Masih of Lahore Garrison compiled a score of gross 70, one under par and is placed one stroke behind Manzoor Abbasi. Nasir Masih showed resoluteness and commanding accuracy during the course of the 18 holes activity at the scenic Piffers Golf and Country Club Golf Course .
More competitors with meritorious scores are Zeeshan Khan of Peshawar with a score of par 71 and six participants are tied at a score of gross 72. These contenders are M. Asif (Raya), M. Naseer (Raya), Kamran Shafiq (Gymkhana), Syed Bilal Hussain Shah (Margalla), M. Azam (Quetta) and M. Afzal (Okara).
Following them are eleven contenders bunched together at a score of gross 73. Their names are M. Ashfaq, M. Saeed, Adnan Khan, M. Asif, Irfan Khan, Nasir Mehmood, Danish, Waqar Hassan, Shahid Pervaiz and Muhammed Rehman (Mani).