South African batsman and one of the most inspiring cricketers of all time AB de Villiers announced his retirement from international cricket as he conveyed his message of retirement through Twitter.
De Villiers made this big decision and he conveyed it to the world in a video which he posted on Twitter.
In the retirement video, he said that after playing 78 T20, 220 ODIs, and 114 Test matches, he honestly says that he is feeling tired and thinks that his turns over now.
I've made a big decision today pic.twitter.com/In0jyquPOK

— AB de Villiers (@ABdeVilliers17) May 23, 2018
After spending more than a decade playing cricket, the 34-year old batsman saw it fit to finally hang his boots and put an end to his amazing 14-year career.
AB de Villiers also said that it was a very tough decision for him. He said that after performing at the highest level in this sport and climbing the peak several times, he wants to retire.
The South African batsman also said that his retirement doesn't mean that he will be earning somewhere else. He said that he was running out of gas and was feeling that it's the appropriate time to move on.
Everyone was expecting that AB de Villiers will at least play the 2019 World Cup but his retirement video shocked everybody in the cricket world.
Sensational Record: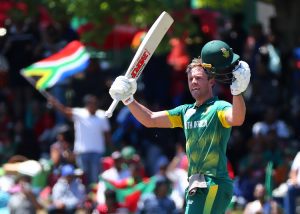 AB de Villiers stunning performances and records shows his excellence on the pitch.
He made his debut for South Africa in 2004 and has scored a total of 20,014 international runs for his home country.
De Villiers appeared in 78 T20 matches in which he scored 1672 runs.
Moreover, he has scored 8765 runs in 114 Test matches at an average of 50.66 and scored 9577 runs in ODI at an average of 53.50.
AB has scored a total of 47 centuries and 109 half-centuries for South Africa.
He scored 482 runs at an average of 96 when he was the captain of South Africa in 2015 ICC World Cup.
He has also made the fastest 50(16 balls), 100(31 balls), 150(64 balls) in the ODI cricket.
AB de Villiers was known for his playing style and was called '360 degree' batsman as he could play shots in all directions.
For updates regularly visit: Allsportspk