Murad Ali and Alja Tariq clinched Singles title in the All Pakistan National Ranking Badminton Tournament, Charsadda. Murad Ali beat Awais Zahid in the Men's singles final in a straight games with limited resistance showed by Awais Zahid with the score 21-12, 21-16. In the Women's singles final Mahoor Shahzad won the first game easily with the score of 21-6 and in the second game she was injured and retired hurt at the score of 15-8.
In the Men's Doubles final Raja Muhammad Hasnain and Raja Zulqarnain Haider won by straight games against Irfan Saeed and Azeem Sarwar with the score 21-18, 21-16. In the Women's Doubles Palwasha Bashir & Saima Waqas took the title against Mahoor Shahzad and Ghazala Siddique by the score of 21-13, 21-13.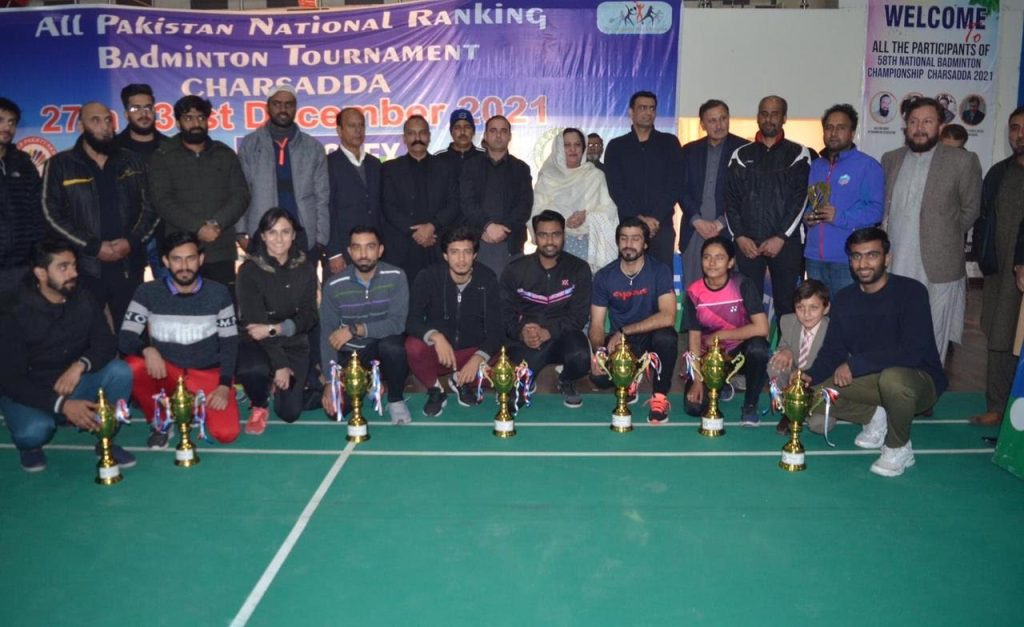 Results of matches were as under:  
Boy's U-13 Final
Najam Ul Saqib (KP) beat Muhammad Sulaman by 21-13, 21-11
Girl's U-13 Final
Sarwat Fatima (Balo) beat Khkhula Zaman (KP) by 21-1, 21-2
Men Singles Final
Murad Ali (KP) beat Awais Zahid (Wapda) by 21-12, 21-16
Women Singles Final
Alja Tariq (Balochistan) beat Mahoor Shahzad (Wapda) by 6-21, 8-15 retired hurt
Men Doubles Final
Raja Muhammad Hasnain (PB) & Raja Zulqarnain Haider (Wapda) beat Irfan Saeed & Azeem Sarwar (Wapda) by 21-18, 21-16
Women Doubles Final
Palwasha Bashir (Sindh) & Saima Waqas (Wapda) beat Mahoor Shahzad & Ghazala Siddique (Wapda) by 21-13, 21-13
Miss Rashida Director Sports as the chief guest distributed trophies and cash prizes. Mr Wajid Ali Chaudhry President PBF Pakistan Badminton Association also announced that the National Junior Championships and National Senior Badminton Championships will be held at Lahore during the month of February, 2022. Further, it was also announced that the Pakistan International Series and Pakistan International Challenge tournaments will be hosted in Lahore during the months of October and November, 2022.