The recent killing of George Floyd, an unarmed black person, has resulted in mega protests around the globe with the epicenter being the United States itself.
Owing to this, Bubba Wallace, the lone full-time black driver of the NASCAR-National Association for Stock Car Racing, had urged the authoritative body to ban the confederate flag from the events scheduled to take place from now onward.
The governing body has, hence, banned the flag which shall not be in place from the next race scheduled at the Martinsville Speedway. The announcement was made via the official Twitter account of NASCAR.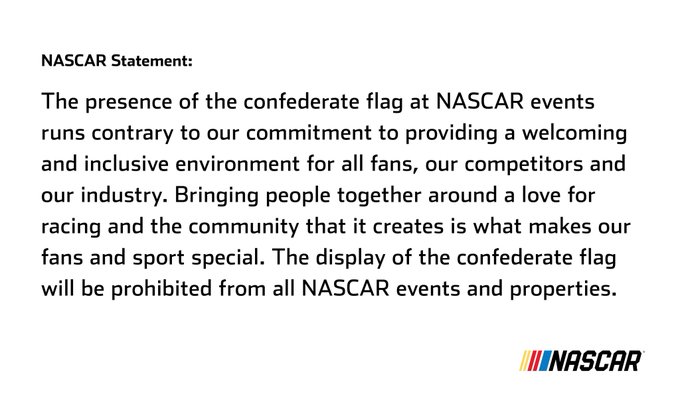 What does the flag symbolize?
The Confederate flag has been in place to commemorate the historical American Civil War. However, a sizeable population continues to claim it as a symbol of Southern ancestry and independent cultural tradition from the remaining country. Rest consider that the flag represents only a past period of Southern sovereignty.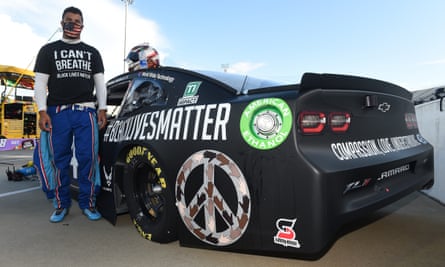 Bubba Wallace gave out a statement recently in which he mentioned that no one should feel uncomfortable at a NASCAR race, be it a black or a white person. He wore a "Black Lives Matter" and "I can't breath"- the last words of George Floyd before departing from this world, to show his condemnation. He shall be driving a car with the 'Black Lives matter' paint scheme in the Atlanta Motor Speedway scheduled for Sunday, 13th June.
Some other NASCAR racers including Bob Pockrass, have spoken on the matter and have pledged to kneel as a sign of peaceful protest when the national anthem is played during the next event.