Staying fit and getting in shape is a trend that is increasing every day as people from every walk of life are getting interested in keeping their bodies in shape. This is a job of a fitness trainer and that is what is being covered in this article.
Part 1 covers some aspects you need in order to become a fitness trainer. The other half will be covered in Part 2 of this article.
A Career in Fitness? How Rewarding is it?
Whether you are a fitness enthusiast or know nothing about fitness, one thing is certain i.e. A career in this field is both financially and mentally good for you.
Health Industry Revenues Reach The Sky
The fitness trend has taken such a rise in the past few years that according to a report the Fitness and Health Industry currently generates more than US$ 80 billion annually.
This number is only increasing and as every day more and more people spend on supplements, gym memberships and personal coaching or training.
Fitness Trainer Salary
The 1st question that almost everyone asks is that how much can you make if you get into this field? The answer to this is that it depends completely on where you live and what is your target audience.
You see if you are just a guy in a gym, you can only earn so much, however, if you also provide personal coaching and you land a rich client then you my friend are going to own a Ferrari very soon.
You see the thing is, people want to get fit and they pay a lot to attain this objective. This is where a fitness coach comes in, but you have to highly reputable and experienced to get their attention.
So, how does one build his career in the fitness industry?
Now, that you know that this career is highly rewarding, let's me give you the map that will lead you to become a pioneer in the world of fitness.
Trainers Physical Outlook is the Resume
Of course, the first step is to take your body to a whole other level both mentally and physically. As, if you are not super-fit yourself, no client or gym will even think of hiring you.
Think of your body as your resume, as this will be the first impression of you when a potential employer will think of hiring you.
In short, to shine above the crowd you should be a master of your craft and your body should reflect that.
Main Step to Become a Trainer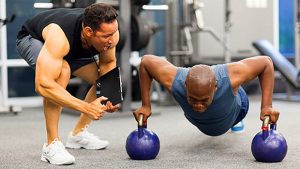 Everyone needs a teacher and this is especially true in the fitness industry. Thus, as a first step, to be a personal trainer you have to hire someone who is already in the same industry and doing the same job that you want to do.
A personal fitness mentor will not only correct your mistakes but also work on your weak areas to make them better. This in turn will make you a better coach and fitness trainer.
This is the end of Part 1. Part 2 will several more ways in which you can start a career as a personal trainer. So, stay tuned and in the mean time, comment down below to let us know your thoughts and don't forget to share this article with your friends.
For updates regularly visit: Allsportspk