Allsportspk honours Muhammad Ali a legendary human who was called by his Divine but remains to be unforgettable.
Rapid Fact Sheet: Muhammad Ali
Muhammad Ali, born on January 17, 1942, was an American professional boxer and a philanthropist. He was born in Louisville, Kentucky, USA.
Died (Surely we belong to ALLAH and to Him shall we return) on 3rd June 2016 in Scottsdale, Arizona, USA.

He is still globally considered as one of the greatest and inspiring boxers of all time.

Muhammad Ali was named Cassius Marcellus Clay Jr on his birth under his father's name (Cassius Marcellus Clay Sr). He changed his name later in March 6, 1946 to Muhammed Ali upon embracing Islam.
Personalities Remembering Muhammad Ali
Boxing Style
Unlike many heavyweight boxers, Ali's boxing style was based more on quickness in his rhythm and skill than power. He looked cautiously towards his opponents movements to avoid or deflect blows rather than absorb them.
Ali used an conformist stance when fighting, but he would sometimes keep his hands down, tempting his opponent to take a wild punch. Ali would then counter attack. He also applied the strategy "stick and move", meaning he would throw a quick punch and then dance away before his opponent could counter. He was an incredible athlete and only his superior speed and stamina allowed him to keep this feat for 15 rounds.
Early Life And Amateur Career:
Cassius Clay Jr grew up in South America with his parents and a brother. His father supported his family by painting signs and billboards and his mother used to work as a household domestic.

At the age of 12, Clay Jr started his training under the instructions of Joe Martin, who was a Louisville policeman.

Cassius Clay Jr trained hard and after advancing through the amateur ranks, he claimed his first gold medal in Rome at the Summer Olympic games in 1960.

After winning the medal, a Louisville sponsoring group consisting of 11 wealthy men helped Clay Jr begin his professional career.

Clay Jr was known more for his fascinating behaviour and rather than his skills in the ring.

As a professional boxer, Clay won his first boxing debut in a six-round on October 29, 1960.

He earned the nickname "Louisville Lip" because of the combination of his robust jabs, foot speed and his boastful behaviour.
Muhammad Ali Crowned The Heavyweight Champion: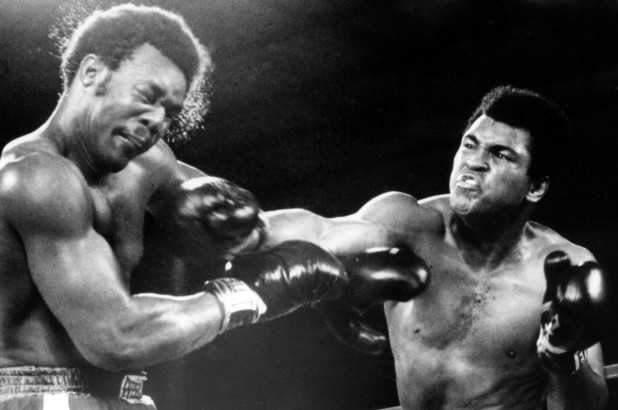 Just two days after he became the champion, Cassius announced that he had accepted the religion Islam and changed his name to Muhammad Ali, given by an Islamic leader Elijah Muhammad.

After that Muhammad Ali dominated boxing for the next three years as an aggressive and a magnificent fighter.

On May 25, 1965, there was a rematch of Muhammed Ali and Sonny Liston. Muhammad Ali again won over Liston with a first-round knockout victory.
Interesting Facts
Muhammad Ali has appeared on the cover of Sports Illustrated 38 times, second only to basketball great Michael Jordan.
He was voted the No. 1 heavyweight of the 20th century by the Associated Press.
His youngest daughter, Laila Ali, was an undefeated professional boxer with a record of 24-0.
In 2001 a movie named Ali was made on his legendary career.
He fought twenty-two professional heavyweight championship bouts in his career
Ali's Ban from Boxing
In 1967, Muhammad Ali was showed up for serving the U.S forces against Vietnam War but he refused to serve them because of his religious beliefs.

After refusing, he was arrested and his boxing license was suspended. Moreover, the New York State Athletic Commission also abrogated his Heavyweight championship belt.

Muhammad Ali was sentenced to prison for five years and was also fined 10000 dollars. After that his popularity among the people plunged down.

But Muhammad Ali was since his conviction was not appealed so he delivered speeches in college campuses against the Vietnam War.

After three years, the Supreme Court reinstated his boxing license and turned over his sentence in a concordant decision.
Muhammad Ali's Return to the Boxing Era
After 43 months in exile, Ali returned to the ring on October 26, 1970, and knocked out Jerry Quarry (1945-1999) in the third round.

Ali got his chance to regain his heavyweight crown against reigning champ Joe Frazier (1944-2011) in what was billed as the "Fight of the Century." The undefeated Frazier floored Ali with a hard left hook in the final round. Ali got up but lost in a unanimous decision, experiencing his first defeat as a pro.

After his first defeat, Ali kept on defeating opponents in the upcoming years. On 31 March, 1973, Muhammad Ali faced Ken Norton in the ring.

Muhammad Ali's jaw was broken by Ken in the second round and he again suffered defeat but he defeated Norton in a rematch.
| | | |
| --- | --- | --- |
| 61 fights | 56 wins | 5 losses |
| By knockout | 37 | 1 |
| By decision | 19 | 4 |
Ali's Professional Career
Later on, Muhammad Ali fought with Joe Frazier and defeated him in the 12th round. It was the best performance from the inspirational boxer since his exile from boxing.

After that he got a chance of his Heavyweight title against George Foreman and knocked him out in the eighth round to regain his title back.

Since then, Ali kept on winning fights and defended his Heavyweight Championship 10 times including a fight with Joe Frazier which Ali won in the final round after his eyes got swollen.

As the boxer was aging, he lost his title to Leon Spinks on 15 February, 1978. But after seven months he again defeated him and won the title.

In 1979, Muhammad Ali announced his retirement from boxing but came back after some time. After that, he lost two fights against Larry Holmes and Trevor Berbick in 1980 and 1981 respectively.

After these fights he retired from boxing with a record of 37 knockouts, five losses and 56 wins.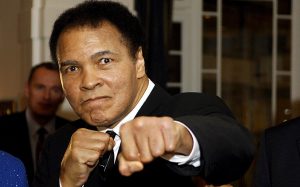 Later on in 1990, the International Boxing Hall of Fame introduced Muhammad Ali and was also named "Fighter of the Year" 5 times by the Ring Journal.

In 1996 Ali was chosen to light the Olympic flame at the start of the Games of the XXVI Olympiad in Atlanta, Georgia.

Moreover, he was awarded the Presidential Medal of Freedom in 2005.

Muhammad Ali was married four times in his entire life and has 2 sons and 7 daughters.

After a 32-year battle with Parkinson's disease, Muhammad Ali passed away at the age of 74

on 3rd June 2015 in 2016.
For updates regularly visit: Allsportspk