Allsportspk honours and shares with its avid readers any humanitarian gesture made in the recent past. One such gesture was of the Qatar government when it announced to donate nearly 10,000 furnished cabins, made from shipping containers for the Football World Cup visitors, to February 2023 earthquake victims of Turkiye and Syria.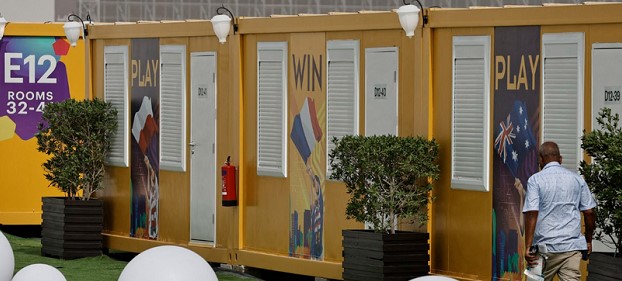 Latest Update-20th March
Qatar has sent 4,000 cabins to earthquake survivors in Turkiye and Syria, according the authorities.
This gesture of Qatar also evidences that the Divine makes unexpected happen – during the utmost need a Sport indirectly helped humanity.
Qatar Humanitarian Aid
The QFFD-Qatar Development Fund, the institution responsible to provide aid around the world confirmed the commitment of 10,000 pledged cabins, and hoped that the provided accommodation would shelter the millions of homeless people as a result of devastating earthquake.
Originally, the Qatar government had planned to donate these cabins to less developed countries so it could help to ease their residential problem.
Cabin Specifications
The cabins are made as part of low-cost accommodation for the visiting fans for FIFA Football World Cup 2022, which was held during November – December 2022 in Qatar. These containers cabins consist of a bedroom along with bathroom, which are moreover, similar to the main accessories of a normal hotel room.
Earthquake Brief
The magnitude 7.8 earthquake which struck on 6th February 2023, reduced tens of thousands of buildings and homes to rubble and left millions homeless. According to last figures the earthquakes resulted in the deaths of at least 54,000 people in both countries. The impacts were so enormous that tremors were reported as far away as Cyprus, Lebanon, Iraq and Jordan.