The 21st BFAME-Bridge Federation of Asia & Middle East Championship was organized online for the first time ever due to Covid pandemic. The technology used was the Real Bridge platform and this engaging battle of wits, astuteness intelligence and good bridge playing sense was flaunted at  the bridge playing tables of Lahore Gymkhana and on screens over six days.

7 competing countries were Bangladesh, India, Jordan, Palestine, Saudi Arabia, UAE and Pakistan. All these countries had fielded their national bridge teams in four categories namely Open, Seniors, Mixed Doubles and Ladies.
A total of six national teams contested in Open and Seniors category while there were four teams in Mixed and Ladies segment. Pakistan had pitched in national teams in Open, Seniors and, Mixed categories.
World Bridge: Zia Mehmood Elected To WBF Committee Of Honour
The Results of the various Titles was as follows:
Open Title: Winner – India; Runner-up – UAE
Seniors Title: Winner – Pakistan; Runner-up – India
Women Title: Winner – India; Runner-up – UAE
Mixed Title: Winner – India; Runner-up – Jordan
As for the proceedings of the BFAME Championship, Pakistan's Open Team comprising of Kashif Ali Qureshi, H. Mehmood, Khalid Mohyuddin, Muhammed Mubashir Puri, Yasser Rahim and Arsalan Mansoor made it to the semifinals. Other teams that made it to the semifinals were, India, UAE and Jordan.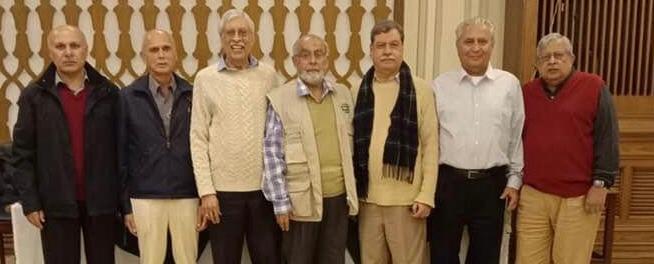 In Seniors section the semi finalists were India, Bangladesh, Jordan and Pakistan. While the Open Team did not go beyond the semi finals it was the Seniors Team which after playing 3 Round Robins in 5 days reached the Finals. Pakistan prevailed over India and acquired the Gold Medal. The score was 88-45 IMPs in two rounds on the final day. Team Members of the gold medal winning team were Kamran Ibrahim (Captain), Mirza Shauq Hussain, Iftikhar Baqai, Zakir Mahmood, Masood Mazhar & Ghalib Bandesha.
Based on this win, the Pakistan Seniors Team will represent Pakistan in Bermuda Bowl (a biannual event) scheduled to be held in Salsomaggiore Terme, Italy in March-April 2022.