BoP Polo Tournament 2017: Day 3
LPC LAHORE: Master Paints qualified for the main final and Newage booked berth in the subsidiary final of the Bank of Punjab (BoP) Polo Tournament 2017 here at the Lahore Polo Club (LPC) ground on Friday.
Bilal Haye and Hamza Mawaz Khan were the joint heroes of Master Paints as both played superb polo and guided their team to thumping 11½-3 victory over Newage. Bilal slammed in sterling six goals and Hamza hammered fantastic five goals from the winning side. From the losing side, Shah Shamyl Alam, Ahmed Ali Tiwana and Adnan Jalil Azam scored one goal apiece.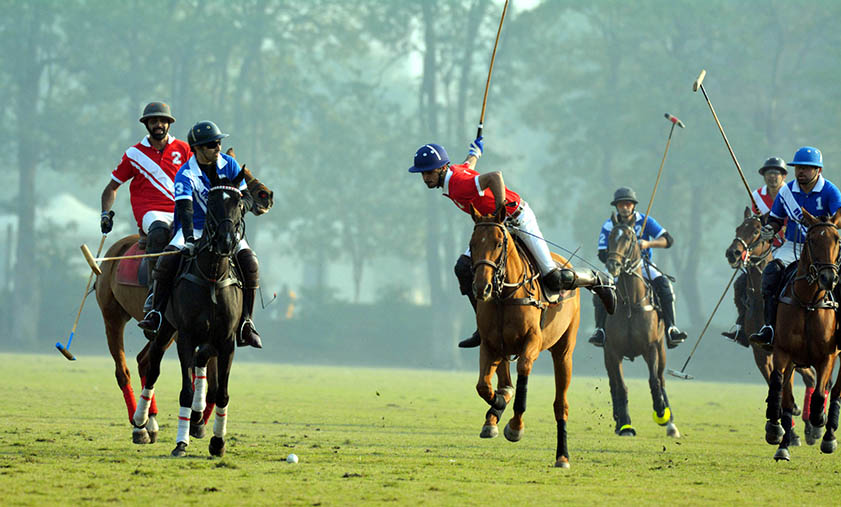 Master Paints were off to flying start as they fired in fabulous five goals with Bilal Haye hammering a hat-trick and Hamza Mawaz Khan scoring a brace. Hamza converted a 30-yard penalty successfully to complete his hat-trick which also gave Master Paints 6-0 lead. Master Paints continued their good show in the third chukker as well as they thwarted three more – two through Hazma and one through Bilal – to further strengthen lead to 9-0. Newage opened their account through Shah Shamyl Alam in the end of the third chukker to make it 9-1.
The earlier part of the fourth and last chukker was once again dominated by Master Paints as Bilal Haye banged in two more goals to complete his double hat-trick and also gave his team 11-1 edge. Newage then started playing aggressively and succeeded in converting two goals through Ahmed Ali Tiwana and Adnan Jalil Azam to reduce the margin to 11-3, but it was all that they could get from the match as when the final whistle was blown, Master Paints, who had also half goal handicap advantage, were enjoying unbeatable 11½-3 lead. Saqib Khan Khakwani and Raja Arslan Najeeb supervised the match as field umpires.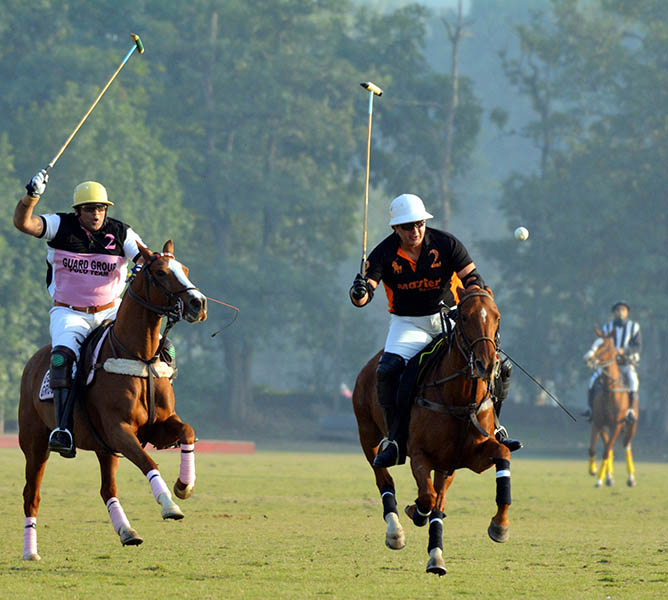 The second encounter of the day was contested between Guard Group and Black Horse Paints and the ultimate winners were Guard Group who defeated their opponents by 6½-5. Ahmed Nawaz Tiwana was top scorer from the winning side with his tremendous three goals while Taimur Ali Malik struck two and Ahmed Zubair Butt one goal. From the losing side, Hissam Ali Hyder scored three and Sufi M Amir hit two goals. Ahmed Ali Tiwana and Atif Yar Tiwana officiated the match as field umpires.
Now Guard Group will clash against Zarai Taraqiati Bank for the main final slot on Saturday at 3:00 pm while Black Horse Paints have already qualified for the subsidiary final against Newage to be played on Sunday.
For updates regularly visit: Allsportspk