Caving: Pak-UK Friendship Silver Jubilee; Hayatullah Presented Legend Award
QUETTA: To commemorate the 28 year old caving friendship, the Pakistan – Britain Silver Jubilee cooperation and partnership ceremony was held at the Orpheus Caving Club Headquarters in Derby shire, Great Britain. In near future a similar commemoration event will be held in Pakistan.
The friendship between Chiltan Adventurers Association, Pakistan and Orpheus Club, Great Britain was initiated in 1990. Since the two clubs have explored numerous caves in the Balochistan province of Pakistan.
During the ceremony, the two club officials exchanged friendship recognition shields and certificates, to commemorate the Silver Jubilee – 28 years of Pak-UK friendship, through cooperation and partnership in different events.
Mr. Hayatullah Khan Durrani, of Chiltan Adventurers Association, Balochistan and a international recognized Cave explorer and mountaineer was awarded the Caving Legend award by Mr. Simon James Brooks, an official of Orpheus Club and Secretary, British Caving Association. Besides, certificates were also awarded to members of Pakistan National Speleo and caving team – Mohammad Abubakar Durrani and Mohammad Umar Durrani.
In reciprocation, Mr. Simon James Brooks a well known British Cave explorer and speleologist was presented a recognition shield of Chiltan Adventurers Association Balochistan, Pakistan and Pakistan Cave Research Federation.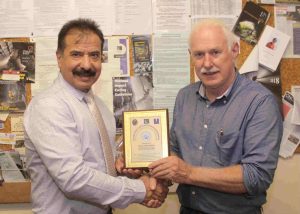 Chiltan Adventurers Association, Balochistan and Pakistan Cave Research Federation jointly with Orpheus Caving Club, Great Britain have been involved since two plus decades in various Pak-Britain joint Caving / Speleo expeditions and to strengthen the ties and bond of friendship between the respective Organisations and Countries
During the visit Chiltan's and Orphenus Club Teams collectively also explored the caves in Derbyshire.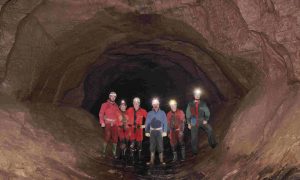 Besides attending the award ceremony, Mr. Hayatullah Khan Durrani also represented Pakistan in the Hidden Earth Caving Conference and Exhibition (https://hidden.earth/) at Churchill Mendip Somerset, United Kingdom.
Mountaineering: 11 Deadliest Mountains
The Hidden Earth event held annually is a social get together involving friendly, academic and inspirational interaction of hundreds of cavers from the United Kingdom and various countries. It involves lectures on topics such as exploration done in UK and overseas. There are also workshops on cave science, research, technology and photography.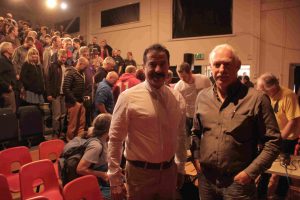 The Chairman of Chiltan Adventurers Association, Malik Abdul Rahim Babai while welcoming the team commented that " This Award is pride for Pakistan." He praised Mr. Hayatullah Khan Durrani and explained that this type of adventure sports were started in 1990 by him, under the supervision of Simon James Brooks the British caver and speleologist.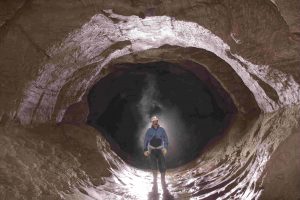 Hayatullah Khan Durrani founded Speleo Cave Exploration Adventure sports in Pakistan and is pioneer of the Mountaineering, Rowing / Canoeing / Kayaking & Rock-Climbing Sports in Balochistan and is known for initial record exploration of 131 caves in Pakistan. In addition, on 14th August 1984, Hayatullah Khan Durrani founded Chiltan Adventurers Association Balochistan as first Provincial Mountaineering and National Caving Adventure sports organization in Pakistan.
Mr. Hayatullah is also known as an natural environmentalist and has been actively involved in advocating preservation of Juniper forests and wilderness in Ziarat and adjacent areas in Balochistan.
For more updates keep visiting allsportspk