Cricket: ECB Charges Ben Stokes & Alex Hales On Disrepute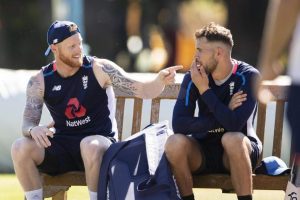 Ben Stokes and Alex Hales have been accused of bringing the sport into notoriety, by the England and Wales Cricket Board following an occurrence outside a Bristol dance club.
The autonomous Cricket Discipline Commission (CDC) hearing will take place on 5th and 7th December.
The 27-year-old, All-rounder Stokes, prevented a charge of affray which came about, because of the September 2017 episode and was found not guilty in August.
England Cricket: Stokes Omitted From English Test Squad
Whereas, England's top-order batsman Alex Hales, was not charged.
The CDC hearing will be held in private by a 3-man board, led by previous Derbyshire cricketer Tim O'Gorman.
The meeting will take place between England's winter visits to Sri Lanka and West Indies.
In Sri Lanka, England will feature in 3 Tests, 5 ODIs and a T20 match which are scheduled to be played in October and November. After that, the English team will visit West Indies from mid-January to early March.
Ben Stokes and Alex Hales have been charged with 2 counts of rupturing an ECB directive which states:
"No-one may conduct themself in a manner or do any act or omission at any time which may be prejudicial to the interests of cricket, or which may bring the ECB, the game of cricket or any cricketer or group of cricketers into disrepute"
These actions will drive Ben Stokes our of the game and for what purpose?yes he misbehaved and had to face a public trial for that.Non-cricket related misdemeanours should not be punished by cricketing regulator/Board who should have done more to ensure it never happened!

— rolo1981 (@mecrowland) September 18, 2018
Interestingly, Ben Stokes and Alex Hales have just been charged the ECB for bringing the game (cricket) into disrepute following a drink fuelled altercation. Come on @DailyMailUK, what's your view on a parallel in the U.K.?

— Avtar Gill (@AvtarGill53) September 18, 2018
For more updates keep visiting allsportspk