The history of cycling dates back to 19th century and since then it has not only become a widely popular sport but also a great recreational activity. From children to adults, this sport is accepted as a positive activity in our society.
Considered as an effective mode of transportation, cycling is a sport that is currently in fashion as millions of individuals take part in this healthy sport. "Cyclists" or "Bicyclists" are the two most popular terms that are affiliated with people who engage themselves in this sport.
And, like every other sport cycling also has a long list of athletes who dominated this sport. But, there were some individuals who not only dominated but performed so well that they etched their name in the hearts of the people as the true champions of cycling.
So, in this article Allsportspk will cover the Top cyclists that fall in the category described above.
Men Legendary Cyclists   
Lance Armstrong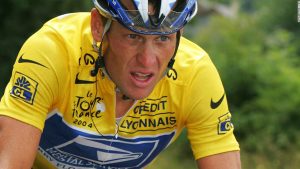 Lance Armstrong hails from Texas, U.S and while most of his career is tainted with controversies, however, what he managed to display on the road was truly exceptional. Armstrong is a bronze medalist which he won at the 2000 Olympics games and also holds the honor of being a World champion in 1993.
However, what makes him truly remarkable is his 7 consecutive Tour de France victories which were most by any cyclist and this why Armstrong is still considered as one of the most gifted cyclists of all time.
Miguel Indurain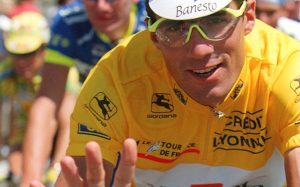 Indurain hails from Spain and is known as "Big Mig" among cycling fans. In his cycling career, Miguel won the Tour de France 5 times in a row. Although, Lance Armstrong won it 7 times, however after Armstrong winnings were revoked due to drugs use, this made Miguel the current record holder.
Furthermore, Indurain also holds the honor of winning the World Championship Trial that was held in 1995 and also has two Giro d'Italia titles to his name.
Fausto Coppi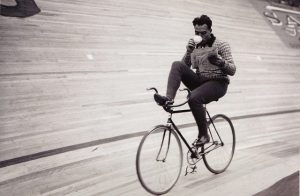 An Italian widely known as the "Champion Of Champions", Fausto excelled in almost every aspect of cycling. His remarkable skills in climbing, time trailing and sprinting were second to none as he dominated this sport during the World War ll.
In his rewarding career, Fausto Coppi won the Giro d'Italia, Tour de France five and two times respectively. Coppi's immense talent also allowed him to win the World Championship in 1953.
But, that is not all as the cyclist other notable wins include winning the Milan-San Remo 3 times, Giro di Lombardia 5 times and breaking records at the La Fleche Wallonne and Paris-Roubaix events.
Eddy Merckx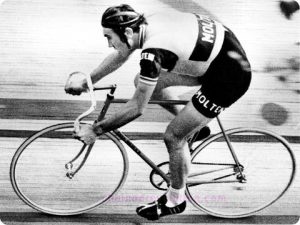 If you are a hardcore cycling fan, then you probably would have heard of Eddy Merckx who is a Belgium national and who dominated this sport for 10 years.
Over his 18-year career, Eddy Merckx won 525 races and is only one of the 3 cyclists who have won all five "Monuments" of cycling. His un-parallel intent to win was so high that he was nicknamed as "The Cannibal" as he devoured his competitors with no mercy and won almost every time.
His most notable achievements include him winning the Giro d'Italia and Tour de France 5 times and he also has 11 Grand Tour victories to his name. Moreover, he is a 7-time champion of Milan-San Remo and has a total of 19 wins in the cycling's 5 monuments.
Gino Bartali
Bartali was the first cyclist to win the king of mountains jersey & the yellow jersey both in the same event i.e. Tour de France and also repeated this feat 10 years later. His overall career includes him winning a total of 170 races and he ranks on top when it comes to the greatest cyclists ever.
The cyclist holds several notable wins to his name like his winning the Tour de France 2 times, Giro d'Italia 3 times, Tour of Lombardy 3 times, Milan-San Remo 4 times and the mountains classification a total of 7 times.
Women Legendary Cyclists 
Cycling had always been popular with women and that is why there are several women cyclists who managed to get their name in the World cycling records. Some of which are:
Beryl Burton
Records are meant to be broken. This was the story of Beryl Burton's cycling career who broke numerous national records in her sparkling career. Known as the "British Best All-Rounder" Burton was known as the greatest ever female cyclist in the UK.
Beryl broke the twelve-hour time trial record and held it for two full years in which she proved her dominance in this amazing sport.
Winning more than 90 domestic and 7 World Championships plus her other countless records, Burton was female cyclist like no other in the contemporary world.
Marianne Vos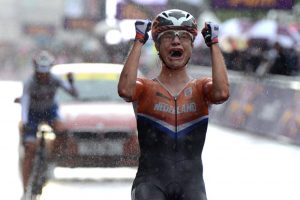 Vos is a modern female cyclist who has been dominating every cycling event for quite a while now. The Dutch professional has shown her amazing skills in cyclo-cross, mountain bike racing, track racing and road racing and is deservedly given the title of the finest cyclist of her generation.
Be it the Olympics or any other major event, Vos dominates each one of them and continues to improve her game with every passing day.
Marianne Martin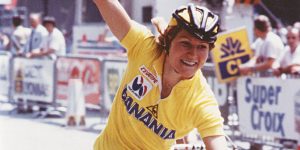 The first ever female cyclist to win the Tour de France was Marianne Martin who covered the 616-mile course in about 30 hours. The American won this race and it was a huge achievement not because it was a big event.
Rather, the reason was that she was suffering from Anemia that didn't allow her to start this race correctly, however her sheer will and determination was what won her this race in the end.
These were probably the Top athletes that the sport of cycling has ever produced. If you think Allsportspk Research Team has missed a name do mention in the comment section down below. Also, don't forget to share this post with your friends and family!
For updates regularly visit: Allsportspk