#2 CR7 almost joined Barcelona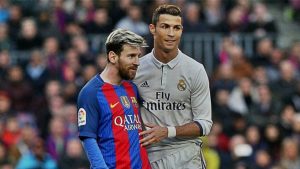 The most recent decade in football has been characterised to an expansive degree by the epic contention amongst Cristiano Ronaldo and Lionel Messi. The two players are professed to be the 'best player on the planet' by their fans, and the two present quite a persuading case to support them as the 'GOAT' (Greatest Of All Time).
In any case, one regret that each football devotee of this age has, is that both Ronaldo and Messi have not played for the same team. However, what many individuals do not know is that how close, this dream was close to becoming real.
Italian Serie A '18-19 – Highlights: Ronaldo Fails To Score On Debut
Joan Laporta was the President of FC Barcelona from 2003 to 2010. He uncovered that he was offered the Portuguese star for a charge of €17 million by his manager in 2003.
However, Barcelona had effectively marked Ronaldinho, Marquez, and Quaresma that mid year, and could not manage the cost of another player. Accordingly, Ronaldo wound up marking with Manchester United and later joined Barcelona's opponents, Real Madrid.
#1 CR7 was called a 'Cry Baby'
Its a well known fact that Ronaldo does not hide his emotions, especially on the football pitch. And, this is why he is no stranger to the incidental fit of rage. But, unsurprisingly this is a propensity that had always been a part of his personality.
Ricardo Santos grew up with Ronaldo in the island of Madeira and was his partner at club CF Andorinha. In an interview, Santos uncovered that Ronaldo was called 'Cry Baby' by his teammates while Ronaldo was much younger.
Real Madrid: Who Will Replace Cristiano Ronaldo?
The moniker developed because of Ronaldo having temper fits, at whatever point his team lost or did not pass him the ball. On a few events, the Portuguese genius would even begin crying.
But to Ronaldo's credit, this habit served him well over the long haul, as he has been the 'Best Player in the World' on five distinct events.
For more updates keep visiting allsportspk