Real Madrid: Who Will Replace Cristiano Ronaldo?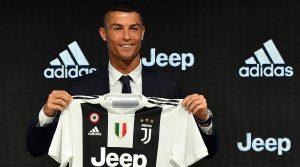 The exchange once touted as 'mission impossible', a slim chance, is formally done and dusted. Cristiano Ronaldo has left ruling European Champions Real Madrid for Juventus, in a move which cost the Italian goliaths, a 100 million euros.
Presently with Ronaldo out of the picture, Real Madrid have a huge void to fill in their lineup, and they have made no mystery of their aim to sign another marquee player.
Cristiano Ronaldo Joins Juventus
While it would not be simple to find a genius forward like Ronaldo, however, the Spanish giants would definitely take a gander at their alternatives. The chances of them finding a record goal scorer are slim, but they have to find a suitable replacement before the upcoming La Liga season.
Allsportspk expert panel has taken the expert opinions of various football experts, and combined them with ongoing news in the media, to present you the top 9 replacements that can fill up the boots of Cristiano Ronaldo.
#9 Harry Kane – Tottenham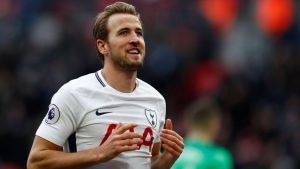 A year ago, Kane turned into the most noteworthy goalscorer in the Premier League with a total of 39 goals to his name.
Kane is an adaptable striker, great at making runs, and even superb at discovering spaces. He is a player, who keeps on silencing his critics on a regular basis.  At present, he has won the Premier League Golden Boot twice in four seasons.
Harry Kane – England's Savior
In the 2018 World Cup, he netted 6 goals, and captained England to a noteworthy World Cup semi-final. Owing to his performances at the tournament, the Spurs marksman also won the Golden Boot for scoring the most goals.
In spite of the fact, that Kane has signed another deal with his present club, it is conceivable that Spur's determination of retaining the Englishman could wane, but only if Real Madrid exhibit a huge offer.
World Cup 2018: Fantastic England Outplay Sweden
And, with the cash they got from seemingly their greatest transfer this year, the Spanish club can take advantage and sign Harry Kane to lead their attack. Although, Harry Kane may not be an immediate swap for the Portuguese, however, he is a player who ensures heaps of goals, which is a major reason of why Madrid would want to sign him.
#8 Mohamed Salah – Liverpool
Mohamed Salah was a sensation a year ago. Aside from Cristiano Ronaldo and Lionel Messi, he ostensibly had the best season in Europe. Had he somewhat experienced a better World Cup, then he would even have a reasonable possibility of winning the Ballon D'Or(Football's Prestigious Award) this year.
Salah – The True Egyptian King
Last year, Salah took the world by storm, as he piled on various individual honours and revamped the record books, to incorporate his name among the football greats. In his 57 appearances for Liverpool, also his current club, he made 14 assists and scored 48 goals. Out of the numerous honours that he won in the previous year, the most remarkable ones were: PFA's Player of the Year 2017-2018 and Premier League Golden Boot 2017-2018.
Premier League Golden Boot Awards: Mohamad Salah Wins
The key point to note here is that, Salah is relatively indistinguishable to Cristiano Ronaldo. He can play extremely well on any position and display cutting edge skills to uproot strong oppositions.
FWA Player of the Year: Mohamed Salah Earns Another Award
However, an issue that Real Madrid may confront while signing the 'Egyptian King', would be in connection to his valuation. As, according to reports, Real Madrid may be required to stack up at least £135 million, if they want to hire the services of the Liverpool forward.
Be that as it may, he may not be as powerful or charming as Cristiano, however, he can fulfill Madrid's need to score goals, the same way as CR7 did for the Spanish club.
#7 Paulo Dybala – Juventus
Paulo Dybala was a standout amongst the most under utilised players in the World Cup this year. As, the playing time that he got did not legitimise his gifts.
In the previous year, Dybala suffered from an injury, however, his numbers were still pretty amazing. As, the Juventus forward appeared in 26 matches for his club and scored 22 goals with 5 assists.
Such is the talent of Dybala, that he should be considered as Argentina's next charm after Messi.
As a player, he is especially similar to what a younger version of Ronaldo was. His essential qualities incorporate finishing, dribbling, long shot goals and most importantly, free-kicks. This is why despite of being only 24 years of age, he is great at holding the ball and bringing others around him into the diversion.
Juventus Financial Benefits: Upon signing Cristiano Ronaldo
Now that Ronaldo has signed for Juventus, there have been a few concerns regarding Dybala's future. Rumors about the player joining Liverpool are in the air, however, Real Madrid can also poach him as they possess a gigantic buying potential.
Moreover, monetarily, the arrangement would bode well for Real Madrid as they would not need to spend significantly more than what they got for Cristiano Ronaldo.
For the next three players, move on to the next page!