Football: Usain Bolt All Set To Train With Australian Domestic Club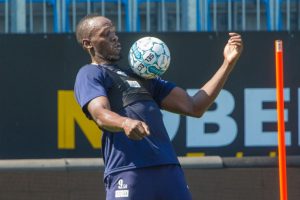 The race king, Usain Bolt has taken a mammoth step towards turning into a professional footballer as the Australian Domestic club, Central Coast Mariners recently affirmed that the Jamaican will be joining them for an unspecified training period.
Legacy of Usain Bolt: Candidates with Potential to Replace the Legend
Usain Leo Bolt is a Jamaican resigned sprinter and world record holder in the 100 meters, 200 meters and 4×100 meters race. His reign as an Olympic Games champion, in all of the aforementioned events, spans to three Olympics.
"Only those that are brave enough to try the impossible are capable of achieving it."

Full press conference ?️ https://t.co/18uAVefulB#CCMFC #ALeague pic.twitter.com/g6V4Lbz3Ui

— Central Coast Mariners (@CCMariners) 8 August 2018
Previously, Bolt had effectively trained with Borussia Dortmund, Mamelodi Sundowns FC and Strømsgodset, and now he will join the domestic Australian team, Central Coast Mariners.
Usain Bolt seemed very excited as he said:
I am very excited about coming to Australia and would like to thank the owner and management of the Central Coast Mariners for giving me this opportunity

It has been my dream to play professional football and I know that it will involve a lot of hard work and training to get to the level required to play and make an impact in the A-League.
Both Bolt and the Central Coast Mariners have been in talks for quite some time, with the 8 time Olympic gold medallist, quite interested to take football as his new profession.
Make sure you tune in to @CCMariners Facebook Page from 10:30am (AEST) ? We're going LIVE as CEO, @SMielekamp fronts the press to speak about the imminent arrival of @usainbolt. #CCMFC #ALeague pic.twitter.com/qIOI5VXFNm

— Central Coast Mariners (@CCMariners) 7 August 2018
While the preparation time frame does not accompany a certification of an agreement, it is a brilliant possibility for Bolt to demonstrate his value.
This might have been a good news for the club, however fans on social media had a different view. Have a look at some of their reactions:
Wow. Central Coast Mariners confirm Usain Bolt will train with the club. Does not guarantee a professional deal.

'We're providing the eight time gold medallist with an opportunity to achieve his desire of being a pro'

— Daniel Garb (@DanielGarb) 7 August 2018
Usain Bolt to the Mariners would be a disaster for the A-League. League needs quality foreign talent to aid development. League has stabilised at a good level support wise (despite what media say) – don't go mucking up the quality (important for long term) for nonsense like this.

— The Captain (@captaingino4lyf) 16 July 2018
Usain Bolt expected to arrive in Australia on August 18 to train with the Mariners. The circus is coming to town!!!

— Ray Gatt (@Gatty54) 7 August 2018
I hope Usain Bolt makes the Mariners squad. It'll make their run to the bottom of the ladder that much quicker.

— Frogmore! (@WallyFrogmore) 9 August 2018
@FFA the FFA does not need to be spending ridiculous money bringing Usain Bolt to the A League. It will add no value at all. A ridiculous and see through gimmick. A League is growing well without him. Bring real football talent to Australia to aide development.

— Baclo Group (@SLBCG001) 16 July 2018
For more updates keep visiting allsportspk