Two extraordinary semifinals of Men's Tennis were witnessed on the Philippe-Chatrier court. Rafael Nadal and Dominic Thiem cruised into the final. 
French Open 2018 Highlights: Day 12 – 1st Half
Men's Semi-Final Highlights
Match: Dominic Thiem Vs Marco Cecchinato
Result: Dominic Thiem defeated Marco Cecchinato by 7-5, 7-6(10), 6-1.
Highlights: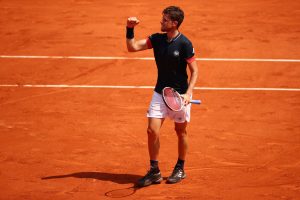 With an extraordinary performance Austrian star, Dominic Thiem defeated Marco Cecchinato of Italy in all the three sets.

Soon the first set started after the warm-up and Dominic Thiem took the lead after some good forehand shots. But Marco recovered the lead in a very short time and the score was equalized 4-4.

However, Thiem dominated as he played Marco's backhand shot twice and the score was now 6-4. Marco snatched one more point but it was too late as Dominic again took the lead and won the set by 7-5.

The second set started and this time Marco took the lead.

After a tough fight between the two, the set eventually came to a tie-break. The match got to a tie-break with finally

 Dominic prevailing again and sealing the victory by 7-6(10).
Dominic #Thiem in FINAL! ?

Domi reaches career's 1st Grand Slam final in #RolandGarros beating Marco Cecchinato 7-5 7-6 6-1! #RG18 pic.twitter.com/j9oCYR7iRR

— We Are Tennis (@WeAreTennis) 8 June 2018
The third set was crucial for Marco Cecchinato because if he lost this set, he would be out of the semifinals of the French Open.

The third set started and Thiem again dominated by taking the lead again. Marco wasn't able to score for some time as Thiem was scoring with his powerful forehand and backhand shots.

At last, Dominic Thiem won the set by 6-1. Marco Cecchinato made three double faults and 3 aces in the whole match as compared to Thiem who made six aces and 2 double faults.

Dominic Thiem booked his name in the final against 

Rafael Nadal

.  
French Open 2018 Highlights: Day 12 – 2nd Half
Match: Rafael Nadal Vs Juan Martin del Potro
Result: Rafael Nadal defeated Juan Martin del Potro by 6-4, 6-1, 6-2.
Highlights: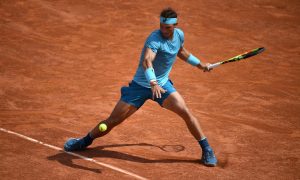 Rafael Nadal showed an exquisite performance today as he defeated Juan Martin and proved that he's still the best player of clay.

Soon the first set was started and Rafael took the lead but Martin del Potro didn't let him to extend the lead and equalized the score 2-2.

After some minutes, the match stopped as Juan got injured and his trainer was called. But he still played the whole match with his injured foot.

The score reached 4-4 but Nadal soon sealed the victory over Juan Martin del Potro by 6-4 as he desperately needed to win the French Open this time.

In the second set Juan was not able to play as good as he was playing before. Rafael took advantage of his injury and took the lead by 5-0. Juan struggled hard to chase him but he only managed to recover one point and the set was won 6-1 by Nadal.
Six down, one to go! ? Rafael Nadal will look to win his 17th Grand Slam title on Sunday after beating Juan Martin del Potro 6-4, 6-1, 6-2 at the French Open. ??? Next up: Dominic Thiem. Vamos por la undécima! ?? (AFP) pic.twitter.com/6VbhFVhpSJ

— Rafael Nadal Fans (@RafaelNadalFC) 8 June 2018
As the third set started, Rafael as usual took the lead in a very less amount of time. Juan was only able to score two points in the whole set as Nadal sealed the victory in the third set by 6-2.

Rafael Nadal made it into the final and will face 

Dominic Thiem

.
Join allsportspk for the Finals match Highlights.
For updates regularly visit: Allsportspk