Hamdan Aibak Polo Cup 2019:Pebble Breakers Annex the Historical Cup.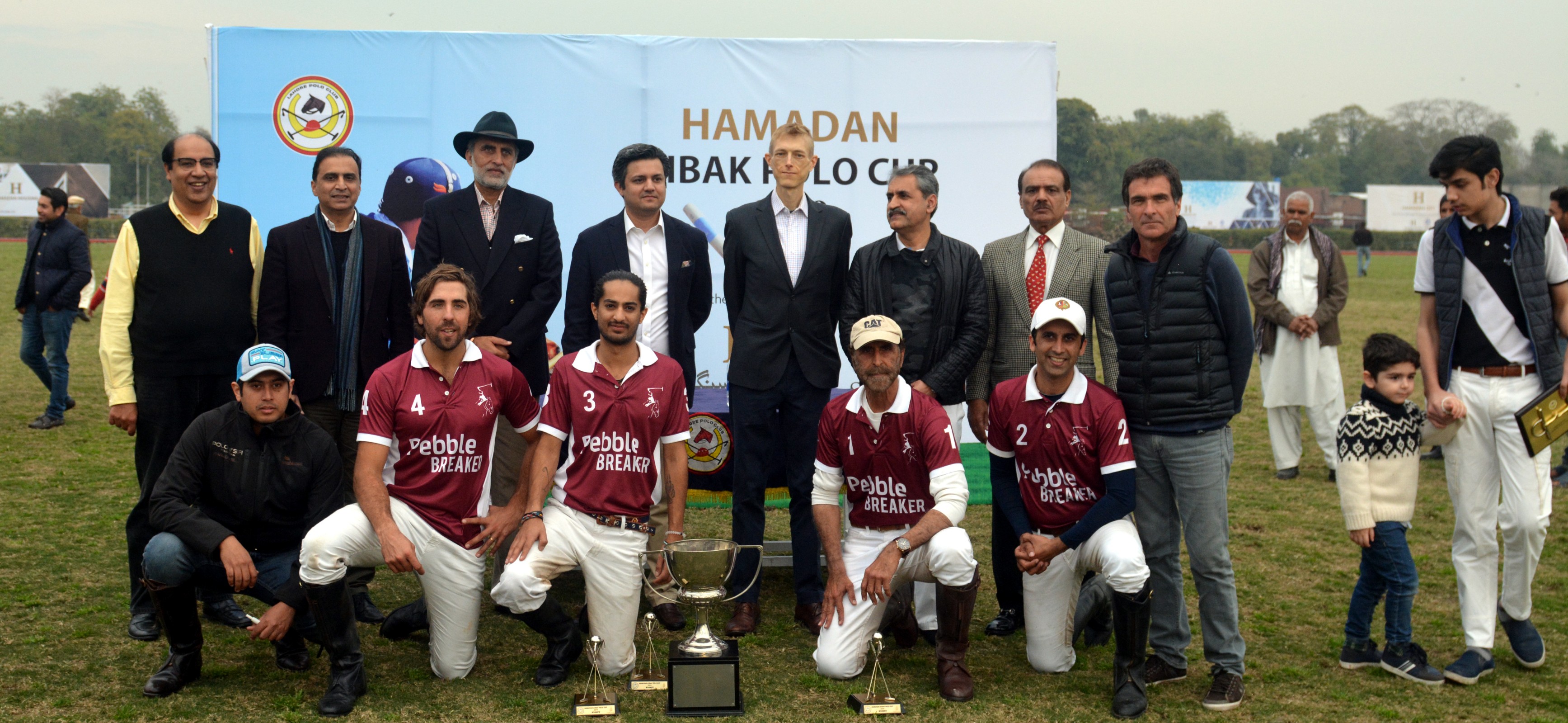 LAHORE: Pebble Breakers came from behind to overcame spirited Master Paints Black by 7-6½ to annex the historical Hamdan Aibak Polo Cup at the Lahore Polo Club ground.
Juan Cruz Losada though played key role in Pebble Breakers' title triumph by scoring a quartet yet it was Saqib Khan Khakwani, who slammed in a match-winning last goal of the match while Hamza Mawaz Khan contributed with a brace. From Master Paints Black, which had a half goal handicap, Matias Vial Parez contributed with a hat-trick, Ahmed Ali Tiwana a brace and Raja Temur Nadeem a goal, but their efforts were futile in the end.
The final of the historical 14-goal event turned out to be a very exciting and thrilling one as both the sides played exceptional polo and matched fire with fire till the end. Pebble Breakers had a good start with a field goal by Losada to take 1-0 lead but Master Paints Black bounced back in style and struck two back-to-back goals through Ahmed Ali to pull 2-1 lead.
The second chukker though was evenly poised as both the sides scored two goals each yet Master Paints had an upper hand with a 4-3 lead. Raja Temur and Matias contributed one each for Master Paints Black while Hamza and Losada converted one goal each for Pebble Breakers. In the third chukker, Master Paints further enhanced their lead to 5-3 when Matias added one more in their tally while Losada converted a 30-yard penalty for Pebble Breakers to reduce the margin to 5-4.
In the four and decisive chukker, Pebble Breakers played phenomenal polo and overcame high-flying Master Paints by pumped in three goals – one each by Losada, Hamza and Saqib – as against one by Master Paints through Matias, thus registered a thrilling 7-6½ victory.
Nicolas Scortichini and Martin Jhon Henry officiated the match as field umpires.
In the subsidiary final, Barry's beat Diamond Paints/Newage by 8-6. From the winning side, Bautista Bayuger slammed in superb six goals while from the losing side, Hissam Ali Hyder hammered four goals and Salvador Ulloa and Mir Shoaib Ahmed hit one goal apiece.
Minister of State Hammad Azhar was the chief guest while Hamdan CEO Kamal Nasir was guest of honour.
For more updates keep visiting allsportspk