Pakistan & India Cricket – The Subcontinent T20 XI
Pakistan and India have become formidable forces in the T20 cricket format. Recently, both teams won their individual T20 series and currently occupy the Top 2 ranks in the Men's T20 Team rankings.
Allsportspk cricket panel came up with an imaginative idea that what if a Subcontinent T20 XI comes into being. And if so, then which players would make it into the squad. A mind boggling exercise, however, after considerable debates which were overshadowed with serious differences, the panel selected a team. The 12th man is still undecided!!
Subcontinent T20 XI Team maybe an imagination but one thing is undoubtful – It will be an unbeatable team. See for your ownself!
  World Cricket Rankings – 10th July 2018
The Destructive Openers
#1 Rohit Sharma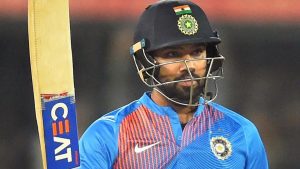 Rohit Sharma proved once again that he is indeed 'The Hitman' of cricket by scoring a blazing century against England in the T20 series. The Indian opener takes his time to get set on the crease, but once he does then no bowling line-up is saved from his batting destruction.
The opening batsman has played 86 T20I and has scored 20186 runs with an impressive average of 32.59. And with three centuries to his name, Rohit Sharma is clearly one of the best openers in limited overs cricket.
#2 Fakhar Zaman
Fakhar Zaman completes the right-left combination at the top. Currently ranked as number two in the T20 cricket rankings, Zaman's batting is nothing short of amazing.
The lefty played a huge role in the final of the recently held T20 Tri-series as Pakistan beat Australia to retain their number one rank in the T20 cricket rankings. The batsman has 22 T20 internationals to his name and has scored 646 runs with an average of 30.76 and a staggering strike rate of 143.56.
The combo of Fakhar Zaman and Rohit Sharma will prove to be destructive and will provide a solid foundation to the middle order.
Who are #3 and #4? Move on the next page to find out!