Indonesia Volcano Erupts: 500 Hikers Stranded
Latest Update: According to Military officials
Indonesia: Eruption of Rinjani volcano on Lombok (island in Indonesia) caused an intensive 6.4 magnitude earthquake, which resulted in landslides and left 500 explorers and guides from 26 countries standard in the nearby area.
The latest update is that more than 250 people have reached a relief point on the mountain.
File Photo: Rinjani Eruption In 2015 
Mount Rinjani, rises approximately 3,726 meters above sea level, and this pinnacle is the second-tallest mountain of liquid magma in Indonesia. Also, this is the favourite spot among tourists due to its extensive sights.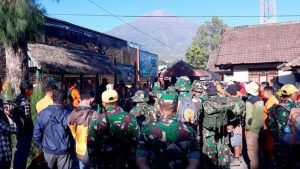 According to reports, rescuers have also been successful in making airdrops of nourishment supplies to the stranded tourists. And according to the spokesman of Mataram's search and rescue agency, these supplies are sufficient for one or two days.
Lombok Earthquake – The Back Story
Yesterday, a 6.4 magnitude earthquake caused tonnes of rock and mud to dislodge on the mountain, thus forcing hikers to stay on their ground, as they did not find an easy way to reach the bottom.
Surveying the damage in Lombok after a powerful earthquake hit the popular tourist destination in Indonesiahttps://t.co/WIi1D8YuK5 pic.twitter.com/myRoTCMguy

— BBC News (World) (@BBCWorld) July 29, 2018
The initial quake was followed by two strong ones with more than a hundred aftershocks.
And according to the head of West Nusa Tenggara disaster agency, Mohammad Rum, 160 people were injured.
Sudiyono who is the chief of Rinjani national park, said that there are 560 individuals who are still trapped on the Lombok island.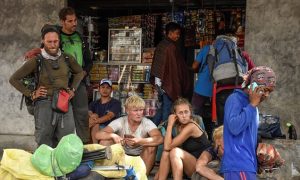 The stranded tourists hail from various countries including, France, Netherlands, Thailand, United States, Germany and many other countries.
Lombok Earthquake – The Supposedly Present Death Rate & Property Damage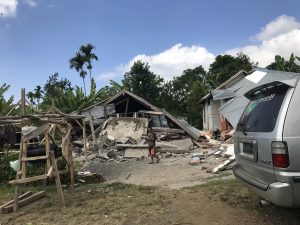 According to reports, presently, 16 individuals have been killed while hundreds of buildings have suffered damage from this disastrous earthquake.
The Indonesian President Joko Widodo also made his visit to the affected people, and ensured his financial support for those who lost their houses to this massive earthquake.
Rescuers are trying to evacuate hundreds of tourists stranded on Mount Rinjani on the Indonesian island of Lombok after an earthquake that killed 16 people triggered landslides.

— Cita Wertz (@CitaWertz) July 30, 2018
While many have already been saved, the ongoing rescue operation is likely to keep running till tomorrow.
There are Thai tourists traveling to Mount Rinjani in Lombok and get stuck on the volcano because of the earthquake. The Royal Thai Embassy in Jakarta is gathering 180 Thai people (around 5.30 pm), most of whom have… https://t.co/K3XjAvTQwh

— Phanthikarn PP (@phanthikarn) July 29, 2018
Massive quake struck at 6.47am at a depth of 7km, more than 80 tremors followed.
Death toll from 6.4-magnitude #earthquake, that struck the tourist island of #Lombok has reached to 14 left 162 injured,over 1,000 buildings damaged?#Indonesia #PrayForLombok #earthquakelombok pic.twitter.com/vsGtFq8kkO

— Meenakshi Sharan (@meenakshisharan) July 29, 2018
Indonesia; Ring Of Fire
Indonesia is a standout amongst the most calamity inclined countries on earth. This is because this is where structural/tectonic plates impact, which cause a substantial bit of the world's volcanic eruptions and seismic tremors/earthquakes to happen on a frequent basis.
This is also why Indonesia is nicknamed as the 'Ring Of Fire'.
A Recent Example Of Destruction
In 2004 a 9.3 undersea earthquake activated a tsunami off the shoreline of Sumatra in western Indonesia. This tsunami took the lives of 220,000 individuals in nations surrounding the Indian Ocean, of which 168,000 were from Indonesia.
For more updates keep visiting allsportspk