The Trophy was finally presented for the franchise-style International League T20, which will feature 6 teams and 34 games spread across the United Arab Emirates, during January 2023.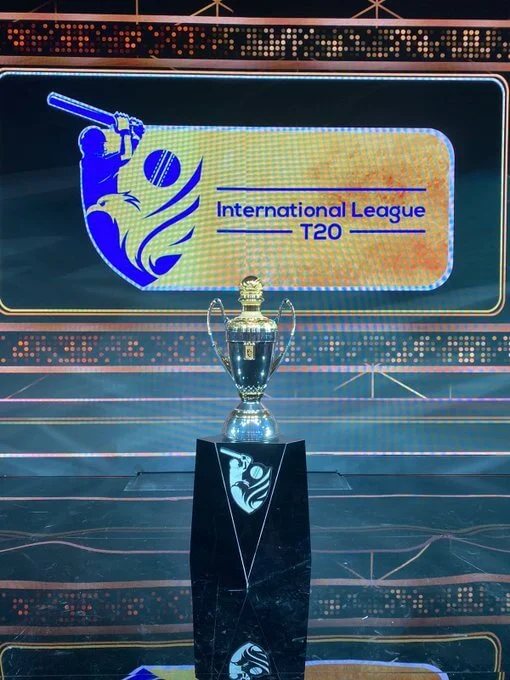 The silver trophy combines elements that commemorate and highlight the rich tradition and culture of the UAE. Leading this influence is the falcon, the UAE's grandeur icon and renowned national bird. The trophy is shaped after the teardrop of the bird. The seven Emirates of the United Arab Emirates are weaved in through a crown that is pointed in 7 directions, fashioned like sand dunes inspired by the amazing sands of Tel Moreeb (Al Dhafra, Abu Dhabi), which proudly stands above and buckles a cricket ball as the trophy's pinnacle. Moreover, the award stands 830mm tall, matching the Burj Khalifa's height, which is 830m from base to tip, in a clear homage to the UAE's most recognized building.
The event for stakeholders was hosted by Sheikh Nahayan and Mabarak Al Nahayan, Minister of Tolerance and Coexistence, and the Chairman of the Emirates Cricket Board. The main participants included Jay Mehta (Abu Dhabi Knight Riders), Paul Voigt (Desert Vipers), Kiran Grandhi (Dubai Capitals), Pranav Adani (Gulf Giants), Nikhil Meswani (Owner – MI Emirates), Rajesh Sharma (Sharjah Warriors), and Punit Goenka (Zee Entertainment Enterprises). Also included legends Dwayne Bravo, Wasim Akram, Simon Doull, Robin Uthappa, and Brett Lee.
یواے ای کی لیگ آئی ایل ٹی 20 کی ٹرافی کی رونمائی  
یواے ای کی کرکٹ لیگ آئی ایل ٹی 20 کی ٹرافی کی رونمائی کردی گئی۔ متحدہ عرب امارات کے وزیر رواداری اور ہم آہنگی اور امارات کرکٹ بورڈ کے چیئرمین عزت مآب شیخ نھیان بن مبارک آل نھیان نے ٹرافی کی نقاب کشائی کی۔ تقریب میں جے مہتا (ابوظبی نائٹ رائیڈرز)، پال ووئٹ (ڈیزرٹ وائپرز)، کرن گراندھی (دبئی کیپٹلز)، پرانوو اڈانی (گلف جائنٹس)، نکھیل میسوانی (ایم آئی امارات)، راجیش شرما (شارجہ واریئرز) کے علاوہ کرکٹ کے عظیم کھلاڑیوں ڈوین براوو، وسیم اکرم، سائمن ڈول، رابن اتھپا، اور بریٹ لی نے شرکت کی۔
چاندنی سے بنی اس ٹرافی میں متحدہ عرب امارات کے بھرپور ورثہ اور ثقافت کی عکاسی کی گئی ہے۔ امارات کے قومی پرندے صقر کے آنسو کو ٹرافی کی شکل دی گئی ہے۔ اس پرایک 7 نکات کا تاج سجایا گیا ہے جو یواے ای کی 7 ریاستوں کی عکاسی کرتا ہے۔ اس کی تاج کی شکل الظفرہ میں واقع تل موریب کے ریت کے ٹیلوں کی ہے جسے دنیا کے سب سے طویل ریت کے ٹیلے تصور کیا جاتا ہے۔ ٹرافی کی اونچائی 830 ملی میٹر ہے جو ملک کی سب سے بڑی عمارت برج خلیفہ کی 830 میٹر بلندی کی علامت ہے۔
امارات کرکٹ بورڈ کے جنرل سیکریٹری مبشر عثمانی نے کہا کہ آئی ایل ٹی 20 ٹرافی نے اپنے سفر کا آغاز کردیا ہے یہ اہم سنگ میل ہے۔