In a breath-taking final against Alexander Zverev, Rafael Nadal won the Italian open 2018 by beating his opponent after a total of 3 sets. Both players showed an astounding performance on the court but in the end, the Spaniard managed to win the title by defeating the German tennis player.

Rafael won the match by 6 – 1, 1 – 6 and 6 – 3 from the World No.3, Alexander Zverev, and proved the world that he's still the champion of clay courts.

Although, Alexander Zverev was in great form but Nadal, who defeated Djokovic in the semi-final of Italian Open was the favourite to win this match. And he finally won it by showing his skills and hard work to beat his opponent and secure the title.

Nadal was called the King of clay because he has won 50 successive sets on clay courts. However, after losing to Dominic Thiem he lost his number 1 ranking to Roger Federer.

So, he was hoping to make a comeback by winning the Italian Open today.

On the other hand, Zverev defeated Marin Cilic in a tight competition in the semi-final to cement his place against Rafael Nadal in the final.


How It Happened?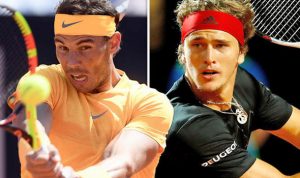 The first set started and both the players looked in pretty good form. Zverev took the lead in the first set but Nadal made an excellent comeback and beat Alexander 6-1.

Zverev wasn't expecting to lose the first set against Rafael Nadal but it gave him the motivation to make a comeback in the second set which he won by 6-1.

No one was expecting that Zverev to win the 2nd set but he completely outplayed Rafael Nadal and the audience had a thrilling match on their hands.

So, now the 3rd set went underway, and Zverev was leading Rafael from the front by 3-1 but unfortunately rain appeared from nowhere and the match came to a halt.

It was a plus point for Nadal to replenish his energy and make a great comeback in this match. The rain finally stopped as both the players warmed up to start the 3rd set from where they left off.

The play resumed as both players were eyeing the Italian Open 2018 title.  Currently, Zverev was leading by 3 – 2 but Rafael Nadal exhibited a phenomenal play in the last minutes of this set to win the set by 6 – 3 and claim the title.

Zverev told Rafael after the match that he's the king of clay court and everyone witnessed that today.
For regular updates visit allsportspk