Italian Serie A '18-19 – Highlights: Consistent Mauro Icardi Continues To Deliver
These are the next six matches of of Serie A, Match Day 9 of 38. The highlights are appended below the points table.
Italian Serie A '18-19 – Highlights: Atalanta Off To A Flying Start
| | | | | | |
| --- | --- | --- | --- | --- | --- |
| Rank | Name | Won | Draw | Lost | Points |
| 1 | Juventus | 8 | 1 | 0 | 25 |
| 2 | Napoli | 7 | 0 | 2 | 21 |
| 3 | Inter Milan | 6 | 1 | 2 | 19 |
| 4 | Lazio | 6 | 0 | 3 | 18 |
| 5 | Sampdoria | 4 | 2 | 2 | 14 |
| 6 | Fiorentina | 4 | 2 | 3 | 14 |
| 7 | Roma | 4 | 2 | 3 | 14 |
| 8 | Sassuolo | 4 | 1 | 3 | 13 |
| 9 | Genoa | 4 | 1 | 3 | 13 |
| 10 | Torino | 3 | 4 | 2 | 13 |
For Complete team rankings, click here
Serie A 2018-19 – Full Schedule
Serie A – Match 4 of 10: Frosinone vs Empoli
Result: 3 – 3
Goal Scorers:
Empoli: Matias Silvestre 8′ (OG), Daniel Ciofani 54′ (P), 63′
Frosinone: Miha Zajc 32′, Matias Silvestre 48′, Salih Ucan 79′
Match Statistics:
| | | |
| --- | --- | --- |
| Frosinone | Team Stats | Empoli |
| 7 | Shots | 20 |
| 4 | Shots On Target | 10 |
| 40% | Possession | 60% |
| 301 | Passes | 463 |
| 76% | Pass Accuracy | 85% |
| 15 | Fouls | 17 |
| 2 | Yellow Cards | 3 |
| 0 | Red Cards | 0 |
| 1 | Offsides | 4 |
| 6 | Corners | 8 |
Highlights: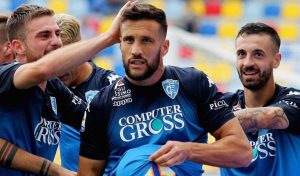 In a rehash of last season's Serie B conflicts, this was another six-goal spine chiller with wanders aimlessly as Empoli grabbed a 3-3 draw away to Frosinone.
This was a dogfight between opposite sides who were advanced over the late spring and were attempting to adjust. The Canarini missed Federico Dionisi, Luca Paganini, Luka Krajnc, Stipe Perica and Emil Hallfredsson. Empoli needed to manage without Frederic Veseli, Levan Mchedlidze and Alejandro Rodriguez.
#Empoli Coach Aurelio Andreazzoli said the 3-3 draw away to #Frosinone "feels like a victory" in the circumstances https://t.co/ilggfEOHeA #FrosinoneEmpoli #SerieA pic.twitter.com/OeSs3fVhcX

— footballitalia (@footballitalia) October 21, 2018
Last season both their gatherings were six-goal spine chillers, drawing 3-3 at the Castellani and Empoli battling back to win 4-2 here in April.
The guests had begun more grounded, with Ciccio Caputo simply neglecting to get on the finish of the Afriyie Acquah assist, yet Empoli shot themselves in the foot.
A moderately innocuous Zampano ball pulled back to the six-yard box looked as though it was obvious targets for Provedel, yet the goalkeeper and Matias Silvestre did not convey, and the defender unintentionally nudged it into his very own net. It was an honestly clever own goal.
Marco Sportiello figured out how to redirect the endeavored Antonino La Gumina back-heel flick, while the ex-Palermo striker's plunging header and a Miha Zajc strike from separation were additionally effectively covered.
Frosinone and Empoli has been immense! The 3-3 draw will do none of them any good but they have entertained it getting it to here. Still time to go #FrosinoneEmpoli

— Richard Hall (@RichHall80) October 21, 2018
Empoli got the merited equalizer toward the finish of a passing move, as Luca Antonelli pulled over from the by-line for Zajc to side-foot home from 12 yards, in spite of the fact that Sportiello appeared somewhat shocked by the wrap up.
Joel Campbell moved over the bar for Daniel Ciofani, who was kept from making the tap-in by some frantic safeguarding, however at the opposite end Silvestre relatively compensated for the goal when his header from a corner skiped off the crossbar on 37 minutes.
Leonardo Capezzi's chest and volley from the edge of the case shrieked simply wide, yet Empoli turned it around after the restart. Silvestre did for sure counteract the howler by putting the ball in the right net, packaging a corner over the line at the back post.
Rade #Krunic won 12 DUELS today for #Empoli…

He also recorded 5 key passes and 4 dribbles..

Incredible performance in the 3-3 draw vs. #Frosinone. pic.twitter.com/PN8Ns0W9PO

— BH live (@BHlive_official) October 21, 2018
Be that as it may, Capezzi got Ciano's lower leg with a high foot and the ref settled on a punishment after he was asked to see it again on VAR. Daniel Ciofani changed over intensely at the close base corner to draw Frosinone level.
The force was presently with the Canarini and they rode that wave to lead the pack, as Joel Campbell started a counter and Daniel Ciofani was left generally plain to swing the boot from simply inside the punishment zone.
Salih Ucan fell off the seat and relatively made it 3-3 inside a moment, as his twisting free kick was fingertipped round the far best corner by Sportiello.
2 – This is the second time this calendar year that a Serie A player has scored a goal and conceded an own goal in the same match – both times it was Matías Silvestre. Vice.

— OptaPaolo (@OptaPaolo) October 21, 2018
Sportiello at that point must be on his toes to basically handle La Gumina from six yards after Camillo Ciano gave the ball away efficiently.
Much the same as last season, there were six goals in the gathering between these groups. A corner was just cleared to the edge of the crate, where ex-Roma player Salih Ucan swung a terrific right-foot volley low and valid into the far base corner.
Frosinone relatively won it in stoppages, however Raman Chibsah's poor first touch demolished a counter-assault and on the subsequent corner Rai Vloet's volley was avoided wide of the close post.
#FrosinoneEmpoli Frosinone is 1-0 up thanks to a comical own goal by Matias Silvestre. The cross from the right wasn't particularly dangerous but the Empoli defender made a mess of that attempt to clear the ball.

— Vito Doria (@VitoCDoria) October 21, 2018
**************************
Serie A – Match 5 of 10: Chievo vs Atalanta
Result: 1 – 5
Goal Scorers:
Chievo: Valter Birsa 84′ (P)
Atalanta: Marten de Roon 25′, Josip IIicic 28′, 50′, 52′, Robin Gosens 72′
Match Statistics:
| | | |
| --- | --- | --- |
| Chievo | Team Stats | Atalanta |
| 3 | Shots | 17 |
| 1 | Shots On Target | 7 |
| 38% | Possession | 62% |
| 412 | Passes | 660 |
| 78% | Pass Accuracy | 88% |
| 14 | Fouls | 15 |
| 1 | Yellow Cards | 1 |
| 1 | Red Cards | 0 |
| 2 | Offsides | 1 |
| 1 | Corners | 2 |
Highlights:
Josip Ilicic savored a cap trap and Atalanta rediscovered their scoring contact, yet it was the most noticeably bad conceivable introduction for Giampiero Ventura accountable for 10-man Chievo.
Ventura made his introduction on the Chievo seat, substituting Lorenzo D'Anna for his first job since Italy's inability to meet all requirements for the World Cup in November 2017. He needed to manage without harmed Joel Obi, Fabrizio Cacciatore, Filip Djordjevic, Nenad Tomovic and Emanuele Giaccherini.
Saturday:
2-0 Win vs Fiorentina
1-0 Win vs Bennevento

Changed formation and got the reaction we wanted. 2 clean sheets against 2 well organised sides & 6 points to kick start our season.

Looking to continue that form tonight ! @TheVFL_ #VFL #SerieA

— Atalantis (@Atalanta_VFL) October 21, 2018
Atalanta were in shockingly horrendous frame, likewise losing Andrea Masiello to damage, yet Josip Ilicic was at last prepared to begin after a confounded summer managing a puzzle disease.
Atalanta had lost just a single of the last 11 Serie A gatherings with Chievo going into this end of the week, winning six and drawing four.
In the opening moment, Stefano Sorrentino fluttered at a Robin Gosens cross-shot and Papu Gomez discharged over, while Federico Barba was reserved for pulling down Ilicic minutes after the fact in an extremely forceful Atalanta beginning.
Gian Piero Gasperini apologised for ruining Giampiero Ventura's #Chievo debut, but #Atalanta "needed this win too much" https://t.co/HJGuYdoK5h #ChievoAtalanta #SerieA pic.twitter.com/AzerZY3pbr

— footballitalia (@footballitalia) October 21, 2018
Ilicic had the ball in the back of the net on 13 minutes, however the offside banner was up on the Gosens cross, as affirmed by VAR innovation.
The Slovenia worldwide at that point tried Sorrentino with a calculated drive, yet the halt was at long last broken by De Roon's correct foot daisy-shaper into the base corner from separation.
Minutes after the fact, Chievo disintegrated totally, as Ilicic twisted one of his trademark left-foot shockers into the far corner from separation.
To exacerbate the situation on Ventura's introduction, Federico Barba got his second yellow card for clacking Gomez on the edge of the crate and Chievo were diminished to 10 men before half-time.
A brilliant win and a fantastic team performance @Atalanta_BC What a hat trick from Josip Ilicic. Some great goals. We are well and truly back to our best based on this performance. Grande! ????#ChievoAtalanta #GoAtalantaGo

— Atalanta Now (@AtalantaNow) October 21, 2018
It was genuinely one-route movement, as Musa Barrow stung Sorrentino's gloves, at that point Ilicic finished his support with another great individual strike from fresh.
Not by any means 120 seconds had gone before the Slovenian finished his hattrick, sent clear on objective by Gosens for a straightforward wrap up.
There was still time for a fifth, Gosens solidifying an amazing individual execution with a shot from a tight edge after Depaoli was gotten under lock and key.
Atalanta only have two wins this season. In both of those wins, they won by a goal differential of 4 goals.

— Raffaele (@ItalianoCalcio) October 21, 2018
Depaoli required a clearance to stop Barrow making it six minutes later, at that point Chievo's first honest to goodness endeavor on 77 minutes saw Valter Birsa's free kick pound the post.
There was extremely insufficient relief for Chievo in the last minutes. Riccardo Meggiorini was brought around Pierluigi Gollini after a poor Hans Hateboer back-pass and Birsa changed over the subsequent penalty.
**************************
Serie A – Match 6 of 10: Parma vs Lazio
Result: 0 – 2
Goal Scorers:
Parma: Ciro Immobile 81′ (P), Joaquin Correa 90+4′
Match Statistics:
| | | |
| --- | --- | --- |
| Parma | Team Stats | Lazio |
| 4 | Shots | 18 |
| 1 | Shots On Target | 9 |
| 34% | Possession | 66% |
| 307 | Passes | 577 |
| 71% | Pass Accuracy | 82% |
| 6 | Fouls | 12 |
| 2 | Yellow Cards | 3 |
| 0 | Red Cards | 0 |
| 1 | Offsides | 2 |
| 2 | Corners | 8 |
Highlights: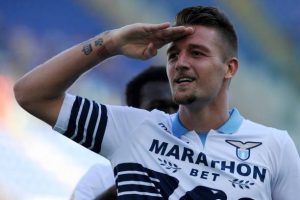 Ciro Immobile's punishment and a last-heave Joaquin Correa snooker-shot on the counter gave Lazio a genuinely necessary triumph in Parma.
The Ducali were flying shockingly high after three back to back advancements to recoup from chapter 11 out of 2015.
Gervinho, Federico Dimarco, Jacopo Dezi, Alberto Grassi and Gianni Munari passed up a great opportunity, alongside suspended Emanuele Calaiò, yet Roberto Inglese was accessible once more. Lazio were on stammering structure between Serie A and the Europa League, losing Milan Badelj and Riza Durmisi to damage.
Manchester City, Liverpool and Spurs had scouts present for Lazio's recent win over Genoa to watch midfielder Sergej Milinkovic-Savic (23). [Mirror] pic.twitter.com/BuQzt9OESp

— City Watch (@City_Watch) September 30, 2018
Parma had not possessed the capacity to beat the Biancocelesti in their last six Serie A gatherings, drawing two and losing four.
The two sides squandered early possibilities on the counter, as Senad Lulic impacted over when he could've passed it, while Inglese demanded doing it without anyone else's help when encompassed by safeguards and turned wide when Antonio Di Gaudio was asking for the ball.
Leo Stulac twisted his free kick inches wide, however Lazio began to stick the hosts back and Luigi Sepe played out a significant save money on Patric's volley after a keen Francesco Acerbi ball over the best.
Big big win for Lazio after a very dull first half. Some signs of progress from Milinkovic Savic, but still no vintage Milinkocrazia- once again Immobile was decisive

— David Amoyal (@DavidAmoyal) October 21, 2018
Ciro Immobile truly should've improved the situation when at full stretch neglecting to get a Sergej Milinkovic-Savic cross-shot under control, at that point Sepe palmed a Luis Alberto depiction round the post.
Parma had an amazing shot minutes later, as Antonino Barillà gymnastically furnished the help with a bike kick, however Di Gaudio was blocked twice from six yards by frantic Acerbi and Patric defending.
Stulac flung himself in the way of Immobile's shot, yet a little ways from time Valon Berisha got before Gagliolo and drew the foul on a free ball. Fixed kept his cool and crushed in the punishment to give Lazio the lead.
Parma were minutes away from holding Lazio to a draw but it wasn't to be. Ciro Immobile, from the spot and Joaquin Correa struck late to hand the visitors a 2-0 win. pic.twitter.com/hfGOJcs7rk

— CALCIO SQUARE (@calcio_square) October 21, 2018
It should have been 2-0 for Immobile when he sprung the offside on Joaquin Correa's help, yet again the complete was slow and excessively near Sepe.
Profound into stoppages, Lazio affirmed the triumph on the counter with Parma all in assault. Stable left it for Correa, whose snooker-shot bobbed in off within the far post, as the Serie A match came to an end.
**************************
Serie A – Match 7 of 10: Bologna vs Torino
Result: 2 – 2
Goal Scorers:
Bologna: Federico Santander 59′, Arturo Calabresi 77′
Torino: Iago Falque 13′, Daniele Baselli 54′
Match Statistics:
| | | |
| --- | --- | --- |
| Bologna | Team Stats | Torino |
| 7 | Shots | 11 |
| 2 | Shots On Target | 6 |
| 47% | Possession | 53% |
| 374 | Passes | 425 |
| 74% | Pass Accuracy | 80% |
| 10 | Fouls | 22 |
| 2 | Yellow Cards | 2 |
| 0 | Red Cards | 0 |
| 1 | Offsides | 1 |
| 3 | Corners | 4 |
Highlights:
Bologna returned from 2-0 down to procure a more than respectable 2-2 draw, as Torino did not exactly do what was needed at the Dall'Ara.
Pippo Inzaghi was at last ready to rely on Rodrigo Palacio out of the blue since the opening round, while Iago Falque made his rebound from damage for Toro, in spite of the fact that Andrea Belotti required a wellness test before commencement.
Ladislav Krejci and Federico Mattiello passed up a major opportunity for the hosts, with Cristian Ansaldi and Lyanco long haul truants for the Granata.
Fit again Godfred Donsah returns to Bologna bench in their 2-2 draw at home against Torino.

2 wins in 9 games, head coach Filippo Inzaghi feeling the heat ???? pic.twitter.com/uU1g9GDLkc

— Akavani Andrews (@AndrewsAkavani) October 21, 2018
Bologna were searching for a third successive home triumph, which would be their best Serie A keep running at the Dall'Ara since September 2016.
Alex Berenguer flashed a risky ball over the bar, yet neither Belotti nor Lorenzo De Silvestri at full stretch could reach.
Iago Falque opened the scoring with a tremendous goal, as he was falling over and having his shirt pulled, yet still figured out how to twist a shocker into the far best corner from 25 meters out.
Lukasz Skorupski surged off his line to deny Iago Falque a second and Meite terminated the follow-up over the bar, while Belotti's first touch was poor when sent one-on-one with the goalkeeper by Berenguer.
Josip Ilicic netted a hat-trick as Atalanta cruised past 10-man Chievo 5-1, while Bologna & Torino played out to a 2-2 draw #SSFootball

— SuperSport Blitz (@SuperSportBlitz) October 21, 2018
Iago Falque was on fine shape and again tried Skorupski, boring another shot wide, however in the end chose to turn supplier. He spilled down the by-line and pulled back for Daniele Baselli's ground-breaking complete from 12 yards.
Bologna got over into it when Riccardo Orsolini's corner dismiss found a Palacio header from the close post and Federico Santander was prepared to tap in the bounce back.
Simone Zaza fell off the seat and was near reestablishing the 2-goal lead, however Giancarlo Gonzalez made an essential square in the six-yard box.
Toro discarded the preferred standpoint for 2-2, yet Arturo Calabresi merits credit for his desire. The middle back was as far as possible up in the defensive half to capture a poor Salvatore Sirigu freedom, give and run with Orsolini, and stroke the complete with within the boot from 12 yards.
Looool right tho. Looks like bologna Torino is going to end up a draw now so that's good actually. Just Parma to score now

— Anthony (@Torgrude45) October 21, 2018
Torino about grabbed it at the demise when Zaza got his left boot to a free kick skimmed over the best, however could not guide it on target.
For the next two matches move on to the next page!