K2 Pakistan: Canadian Climber Dessureault Dies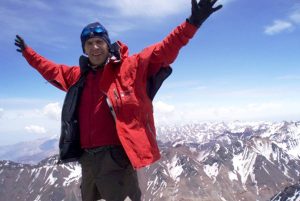 Serge Dessureault a Canadian mountaineer fell to his death while leading an international expedition on Pakistan's K2. Two other Canadians, Maurice Beausejour and Nathalie Fortin, were part of the expedition.
Canadian Climber Dessureault, 53, a firefighter in Montreal for around 30 years, was was leading a nine-member K2-Broad Peak expedition, which is extremely steep and attracts notoriously bad weather.
Announcing the news an official of the Alpine Club of Pakistan, Mr. Haidri said, Dessureault died in a fall while scaling the 8,611-metre mountain K2, located in the Karakoram range in northern area of Pakistan.
The details of what led to his fall are still not known.
According to a message on the team's Facebook page stated that the 53 year old fell near Camp 2, which sits at 6,700 metres, at 12:25 p.m. local time.
"All our sympathies go to Serge's family and loved ones," said Fortin on Facebook. "We're speechless."
The facebook post mentioned:
The expedition party had spent the night at a camp on the North Ridge located at 6,700 metres. The party's plan was to climb to 7,000 metres to acclimatize before returning to base camp.
"Maybe they will be tempted to step into the very difficult Black Pyramid before going down?"
The page describing the 400 metres long Black Pyramid Pass states that it requires "a lot of technical skills as it is on rock, snow and ice."
On Saturday morning, that same page announced Dessureault's death with "indescribable sadness," saying he fell near camp 2 and his body had been recovered.
The page does not announce any other injuries or deaths in the incident.
His death was a shock for many. Benoit Lamoureux who two years ago together with the Canadian Climber Dessureault had attempted the treacherous K2, but due to an avalanche at Camp 3 the climb was revoked. During an interview with CTV News Channel Benoit said,
"It's devastating. Serge was a wonderful man."
"First of all, his passion was his wife and his two daughters. He was a public person who helped charity and always gave his free time to help others. He was a great man, a man of passion in every aspect of his life."
"Other than an accident, I can't see what happened. Serge didn't take any chances, he did nothing to be a hero," Lamoureux explained. "Everytime you go on a mountain over 5,000 metres you know there's always a risk. Serge knew the risk, the family knew the risk. But it's still a shock when that happens."
Lamoureux said his friend would want to remind people to enjoy life as much as possible.
"Passion for him started with his family. And by family I mean his family relatives, family of work, family of friends, family of climbers," he said. "Today we lost a great man in every aspect of life and he would like us to remember to enjoy life as much as possible, every moment."
Another climber François Guy Thivierge who became a friend of Dessureault eight years ago on a volunteer trip to Haiti, while talking to CBC News said:
"I am really without words,"
"It's a shock for all of his friends and family. I am very sad today."
"Dessureault was a happy man who was both courageous and generous. Dessureault was a well-trained athlete who participated in ultra marathons.
"Serge was a very smart guy with a big heart," he said. "He was a very extraordinary man."
"The fire captain was careful and experienced. It was not his first time on the mountain as his 2016 attempt to reach the top was thwarted by avalanches."
For updates keep visiting allsportspk