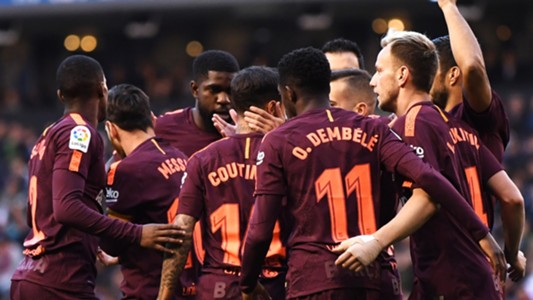 This will be the most memorable title win for Barcelona as they clinched the title without losing a single match.
The Spanish club clinched the title after beating Deportivo and claiming the La Liga championship for the 25th time.
This victory would lessen their pain as Barcelona were knocked out of the Champions League by A.S Roma after suffering a shock defeat in the quarter finals.
However, Barcelona had a complete different story when it came to La Liga as the Spanish club won the trophy without losing any match of this league.
How it happened?
Barcelona needed one point to win the championship, and it was Deportivo who stood between them and the cup. Even if Barcelona drew the match they would win La Liga, however Barcelona were looking for a win in this match.
The Spanish giants started off strong as Lucas Perez netted a goal at the 6th minute of the match. He was followed by Lionel Messi who scored at the 37th minute to put Barcelona in the driving seat.
But, Deportivo also came back strongly and surprisingly struck two goals to level the scoreboard.
One more goal from them would mean that Barcelona would have to wait for their title win. However, the Spanish club hadn't lost a single match and they weren't going to start losing now.
This is when Lionel Messi showed his class as the world-class striker completed his hattrick by scoring two goals in quick succession as Barca claimed the title.
With these goals Messi also made a record as being the first player to score 30+ goals in 7 La Liga seasons; An interesting and amazing feat.
Will Real Madrid give Guard of Honor to Barcelona?
So, now as Barcelona have claimed the title, question arises as to whether Real Madrid will follow the tradition and give Guard of Honor to the La Liga champions.
The two sides are going to meet in the El-Clasico match that is scheduled on 6th May. However, Zidane who is Real Madrid's manager has clearly refused to give Barcelona this honorary guard.
The reason he gave was that Barcelona did not give Real Madrid the guard of honor when his team won the Club World Cup last year so they are just returning the favor.
Well, whether Real give the guard of honor or not it really doesn't matter as Barcelona have already claimed the title from their rivals with 3 games still remaining in the league.
A comprehensive points table is given below and as you can see Barcelona are leading by a huge margin.
| | | | | | | |
| --- | --- | --- | --- | --- | --- | --- |
| Position | Club | Played | Won | Drawn | Lost | Points |
| 1 | Barcelona | 34 | 26 | 8 | 0 | 86 |
| 2 | Atletico Madrid | 35 | 22 | 9 | 4 | 75 |
| 3 | Real Madrid | 34 | 21 | 8 | 5 | 71 |
| 4 | Valencia | 35 | 20 | 7 | 8 | 67 |
| 5 | Real Betis | 34 | 17 | 5 | 12 | 56 |
| 6 | Villarreal | 34 | 16 | 6 | 12 | 54 |
For updates regularly visit: Allsportspk