Team Remington Pharma Stars won the LPC Super League 2023 after defeating FG/Din Polo Warriors by 9-4 in the final played at the Lahore Polo Club.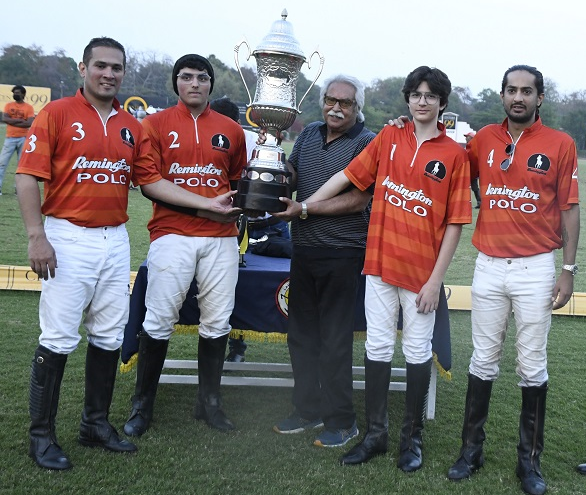 Final Overview
Hamza Mawaz Khan's outstanding performance helped team Remington Pharma Stars win the final by 9-4 against FG/ Din Polo Warriors. Hamza, hero of the final, hammered six superb goals for Remington Stars while Ahmed Zubair Butt contributed with two goals and emerging young player Basel Faisal Khokhar struck one goal. Sheikh Muhammad Raffay scored three goals and Bilal Hayat Noon scored one goal for FG/ Din Polo.  
Pakistan-Polo Super League 2022: ZS Lions Victorious
Speaking on the occasion, Basel Faisal Khokhar of Remington Pharma Stars said: "The 2022-23 season has been very good for Remington Pharma. Have won three eight-goal tournaments and an Under-19 event and now clinched the LPC Super League title. All this is the result of the prayers of my parents and the hard work of the team."  
Earlier in the subsidiary final, Pebble Breakers defeated Master Paints/Diamond Paints by a narrow margin of 5-4½.
Pakistan Polo-LPC Super League: Guard Kings Annexes The 2020 Title
The following Super League awards were also distributed:
Best mare of the match was awarded to Remington Pharma Director Dr. Faisal Khokhar's mare Ice
Most Valuable Player Award to Hamza Mawaz Khan
Award for scoring the most goals in the tournament was given to Hamza Mawaz Khan
Amateur Player of the League Award was given to Bazal Faisal Khokhar
Patron of the League Award was given to Deen Polo's Sheikh Mohammad Farhad
Fair Play Award was given to Ibrahim Sultan
Former polo player Mr. Javed Mawaz as chief guest distributed the winning trophy to team Remington Pharma Stars.