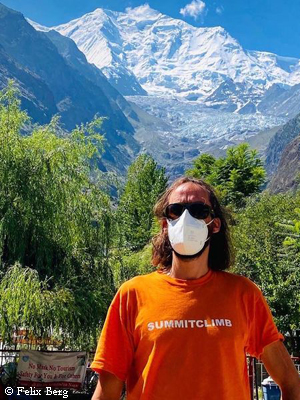 After the coronavirus restrictions were lifted, a five member German team led by Felix Berg arrived in Pakistan to climb an un-named 6500m high peak in Shimshal Valley, Gilgit-Baltistan. The un-named peak is being climbed for the very first time.
This expedition marks the beginning of climbing season after the suspension of mountaineering due to the corona virus. Many other teams are also set to come for climbing in the near future.
Pakistan is special attraction for these climbers due to its mountains having certain extraordinary traits. Hence world renowned trekkers and climbers come to climb these unique and in many cases a dangerous challenge for climbers. These expeditions also create business opportunities for the local people.
Pakistan mountains have a unique composition.
1- Pakistan has 5 mountains that are more than eight-thousand meters high. Thereby nearly one third of the world's 14 tallest mountains are in Pakistan.
2- More than 100 mountains in Pakistan are above 7000m high.
3- Pakistan also has +6000m peaks which are greater than 100 in number.