A group of 55 climbing global veterans, including 27 Nepalese Sherpas are departing for Pakistan to under take the most adventurous winter mission of climbing K2, the second-highest mountain in the world.
The expedition which is two months will begin from 21st December and be completed by 28th February.
In terms of winter climbing, 13 of the world's 14 peaks taller than 8,000-meters have been climbed, however, K2 still remains unclimbed during winters. 30 attempts have been made during winter but each expedition was been unsuccessful and the highest point reached was 7,400 meters.
K2 Pakistan: Canadian Climber Dessureault Dies
K2 is called the Killer Mountain as it is technically a very difficult mountain to climb and has taken lives of the most climbers. 84 climbers have died while attempting with only 306 having been successful. The ratio of death and success is about one death for every three successful climbs. During 1954, Italian climbers Achille Compagnoni and Lino Lacedelli were the first to reach the K2 summit.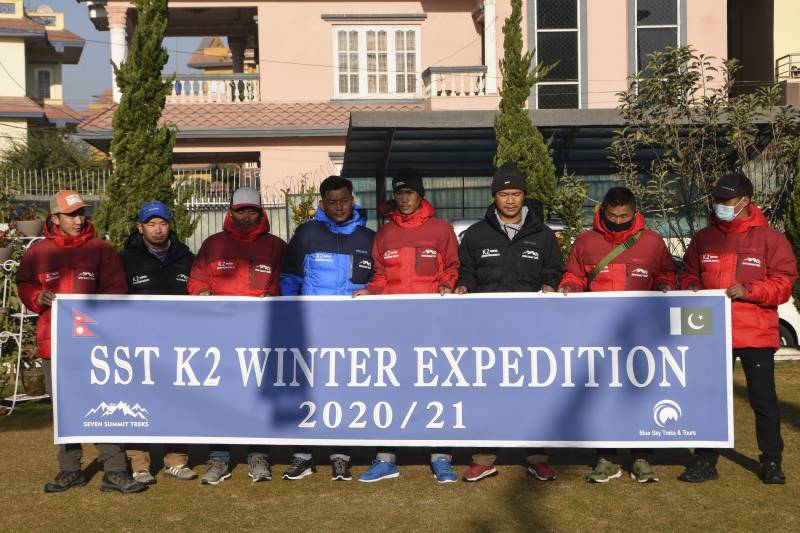 In comparison, the tallest mountain Everest has been climbed by 6,507 from the Nepal side since Mau 1953 when Sherpa Tenzing Norgay and New Zealander Edmund Percival Hillary first set foot atop the world's highest peak.
The dangerous mission, costing Rupees 200 million, is being managed by Seven Summit Treks, based in Kathmandu, while Chhang Dawa Sherpa, the youngest mountaineer who has climbed all the 14 highest peaks is leading the mission.
The 55-member mission climbers include Nepali climber Nirmal "Nims" Purja, Spanish climber Sergi Mingote, Noel Hanna from Britain, Arnold Coster from the Netherlands, Atanas Skatov from Bulgaria, Waldemar Kowalewski from Poland, Antonis Sykaris from Greece and Luis Carlos Garranzo Ibanez from Spain. Slovenian, Romanian, Swiss, Italian, Chilen, American and Finnish mountaineers are also part of the mission.
Theme of the article has been taken from The Kathmandu Post newspaper website.