CAS National Junior Squash Championship '18: Abbass Wins U 19 Title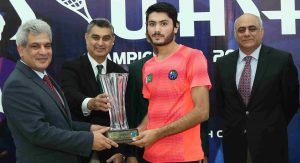 PESHAWAR: Final Match and closing ceremony of CAS – Chief of the Air Staff National Junior Squash Championship 2018 was held at Hashim Khan Squash Complex, Peshawar. The winner of U 19 title was Abbass Zeb.
The Championship was played from 03 to 07 December, 2018, with the prize money of RS 500,000. Over two hundred players from all over the country, including all national seeded junior players, participated in the championship.
The final match of Under 19 category was played between Abbas Zeb and Zeeshan Zeb. It was a thrilling match in which Abbas Zeb defeated his opponent with the game score of 11/4, 11/8, 8/11 & 14/12 and lifted the championship trophy.
The final of Under 17 category, was played between Farhan Hashmi and Asad Ullah which was won by Farhan Hashmi with the game score of 12/14, 12/10, 11/5 & 11/6.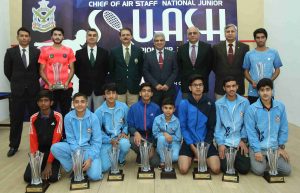 13th CNS International Squash Championship 2018: 1st Round Day
In Under 13 category, Anas Bukhari defeated Humam Ahmad by 11/9, 12/10, 7/11, 5/11 & 11/8. M Hamza beat Huzaifa Zahid 12/10, 11/6 & 11/7 in the final of Under 15 category.
In Under 11 category, Vorun Asif beat Mubeen Khan with the game score of 11/8, 11/6, 6/11, 11/7.
Air Marshal Aasim Zaheer, Vice Chief of the Air Staff, Pakistan Air Force was the chief guest on the occasion. He distributed the prizes among the winners at the end of the ceremony. During the event he commented that all focus is on the promotion of Squash at grassroots level.
He further said that these young players are the future of Pakistan Squash and would be provided every possible facility to bring the lost glory in the game. He also announced cash prize of Rs. 500,000 and a brand new car to the player who wins the upcoming British Open Juniors and US Open Junior Squash Championships.
For more updates keep visiting allsportspk